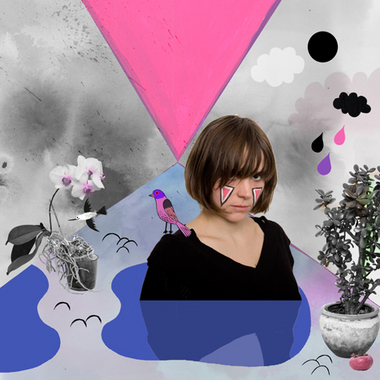 Cute, humorous, yet a bit dark… These engaging illustrations are drawn by Carolin Loebbert, an illustrator and graphic designer based in Hamburg Germany. Grown in the suburb of Germany, she draws nature, animals such as pretty birds and cats, as well as skulls and great figures of the past depicted by the trompe l'oeil technique… Viewers are getting intrigued by her pieces illustrated with her unique touch and perspective.
Who is Carolin Loebbert?
Carolin Loebbert is an illustrator, artist and graphic designer based in Hamburg, Germany. In 2008 she graduated from the University of Applied Sciences in Hamburg, and since then her illustrations have appeared in numerous magazines, anthologies, and exhibitions around the world.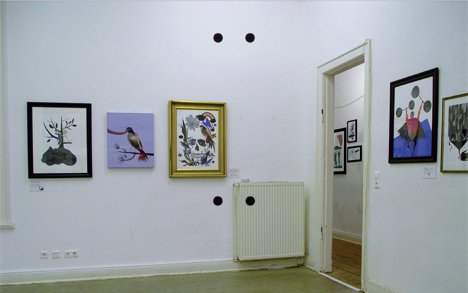 Alles ist Zah, Gallery LINDA Solo exhibition in Hamburg 2008
Please tell us about your latest activity?
Two month ago I've been in Kyoto to do a group exhibition with Japanese artists. We also traveled around in Kyoto, Osaka and Tokyo. I intended to do a small book on this to assimilate all the great experiences I could make there. I am also working on some artworks for a museum festival, that's great fun. I can not jet tell you which museum it is, but you will soon see these works.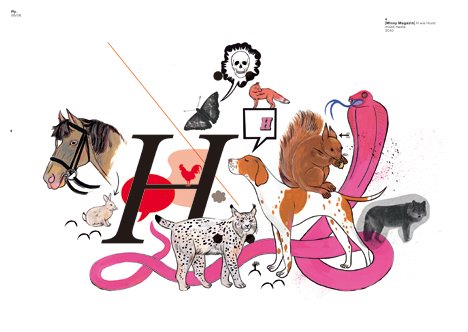 Missy Magazin, 2010 taken from GASBOOK POP 2
In many of works you create, there are nature and breath of animals involved. Why do you think you tend to pick them us as a subject matter for your art works?
Well, I just love animals and nature in general, I do not really know why it is like that, maybe because I grew up on the countryside surrounded by trees, birds, flowers, corn fields… When I draw an animal I just feel comfortable, that's maybe why I'm drawing animals most of the time. There's also a graphical aspect why I love to draw animals and birds. I got the feeling that when you draw a bird, you just can let yourself go in using all kind of different colours or abstract forms. A bird can be blue, red, pink, yellow or all colours together, it just depends on the mood in which you are at that moment you draw it. Like this it can be a direct catalyst of your feelings.
Hamburg – does the town where you live impinge on your creative activities?
Yes, the place where you live has got a lot of influence on or creative output I think. For me the people how are living in this town are very inspiring. There are lots of street artists and illustrators doing great work and nearly each day you can go to a great concert if you want.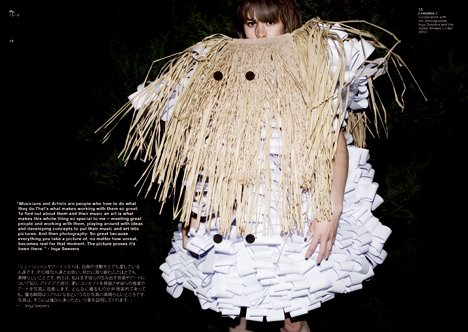 voodoo, 2010 taken from GASBOOK POP 2
Could you tell us an idea about how collaboration between you and photographer Inga Seevers started?
The first time we met on a birthday party. I did not really knew that she was a photographer. After a while we found out, that we were neighbours, she was living next to my door, that's funny. You know, in a big city you often do not recognize, who's living next to you. Sometimes in the morning when we went to the baker we saw each other an talked about several things. One day she asked me if I am interested in doing some collaboration work together.
Also what kind of result did you get from it?
Until now we did several shootings and of course we are planning to do many more shootings in the future.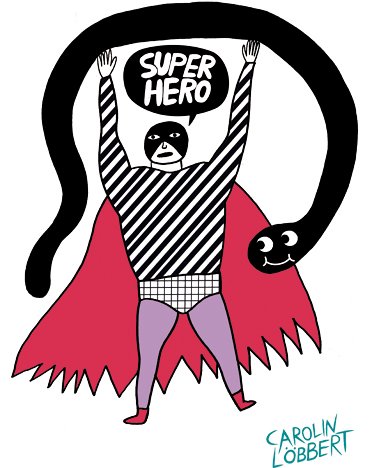 GASBOOK tee, Super Hero artwork for a T-shirts Edition 2009
Have you got field or media which you would like to explore your art practice in the future?
There a so many fields that rouse my interest. Sometimes you can become desperate, because you can not try all of them… you know, the day only got 24 hours. I would love to do some animations with my artworks, I also got ideas for small films, books, paintings….but I think it is important to keep the focus a bit and to pick out one idea, if you know: that's the one thing I would love to do next.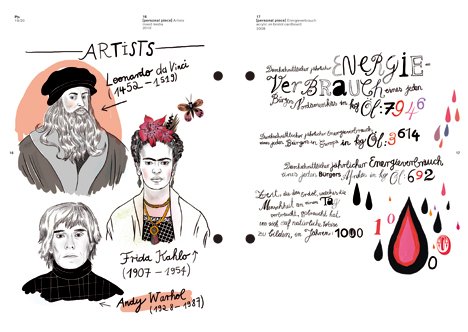 personal piece 2010 and personal piece 2008 taken from GASBOOK POP 2
What do you want reader to look from the GASBOOK pop magazine?
Just get inspiration and feel happy.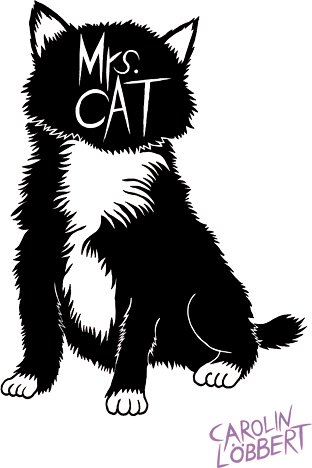 GASBOOK Mrs.Cat mixed media 2009
What do you think you would do if you were not an artist?
Well, in former times I also thought that it would be interesting to study sport. If I wouldn't be an artists today, maybe I would be a member of the German women basketball team or maybe I would be a personal fitness trainer, inspiring other people to do more sit-ups.
Please tell us if you have got favorite places to go in your holiday.
I've been in Japan now three times and it always was amazing and very inspiring. I love to travel, especially to Japan. The next place I would like to go is New York, I've never been there before.
If you have any comments to Japanese audience.
Hello everybody, I hope I can visit your great country again very soon.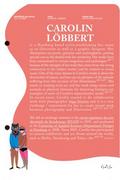 GASBOOK pop 2 – Carolin Loebbert
Release: December 2010
Price: 1050 yen
Available at GAS ONLINE SHOP (Japan only)
http://www.hellogas.com
Text: Noriyuki Abe

[Help wanted]
Inviting volunteer staff / pro bono for contribution and translation. Please
e-mail
to us.