Youngest European fashion designer Silas Adler runs Copenhagen´s menswear Soulland. He is in the middle of his twenties. In 2008 he was nominated for best Danish up-and-coming designer by Danish Fashion Awards. Since he founded the brand in 2002 Silas has worked and enjoyed different phases to establish himself with a brand that today is recognized worldwide and represented in leading stores across Europe and the USA. In addition Soulland is sold in Beams in Tokyo.
The brand has its key role in the current Scandinavian fashion scene but also in Europe. They will not stop here. Growing up from prints and t-shirt underground scene today it is a full range collection including an actual suit.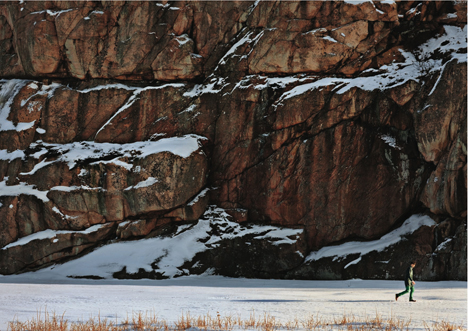 Soulland AW10 Collection
Soulland was founded in 2002. That means you started quite young into this business. Please tell me about it.
I started Soulland when I was 17. One morning I woke up and decided that I didn't want to go to school anymore. Why go to school when I could do so many other things, so I started Soulland with some friends. After a while they returned to school but I just kept on going.
The brand started with printed t-shirts. I do understand you got an early devotion for skating and/ or graphic design and such?
I'm a skateboard nerd and coming from the skateboarding community t-shirts was a natural place to begin. In the beginning we printed small quantities and sold them to friends and small skateboard shops. I also dabble with graphic design, but I'm no graphic designer by far. I've done a few album covers and I enjoy making prints for t-shirts.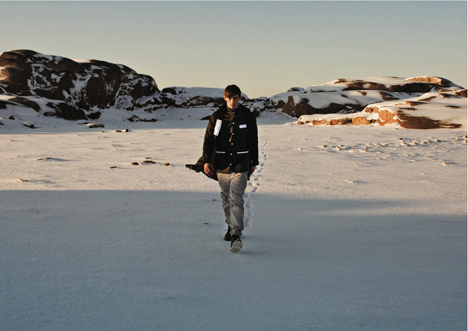 Soulland AW10 Collection
Is it any contemporary figure that you feel inspired by?
I'm inspired by a lot of people but in all honesty the people with the most impact on my work are the people close to me; my girlfriend, my work team and close friends. They make a difference in my life and to me that's inspiration.
Please brief me the last few years.
The last few years have been very hectic and extremely fun! So much has changed since we started. When Soulland started I worked from home and now we are a team of 7 working from a nice office… well it's a basement, but it's much nicer than we're used to. Through the past few years, we've learned a lot about financing, shipping, production, branding… the list is endless. It's been a real-time business school crash course. Since we're a bigger team now, it's a lot easier to focus. I know that someone competent is handling every aspect of our business, which frees up a lot of my time to focus on creative processes, designing and production.
Do you have experience from abroad living in any other city for a period?
I lived in Paris for a half year. I needed a break from Copenhagen and I genuinely enjoyed being away and being able to focus on my work in a new way. I'm back in Copenhagen now and I'm happy here, but I will definitely travel out again.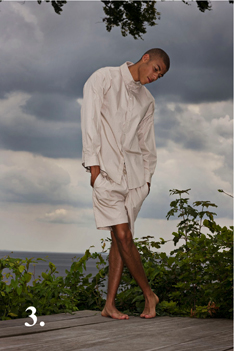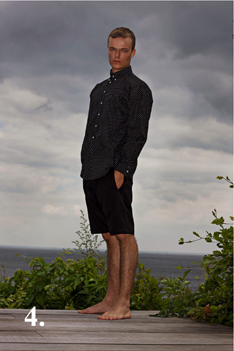 Soulland SS09 Collection
Do you combine design work for any other brand besides Soulland?
We've been a part of different types of collaborations in the past. Last year for World Aids Day we worked with the Danish photographer Jacob Holdt on a t-shirt collaboration. I'm really proud of having worked with Jacob. He's such an inspiration and has meant a lot to me growing up. I am currently working on a big project here in Denmark with one of the countries biggest companies, it's very interesting and I can't wait for it to be revealed.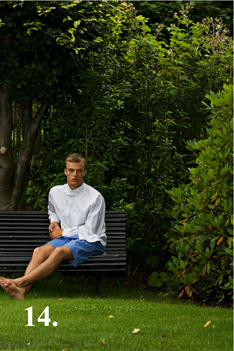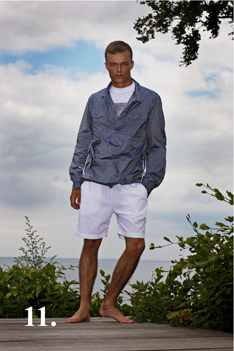 Soulland SS09 Collection
Has Soulland teamed up with any other brand?
We collaborated with Kopenhagen Fur last winter. The interesting thing when working with fur is that it's so different from the materials we normally work with, and it was definitely challenging to develop items that were in line with the Soulland aesthetic. I would like to work with other brands in the future, but nothing that is too close to what we do.
How is the relation of the brand with music?
I'm really into music and there's a lot of good music coming out of Scandinavia at this moment. Wherever possible I try to support it. We've worked with Who Made Who and made some items for Röyksopp for their performance at Roskilde Festival last year. Music also plays a key element in all of our presentations, shows, film etc. It's a key element when developing a mood and an extremely important aspect of our work.
Soullands Fedora hat got lots of press and it is one of your best-sellers. Do you plan to design any more accessories?
The hat did really well and we've developed it into a number of styles in different color ways. It's a fixed element in our collection now and I'm very proud of the collaboration we have with our hat maker. But we don't just do hats, we also have a full shoe collection coming, bags and wallets. Hopefully there's something for everyone.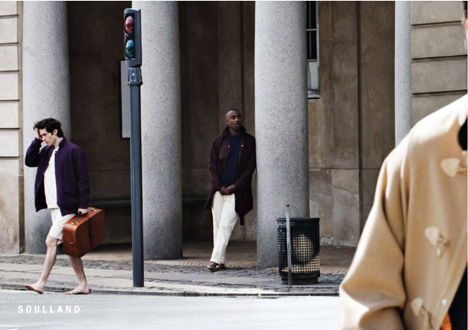 Soulland SS10 Collection
When I talk to fashion designers in Scandinavia people generally is very positive about how things are going around here. What is your personal experience so far?
I think Scandinavia is slowly developing into an important fashion center. There are some very strong names coming out of Sweden and Denmark. Acne has made a real splash, but designers like Stine Goya, Henrik Vibskov and Ann-Sofie Back are making their marks as well. They are all very talented and I have high hopes for them. In my experience people are good at helping each other and I regard other brands as colleagues more than I regard them as my competition.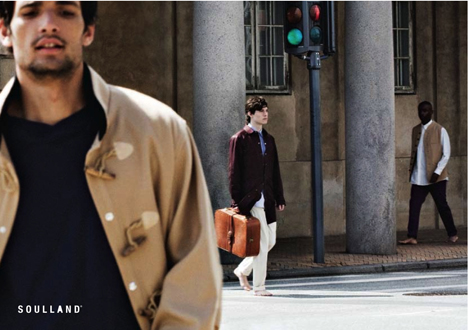 Soulland SS10 Collection
It seems quite prolific times for the Danish design, many brands are establishing themselves and others are in the way: Henrik Vibskov, Peter Jensen, Stine Goya, Soulland, Wood Wood, Visbøl de Arce, etc. What is your opinion about it?
I know almost all of them. Copenhagen is very small so you know everybody, sort of. I have a lot of respect for all of them. Our office used to be located in the same building as Henrik Vibskov and now Vilsbøl de Arce is in our old office space. I'm close with Stine Goya and I worked for Wood Wood a bunch of years ago. I wouldn't exactly say that it's a tight-knit community, but everyone is very supportive of each other and I definitely find that to be strength that benefits the whole Danish fashion industry.
Swedish fashion industry continues solid and steady: Whyred, Minimarket, Ann-Sofie Back, Weekdays, etc. What is your opinion about it?
The Swedes have an amazing ability to make commercial successes. In terms of terms of thinking outside the box, I think the Danish designers are more interesting.

Soulland SS11 Collection Show
In fact you were nominated for +46 award in Sweden a few years ago.
I was just nominated for the award, but didn't win, Siv Stoldal did. Being nominated was a huge honor for me especially considering that I had just started out and don't have a formal design degree. Being nominated for a Swedish award was also a big deal for me, because the Swedish market is so interesting to us and we're working on building our base there. Having a strong representation in Scandinavia is something that we know is crucial to building our brand.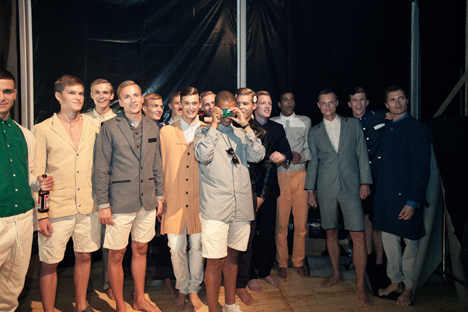 Soulland SS11 Collection Backstage
2010 you did your first appearance in Paris Men's Fashion Week. How did it go?
We had our first presentation during the Paris men's fashion week in July. We've been doing shows in Copenhagen for a while and taking it a step up and hosting a presentation in Paris was a great experience. For a first presentation we did well and had a very positive response. We are working on hosting a presentation again for the upcoming season.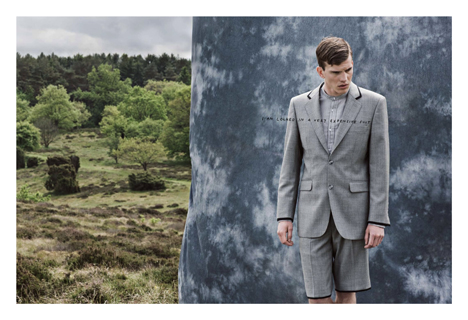 Soulland SS11 Collection
"The Suit" is the SS11 collection, any improvements regarding previous collections?
The Suit, which is our Spring/Summer 2011 collection, is a milestone for Soulland. The collection was inspired by a Leonard Cohen poem called 'The Suit' (!), and for the first time we made an actual suit. I've been playing around with the silhouette in previous collections but this is the first time I've gone all the way. The collection is also bigger than our previous collections and we've expanded our jersey program to include more sweats and t-shirts. It's been selling very well and I just can't wait for it to hit the stores in February.
In Copenhagen you can see men dress in a suit riding a bike. Is this a idea of cosmopolitan vibe, looking smart and sharp but soulful relaxed behind the collection?
I never though of it like that but it's an interesting way of seeing Copenhagen. I guess there is some truth to it. I like mixing the sharp with the relaxed but I never tried to make Soulland into a direct reflection of Copenhagen.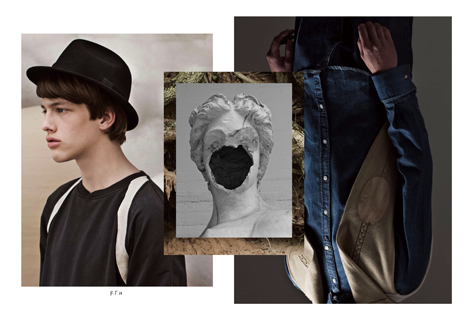 Soulland SS11 Collection
We in SHIFT include news from Colette in Paris, Oki-ni in London or previously mentioned Aplace in Stockholm. Is Soulland sold in any of those stores?
We sell at Aplace in Stockholm, but not to Colette or Oki-ni. Both stores are key players on the European market and have been doing very well for themselves. Right now I think Opening Ceremony are doing very good job in New York, LA and in Tokyo and Goodhood in London is an interesting store to watch.
How do you see yourself within the European market and in the U.S?
I think Soulland fits into both markets. We speak to a certain type of consumer more than a certain nationality. The clothes aren't too basic or too complicated. The design is easy to understand and well made, and I think people can pick up on that regardless of nationality or culture.
Do you plan to exhibit in Paris, London or New York for the followings collections?
We are planning on hosting a presentation in Paris again and we'll keep up our activities at Copenhagen Fashion week as well. We're also present at most of the large fashion weeks in showrooms, so people will be able to find us in Milan, Paris, New York etc.
Do you have any flagship store in Copenhagen?
We are opening our first store in a couple of weeks under the name US Import. The store will have a wide range of Soulland but will also sell Stine Goya, Back by Ann-Sofie Back, Libertine-Libertine, Pendleton and a lot of other interesting brands.
Text: Victor Moreno

[Help wanted]
Inviting volunteer staff / pro bono for contribution and translation. Please
e-mail
to us.