'What you eat today is what you will be 10 years from now'.
A project called "saji" challenges new approaches to food in various ways in photography, magazines, and events. Since its start in 2004, saji expores its flexible idea in Japan and other areas of the world including Paris and New York, and offers good experience in both senses of vision and taste. SHIFT introduces saji, who created the cover work for the this month's issue.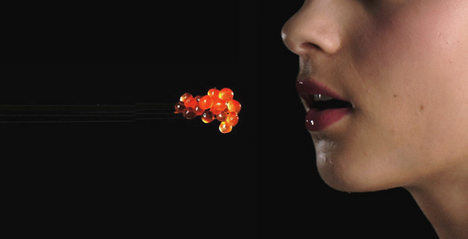 Please introduce yourself.
I am MIHO, organizing various projects for saji. Usually I work as a photographer for magazines and books.
Could you introduce what saji is?
Literally "saji" means spoon. With a concept 'what you eat today is what you will be 10 years from now', I work on various projects through saji for people to cook their own meals and eat them. Through saji projects, I want people to enjoy eating.
First of all, it started as a free paper about 6 years ago. I now sell it as an art recipe book called 'saji'. Every edition is created with a different format including fashion contents and illustrations. I also organize a range of events and cooking classes with ideas came out from the magazine.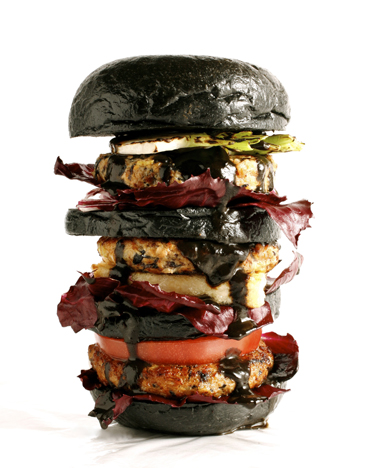 Black hamburger / coal bread, tofu, hamburger / saji1.0 / food: Koh Kentetsu
How did you start saji?
Originally I wasn't interested in food and used to eat only what I like. But at the time I worked as an assistant photographer, I saw the food coordinating professional staffs cooking, which looked very simple for me to try. I also learned it tastes good and healthy. Inspired by that, I started to cook myself. But it was too late to start: I lost my health. The story mentioned on 'what's saji?' on the website is actually based on my true life.
When I lost my health, the doctor told me "what you have eaten before is what you are now. One day is not enough to make your body." As I heard that, I started to think the importance of eating. Since then, I started to think about my own diet and became aware of what I eat today is what I will be 10 years from now.
In such context, I noticed there are no cooking magazines that feature contents dedicated to people who have little knowledge of cooking, whereas there are a variety of magazines dedicated for people who have the knowledge. So I launched saji to make something that creates an opportunity for those inexperienced people to start cooking. My interest in illustrations and magazines (paper media) was also one of the reasons to create an art recipe book, saji. I thought it's nice to have such book in which you can feel close to cooking for teenagers.
I am very happy if a girl creates a feast for her boyfriend (or vice versa) cooking food which was featured on saji.
Could you introduce some of the saji projects?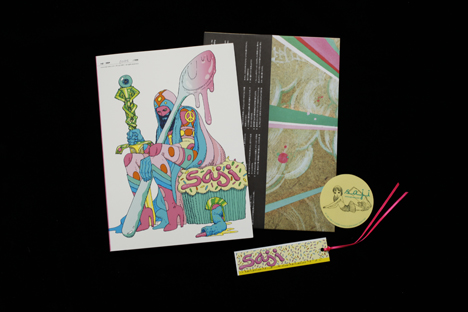 saji magazine
Released in March 2009, the saji magazine vol.2 (photo) release party was held in Paris, displaying a big green tea cake with cream and small donuts exhibited along with the saji artworks. The release party of the vol.3 was first held in Paris in January 2010, followed the Nagoya (April) and Osaka party (July).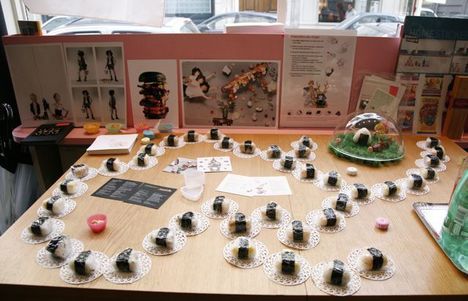 Onigiri event
As the saji2.1 release party, Onigiri event was held in Paris in 2009. As Onigiri (rice balls) is little known in Paris, people asked me if it's sweet or salty food and what the black thing is made of, all of which became a new experience for me as well. Besides the Onigiri event, I have organized various food events such as Makkura Gohan, an event of eating black food in the darkness, and Nihon no Shokutaku (2010) both held at VACANT in Tokyo.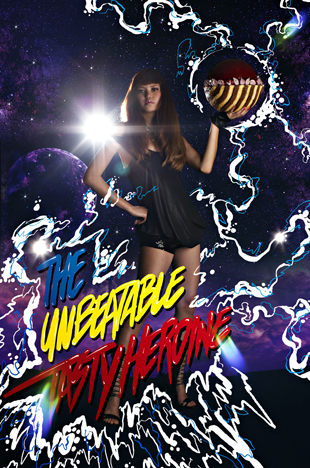 EXPLOSIVE WOMAN
Featured on saji 3.0. A super girl with a bomb cake. Throwing the bomb cake make the world happy.
The stripe cake is made with berry and marron mousse. The food by Motoko Horigome, illustration by Yué wu aka NYNO, styling by Saori Minegishi, hair and make-up by Yukio Mori, and the model is You Hirukawa (AMA). Clothes from orphan age.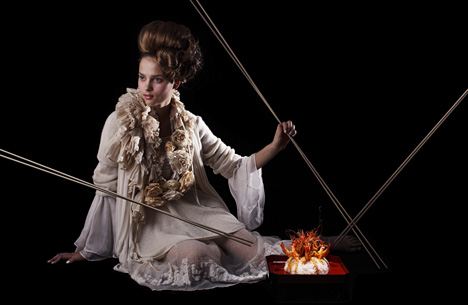 otherworldly feasts
Featured on saji 2.0. A parody of the Grimm's Fairy Tales. Long chopsticks can deliver food for those people in the heaven, but people in the hell cannot eat as the chopsticks are too long.
Food by Koh Kentetsu, styling by Saori Minegishi, and hair, make-up by Ichiki Kita, and model by Pille (surge).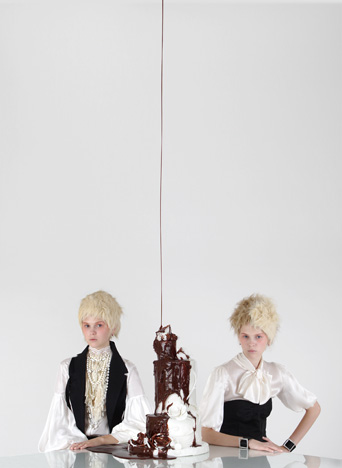 Are you clone?
Featured on the saji free paper. Would you like to eat clone food?
The lemon balm cake is baked by Mariko Danno, styling by Saori Minegishi, hair and make-up by Ichiki Kita, and model by Elena Maximova (satoru japan).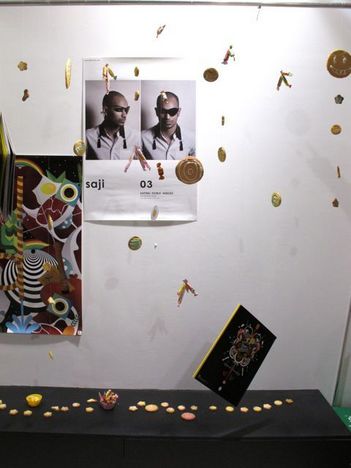 saji 3.0 exhibition in Paris
The saji events and magazines are launched in not only Japan but also Paris. Why in Paris?
Besides Paris, it is launched in New York, Berlin, Amsterdam, and London. As I first started it in Japan, it was tough doing there. Then I came up an idea to do it in Paris, just for changing the mood. The magazine and event went well in France and they accepted it. That's why I often visited France.
Is the event you organize in Paris different from the one in Japan? What feedbacks you get there?
The program of the event is a bit similar, but I never organized the same event in both cities, as the food is different every time. The feedback is good, and people enjoy events. As there have increased the demand of frozen food in Paris today as well, people agrees with the concept of saji. I think there are more people overseas who shares good things with each other than people in Japan. They also promote saji, which is a great support for me.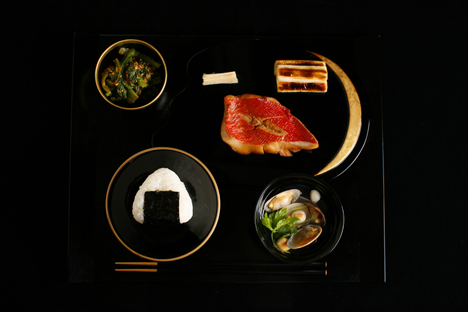 Robin Food / simmered flounder, clam soup, boiled Komatsuna dressed with sesami seeds, onigiri / saji 3.0 / food: Koh Kentetsu
What is saji's favorite food?
Food having with someone special. (except junk food and frozen food)
Could you tell us about the cover work?
The theme is 'what is affluence?' People usually eat food without thinking about what you eat deeply. The tableware and chopsticks used here are hand-made. With them, people could feel the scent of the steamed rice and feel delicious. I made this piece as I wanted to convey how people could feel the whole event of eating food.
Styling by Saori Minegishi, hair and make-up by Yuko Umezawa, and model by Saori Ichii (Gunn's).
How would you like to explore in the future?
Since last year I couldn't launch cooking classes, I want to do that. I also want to do something in Berlin. I would like to offer wonderful suggestions about food in collaboration with artists who could agree with the saji's concept.
I will organize another event at VACANT in November. A new edition of the saji magazine is planned to be released.
Text: Mariko Takei

[Help wanted]
Inviting volunteer staff / pro bono for contribution and translation. Please
e-mail
to us.