A "genre crossing" is when something goes outside of its own border or crosses lines.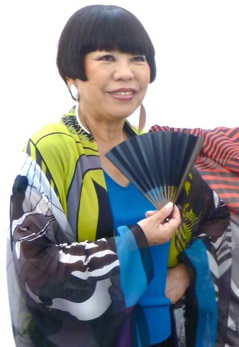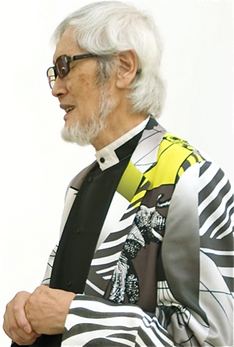 Fashion designer, Junko Koshino met with contemporary artist, Go Yayanagi, for the first time for either of them to collaborate with someone else. They met each other at Yayanagi's solo exhibit, and the encounter resulted in Koshino designing his woodblock prints.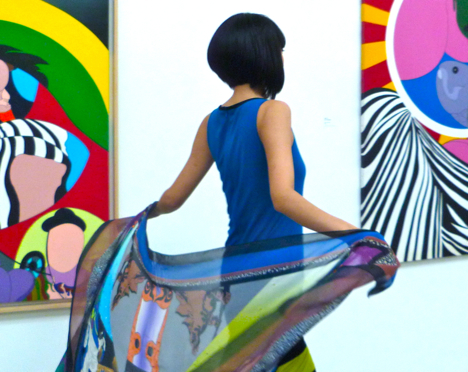 At the opening reception on August 8th, two models appeared in dresses designed by Koshino. Then, the models went through Go Yayanagi's art in the environment which gives the impression of a unique factory in the 798 Art district. The gallery was filled with passion for art and the fanciness of design.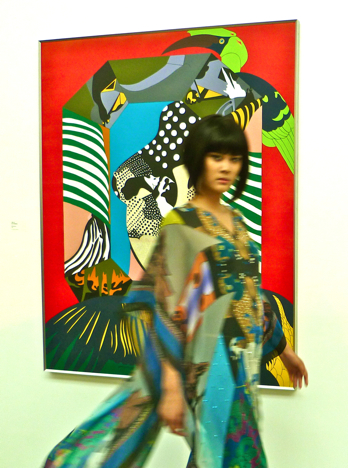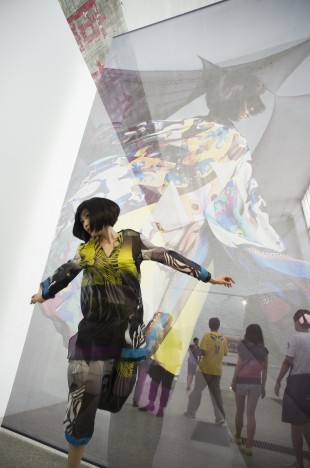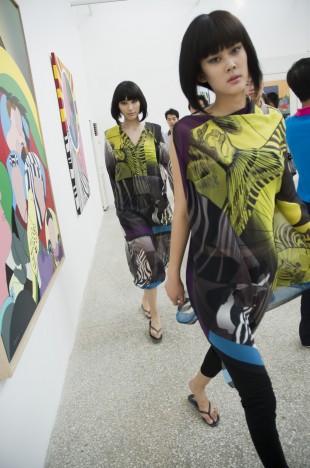 Could you explain about this collaboration?
Yayanagi: This is my very first collaboration. This type of thing never happens in Japan. A combination of pure art and design is ground breaking. Although each of our originality crushes and causes elation, we have to make sure that the finished piece is balanced well. This project is stimulating and interesting for audiences. I would like many young folks to see this exhibit. I am hoping that this new trial opens a path to express an unknown space.
Koshino: It is very interesting that this is our first time collaborating. I had an offer before with an artist from Paris, but I denied the offer. This time, everything went smooth and natural. Both Yayanagi and I are playing around with this collaboration. Understanding each other's art was very important; Yayanagi and  Tabata from Tokyo Gallery and I fit together well as a trio.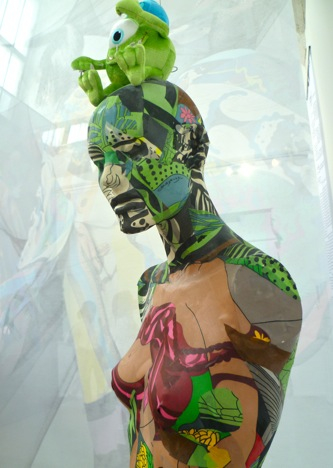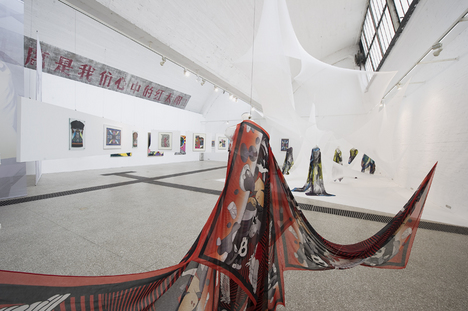 What was in your mind when you designed for this collaboration?
Koshino: We started creating pieces one by one. We have a huge potential to create a variety of things. We have just started. We are going to get better and better.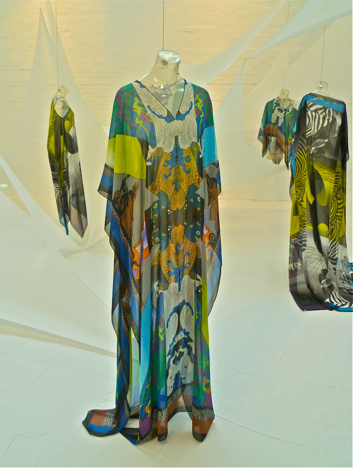 Many of your pieces have a human body. What do you think about people wearing your pieces?
Yayanagi: It is amazing! I have this series, "A magazine of love for animals." It shows a world where animals and man live together. I was very excited to design costumes filled with love on this collaboration with Koshino.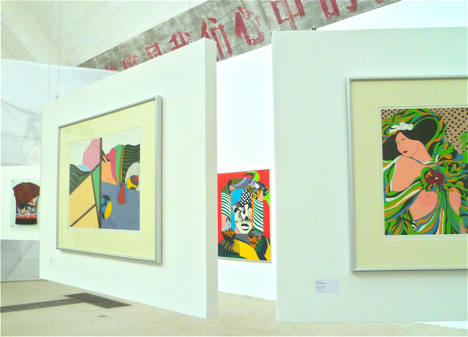 What do you think about the exhibit in Beijing?
Yayanagi: The world has been keeping an eye on Beijing. People come here from all over world, and they can just stumble upon art exhibits and fashion there. I think it is very amazing that there is a place like this.
Koshino: I feel like Beijing is my hometown. A design job is a job that takes borders away. Japan's roots are in China. In the past, people did not know that much about China. Therefore, when I appeared at the Paris Collection for the first time, I designed clothes with the idea of what China was to me. China and Japan have a very deep relationship. We need to be a family, not enemies.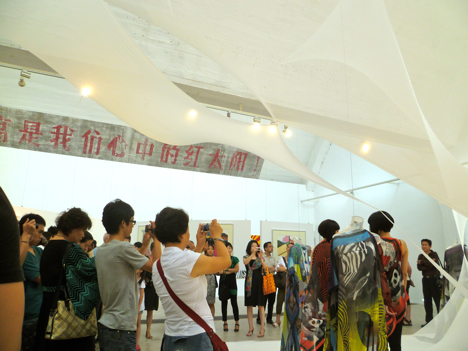 Nowadays, many things are becoming borderless. While many arguments about the differences between design and art have been made, people are wondering how Yayanagi and Koshino would work together. Even though they have both established solid positions in their own areas, they were like a fresh designer and a young artist, unafraid of challenging something new and stepping into a new territory. One might call this "Genre crossing." 。
Junko Koshino + Go Yayanagi "Genre crossing"
Date: August 8th – September 9th, 2010
Hours: 10:00 – 18:00 (Closed on Monday)
Place: Tokyo Gallery + BTAP (Beijing)
Address: 8503#, Ceramic Third Street, 798 Art zone E02, 4Jiu Xian Qiao Rd., Chao Yang District, Beijing, 100015 China
Tel: +86-10-8457-3245
http://www.tokyo-gallery.com/btap/
Junko Koshino
Born in Osaka, Japan, Koshino is one of the leading designers in the Japanese fashion industry. She entered the Paris Collection for the first time in 1978. She works in China energetically as well. Her first fashion show in China was in Beijing in 1985. Twenty-five years later, an exhibit with her partner Hiroyuki Suzuki, "Tokyo Construction" + JK Memorial Photograph, was organized in Tokyo Gallery to celebrate her 25th year of Chinese cultural exchange.
Go Yayanagi
Yayanagi is an artist from Hokkaido. He lived in Sao Paulo, Brazil from 1957 to 1959. Then, he went on to learn woodblock printing in Paris, France. He shows his woodblock prints all over the world. His first time was in in the Krakow International Print Biennale, Yayanagi's work is a mixture of bright colors from South America and Japanese Ukiyoe, which makes his art unique.
Text: Hiromi Nomoto
Translation: Yumiko Miyagawa
Photos: Judy Zhou, (Courtesy of Tokyo Gallery + BTAP)

[Help wanted]
Inviting volunteer staff / pro bono for contribution and translation. Please
e-mail
to us.