Yamaguchi Center for Arts and Media (YCAM) keeps various experimental challenges such as showing large scale installations of media art and performing arts. It also approaches the educational field uniquely by developing original workshops with their own keywords of "media", "society" and "body" through planning gallery tours, which encourage a deep understanding of exhibitions and performances. There are workshops planned in many art museums during the summer holiday season. Here introduces YCAM's insight towards media art and its projects that use bodies practically.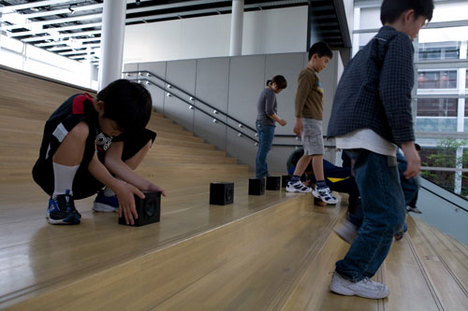 Workshop "walking around surround" (2008)
Held continuously since 2006 at YCAM, the "walking around surround" is a workshop to recapture "listening to sounds" by using their private educational devices. Upon learning how you listen and hear sound at the lecture, visitors will challenge various experiences that focus on "sound and space". The experience includes "blindfold tour" – walking blindfolded while following environmental sound, echo, and resonance, "composition of space" – arranging 8 wireless speakers in a space, and lastly having a presentation in which participants make an axis of time and space in sound, after scoring genres of sound, arrangements of speakers and timing. Through a series of these programs, participants will think about the process of hearing sound in the vibration of machines, diffusion of air, and sensory structures as well as various sounds such as environmental sound and artificial sound. It could be a special opportunity to imagine how sound diffuses across the corners of the space and reaches our bodies.


Left: lecture view, right: blindfold tour


Experience transformation of sound by arranging wireless speakers.
YCAM develops these workshops because they believe in the rich potential of electro-acoustic expression as a media art. Focusing on not only visual expressions such as sculptural objects, but also sensory expressions, YCAM has been showcasing large scale pieces of audio visual installation, sound installation, and installation /concert. They build audio expressions adeptly from time and space as media art, which may not have been seen in the art scene so far.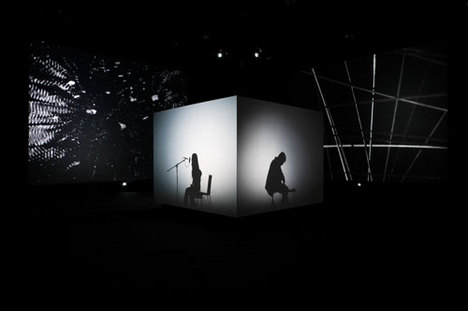 Audio visual installation, Yoshihide Otomo + Yuki Kimura + Benedict Drew + Norimichi Hirakawa + Ko Ishikawa + Yoshimitsu Ichiraku + Jim O'rourke + Kahimi Karie + Sachiko M + Axel Dörner + Martin Brandlmay "quartets" ("Yoshihide Otomo / ENSEMBLES Exhibition, 2008)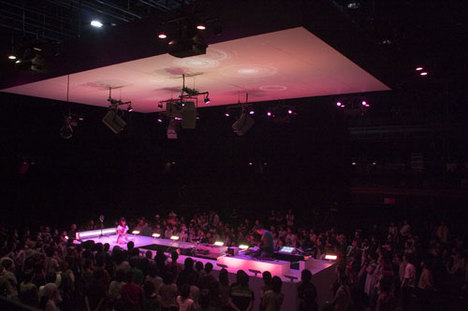 Installation concert, Kazuhisa Uchihashi + UA "path" (2005)
The workshop "Surround Garden – Body and Sound in Resonance" will be held this August to explore a new and unique challenge. Capturing sound as an element in a composition of time and space, the workshop will be a place for not only learning a basic feature of audio expression, but also exploring the theme of "body" intentionally. Inviting an internationally renowned dancer and choreographer Tsuyoshi Shirai as a lecturer, the project involves dance using wireless speakers. There you will see not only the relationship of sound, time, and space shown through the installation, but also a direction focusing on the expression of performing arts that include body movement. Participants will not learn choreography and dance to create a deliverable piece. The workshop includes an environment for a dancer and participants to explore the relationship between "sound and body" experimentally. Artists' collaborating and shaping with workshops which YCAM has developed so far will enhance the possibility and create a new theme that transcends the conventional genres of art, performing arts, and educational growth.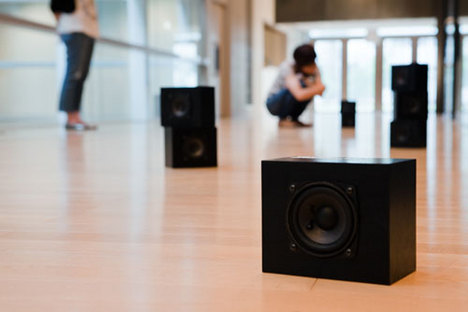 In regards to the key theme of this workshop "sound and body" and the relation to spacial expression, Tsuyoshi Shirai expansively sees its creativity, and explores a new possibility toward "film and body". Exploring dance brought by film/body expression, he has been working on a new video dance piece. Planned to be unveiled in January 2011, the new piece is currently kept under trials and concepts through a residency program at YCAM. It will refocus dance in a different perspective from the usual performance stages drawing on the delicate yet dynamic movement of the body. And how film, a medium with frames of time, will capture the body. By considering experiments of the audio environment such as browsing systems on the internet and distribution services, Shirai explores relevant possibility of "film and body" in the diverse film culture. From the planning, Shirai and YCAM are working together on the creation, which can be realized because Shirai is a dancer and choreographer. In 2008 YCAM produced "Friction of Time – Perspective Study vol.2", a video dance piece by a dancer and choreographer Saburo Teshigawara. Through such experience, a new idea is repeated through experiments and created by artists who work at the same site.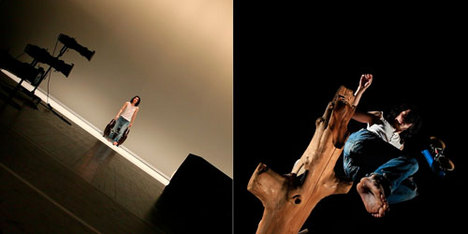 Tsuyoshi Shirai, experiment on a new video dance piece (2010)


Saburo Teshigawara "Friction of Time – Perspective Study vol.2″(2008)
As YCAM holds exhibitions to unveil new installation pieces, these workshops and film works are also created under their own production. The documentation of the workshop is currently distributed in a limited copy.


YCAM workshop book, 1 booklet per original workshop. Currently 6 kinds of booklets. Art direction and book design: So Hashizume
Media art looks at perception, sense, and the body through human beings while opening new forms of expression and lookeing at current technology. The exploration of its creativity is tested in those workshops and artworks. Could YCAM's activity towards art, performing arts, and educational growth renovate the framework of the existing pubic institutions and discover a new environment of artistic creation? Check it out as a possibility of more enjoyment in media art.
YCAM original workshop
"Surround Garden – Body and Sound in Resonance"
Lecturer: Tsuyoshi Shirai
Date: August 21st – 22nd, 2010
Open: 21st 14:00-17:00 / 22nd 14:00-17:50
Place: Yamaguchi Center for Arts and Media
Admission: 500yen
Target: Elementary 3rd grade and up
Limit: 15 participants
http://www.ycam.jp
Open event
"Demonstration and a presentation of participants' works"
Date: August 22nd, 2010
Open: 17:00–17:50
Place: Yamaguchi Center for Arts and Media
Tsuyoshi Shirai and workshop participants will be attending.
Free Admission
Text: Fumi Hirota
Translation: Mariko Takei

[Help wanted]
Inviting volunteer staff / pro bono for contribution and translation. Please
e-mail
to us.