On June 25th it was a hot, sunny day in Otaru a well-known tourist spot in Hokkaido. It was also the day a music and poetry event called Otaru Collage was held in Otaru Soko No.1, along the Otaru Canal, a must-visit spot in Otaru. Otaru Collage was a collaboration event of contemporary poetry, music, and dance, inviting a poet known internationally as a pioneer of contemporary poetry, Shuntaro Tanikawa, and his son, pianist Kensaku Tanikawa.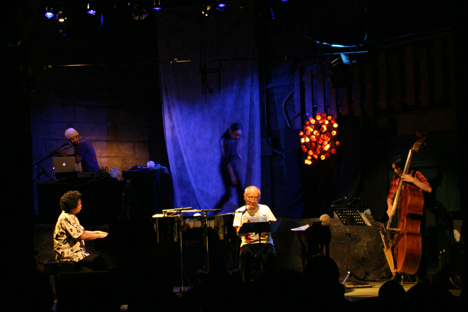 © Hidetoshi Ueshima, PIRKAMUSIC
The title Otaru Collage originally comes from Tanikawa's latest anthology released last year, "Tromsø Collage," published by Shinchosha. The Tromsø Collage was created in Tromsø, Norway when Shuntaro visited, and so Otaru Collage was then named after it as this event was literally a "collage event" of poetry, music, and dance held in Otaru.
In addition to poetry readings by Shuntaro Tanikawa and piano playing by Kensaku Tanikawa, the Otaru Collage was held in collaboration with 3 musicians and a dancer who are all based in Hokkaido: a contrabass player Masaharu Iida, laptop, flute, percussion played by koss a.k.a Kuniyuki, dance performance by choreographer Hal Tanaka, and DJ performance by Naohito Uchiyama.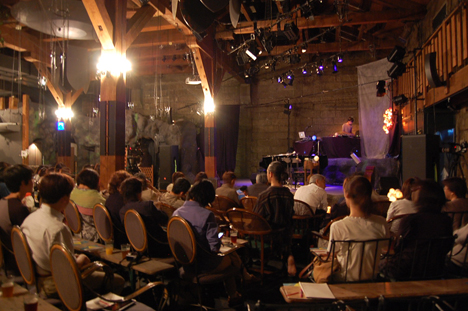 Before the show started, the space was enfolded by ambient sounds created by Naohito Uchiyama. Later the stage opened in dim illumination, and the event started first with Kensaku playing piano, followed by Iida's contrabass performance and electronica sound by koss a.k.a. Kuniyuki, all of which created a space as mystic as the bottom of the sea.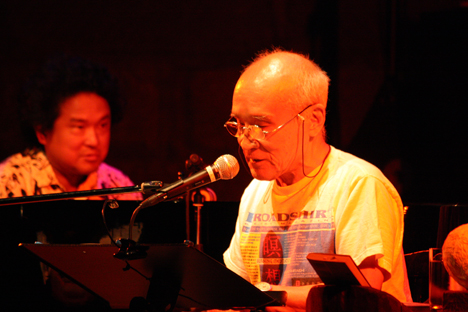 © Hidetoshi Ueshima, PIRKAMUSIC
Lastly Shuntaro Tanigawa appeared, and started a poetry reading of the long poem Tromsø Collage. He improvised in the beginning of the poem, saying things like "it is now sometime in June 2010. This is Otaru in Japan" to suit the situation. It made the audience very excited as if it was like a fanfare to start the Collage.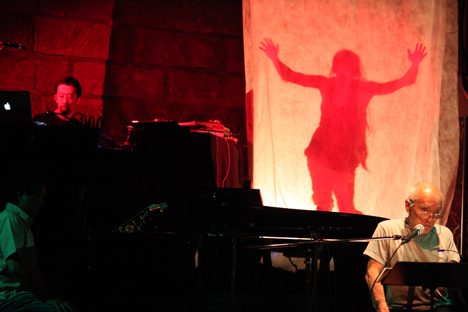 © Hidetoshi Ueshima, PIRKAMUSIC
On the next poem, Hal Tanaka appeared to perform his unique dance becoming as a visual essence, while the poetry reading and music playing created an acoustic sequence. As the event went forward to the end, they started to improvise their own performance. On his reading of Shuntaro's famous poem "Two Billion Light-Years of Solitude" (1952), it led audience to imagine about the universe. Tanaka's improvisational singing the famous lyrics of the song "Astro Boy", written by Shuntaro, the event reached its peak as if it took us on a cosmic journey.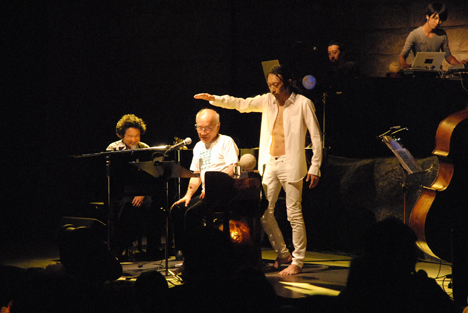 © Hidetoshi Ueshima, PIRKAMUSIC
At the end of the show, Shuntaro began reading the last part of Tromsø Collage, followed by the last piece "Ikiru" with a piano playing Amazing Grace. For a finale, all performers again appeared on the stage, and created a collage mix of a dance tune by Naohito Uchiyama and Shuntaro's word game 'raps' from "Word Games: Nonsense Pictures and Rhymes".
Shuntaro and Kensaku Taniwaka have been collaborating together to perform a range of poetry readings and music events. For them, collaborating with laptop music at this event was a first. The Otaru Collage, a collaboration of poetry, music, and dance, must have made a fantastic night for the audience who had an experience going on a cosmic journey departed from Otaru Hokkaido.
Otaru Collage
Performers: Shuntaro Tanikawa (reading), Kensaku Tanikawa (piano), Masaharu Iida (contrabass), koss a.k.a. Kuniyuki (laptop,etc), Guest / Hal Tanaka (dance), DJ / Naohito Uchiyama
Date: June 25, 2010
Place: Otaru Soko No.1
Address: 5-4 Minatomachi, Otaru, Hokkaido
http://www.pirkamusic.com/otarucollage/
Text: Mariko Takei

[Help wanted]
Inviting volunteer staff / pro bono for contribution and translation. Please
e-mail
to us.