Independent artists, graduated from the China Academy of Fine Arts New Media Department in 2008, now working and living in Hangzhou, China.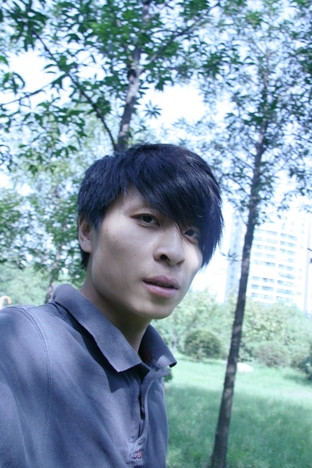 Li is a very interesting person, whether is his funny face in front of camera, or seemingly "senseless" dramatic creativity, the interview will be built on the basis of such funny atmosphere. When seeing his resume, I could not help admiring of inspiration and clever ideas of this young man as my age. He uses his personal language to explore new artistic creation, life perspective, and experience. I am looking forward to his works.
First of all, talk about the latest creative arts activities and exhibitions.
The latest exhibition was "reform history."Recently I did not do new personal work, but in preparation for the film Flying Group. We plan to start shooting in the next half year.
Briefly introduce the movie.
At the beginning, our script is about resentment between spy and blend hero, dragged up as a struggle between "political world" and "Chivalry world". While going to the 1/3 part of the script, the play writer just quit. She left a few words, generally means that she was breaking down, because there is no way to link politicians, secret agents, spy and Blind Hero, but also to develop complex entangled relationships. The past movies could not make such strange figure collision. Therefore, we rewrite the script, according to everyone's interests, in ascending development, and finally develop into a fantasy film. The movie is a world of ghosts and monsters, you can see vampires of Eastern Europe; American Living Dead; No Head Monster in Japan; Thai shaman; East Russian terrorists; more surprising is that there is a monster in the Chinese story -Journey to the West – spider woman, silk Tai Sin. Then, each member of film Flying group play each hero, these heroes are written by the individuals themselves, according to their interests to create the role. For example: Li Fu-chun has interests in ashes and death, so he put it into his vision "refining dead workers", which live in the crematorium. His specialty is to use fire and special drugs and mix the stolen corpse, allowed them to become the living dead, become hazardous to the world. I love freedom of nature and interested in the field, but I am also particularly fans of Shaw Brothers martial arts drama, so I invented myself as "Banana Man", with superb martial arts and full of chivalrous spirit of. His dress is similar to Superman but live in Teletubbies scene where he has a happy farm.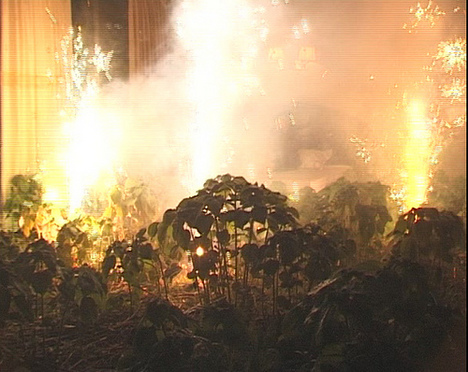 Why do you suppose the "Banana Man" instead of "Apple Man", "Durian Man", is it just came to your mind?
Definitely not just one thought, I spent a long time listing over many fruits, trying to find out something through words. Such as dragon fruit – sounds very despot, but not suitable for my personality; mangosteen – has an illusory image; peach – if I'm called peach man I will be definitely very sissy, perhaps, is gay; grape – grape has beautiful color, the text structure is also very calm, but now grape is metaphor as hemorrhoids, so I will become a "hemorrhoids Man"; Later when I eat banana I realized that bananas are a very interesting fruit – first of all, I do not mind the hint of banana obscene sense; Second, banana is a favorite Fruit, Europeans call it "happy fruit" because it relieves depression and girls love banana because it helps losing weight. Banana is also known as "fruit of wisdom," legend is that Buddha ate a banana and get the wisdom. It appears that the "Banana Man" is not just a boring serious person, and not superficial cliché person.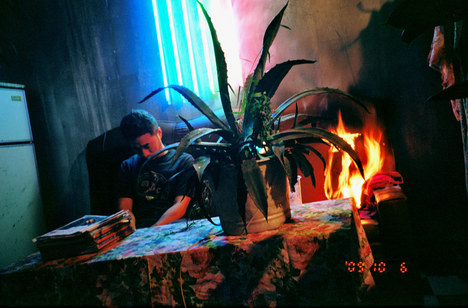 See you involved in Beijing's exhibition "Flying Palace" in "Flying Art Center". The event use a novel form overturning the form and atmosphere in past exhibitions art scene. Screenings of the film which seems to have been deliberate to shoe the low quality, technical roughness, popular spoof style. This film will be the continuation of "Flying Palace" style?
With such a gang gather to write the script, a sense of independence is weakened, the outcome definitely would be a total mix. The present effect will not be personal calm thought, will be a rave party, which is the style that Flying not going to change. But since it is film, certainly detract from the low-quality low-tech, we will work according to the film system.
"A rave party," means that film is a great assorted right?
Yes, made a single type of style, perhaps will be a waste. The audience may have been bored with bloody European zombie films; psychological approach also is a commonplace in Japan and South Korea. When it comes to business, we are far from having commercial power and making sensitive film. Combined interests from everyone, as assorted dish at least the movie will have a richer taste. The banner of the film is just that we want audience to follow the nervous tension, and laugh along as we set the funning stuff, just relax and enjoy.
I saw the text in an interview of Flying group. Does this movie mentioned many real "sexual immorality" lens?
Ha ha ha, well, just see the movie then…
Text: Ralph Yuu
Translation: Peiting

[Help wanted]
Inviting volunteer staff / pro bono for contribution and translation. Please
e-mail
to us.