Natural diet, sing and dance freely.
In ancient Chinese mythology, "Shan Hai Jing" said "When a bird, singing and dancing appears, there will be peace in this world." It is March 27, 2010 and in the concrete jungle of East Third Ring Road in Beijing's CBD, among the skyscrapers, the two "Phoenixes" rose in the sky, spectacular against the tall buildings behind him. The rising Phoenix is artist Xu-Bing's latest work was unveiled to the audience. Related exhibitions and academic activities were launched in the Today Beijing Art Museum.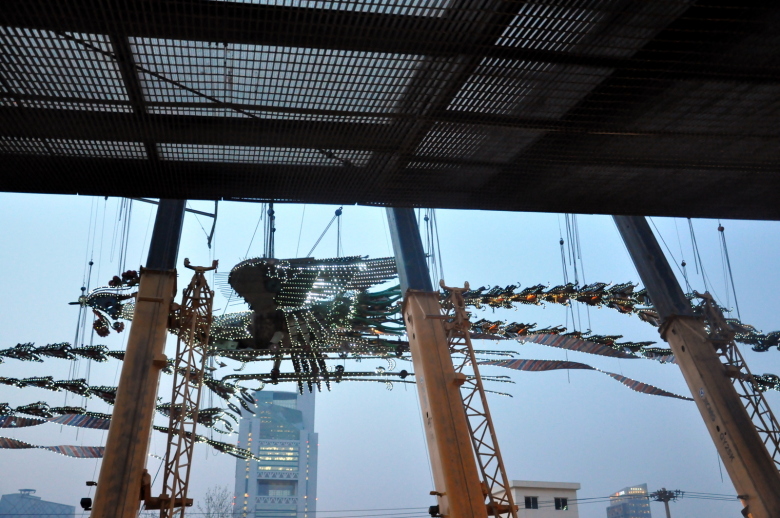 凤凰, 建筑综合材料, 2010
,Xu-Bing, a famous contemporary artist, was born in Sichuan, Chongqing city in 1955. He grew up in Beijing and graduated from the Central Academy of Fine Arts before immigrating to New York in the early 1990s. Xu-Bing's art was a great hit both in China and internationally in the '80s. His artwork in Chinese calligraphy and engraving were especially acclaimed and won him recognition and both international and local awards. His representative work, "Analysis of the World Kam" (also known as "A book from the sky"), was a brand new series of Chinese calligraphy that no one could understand were inexplicable, created from the research of explore the context of the Chinese characters in the period of Chinese Cultural Revolution. His work, "Analysis of the World Kam,"also known as "A Book From The Sky" was a series of Chinese calligraphy which no one had understood before, but which he research and explored by looking at the context of these Chinese characters during the Chinese Cultural Revolution. It debuted in 1989's "China Modern Art Exhibition ", and attracted the keen attention of those in the industry of art and culture. Xu Bing who was living abroad then returned to the vision of Chinese culture and art as he took over as vice president of the China Central Fine Arts in 2008. This time, "Phoenix", is another feat within two years of Xu Bing. There are also the opening of the exhibition literature related to the exhibition. Now, just two years later, his "Phoenix" exhibition is another feat and coincides with the opening of exhibition of related literature.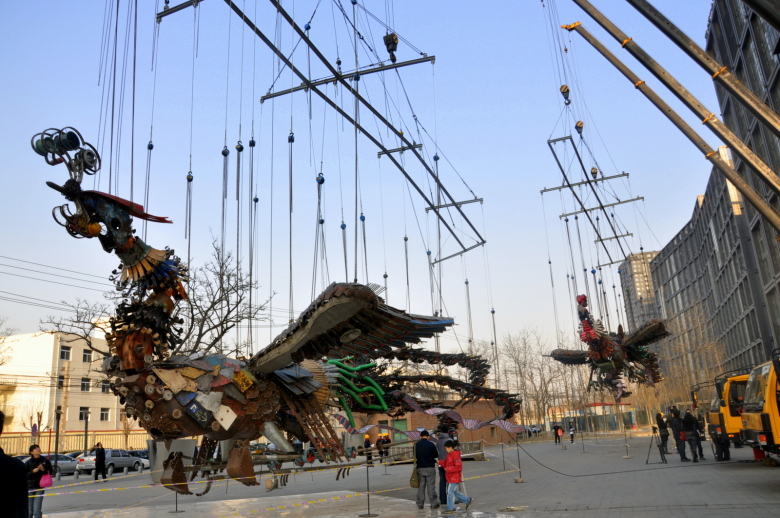 凤凰, 建筑综合材料, 2010
Phoenixes are imaginary creatures in Oriental culture, which gathered the beauty of many animals. It is meant to be the perfect and magical spirit of human thought, and is seen as a lucky symbol of status, value, rights. Xu Bing's Phoenix is made of a variety of materials from Beijing's construction waste, such as building materials, construction equipment, labor tools and other materials which the workers use daily. Against the night sky, the rising Phoenix recalls the extraordinary splendor of ancient times in this modernized but deeply cultural old city. These magical birds respond to the modern architecture in the skyscrapers of Beijing's CBD and they are not just contrast but are also an amazing sight.
Every time we re-connect with the richness and depth of China's ancient culture and civilization, our modern lives seem strange and ethereal by comparison. The faith and vision of our ancestors has been eroded and stripped down into the trifling in modern society. Wandering the streets and seeing the electric streetlamps light up the city as well as the influx of cultural diversity, especially in Beijing, throws up the difference between modernity and the sense of history in this city.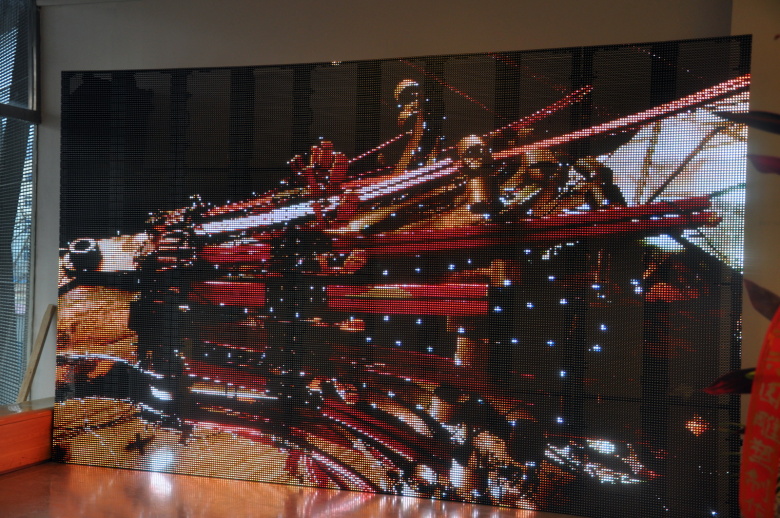 .
凤凰, 建筑综合材料, 2010
The Phoenix, for us, represents unpredictability in the static surroundings, and also symbolizes our desire for the past and dreams that we have forgotten.
Of course, artists are not limited by cultural changes and developments. Using waste from urban construction materials comments on the development of our modern city in this art work. Urbanization has brought row upon row of skyscrapers to the city and capital expansion has led to increasing material desires and many surpluses. Xu Bing's "Phoenix" is a representation of modern life. Can we still expect to see scenes from the ancient past today? The soaring Phoenix in the chilly moonlight shows us the answer.
Xu Bing "Phoenix"
Date: 28th March – 16th April 2010
Place: Today Art Museum, 1 Museum Square and the Arts
Address: No. Apple community, 32 Baiziwan Road, Chaoyang District, Beijing
Tel: +86 10 5876 0600-100
Organizers: Today Art Museum, Xu Bing Studio, Ravenel Inc.
Sponsors: Quanta Computer, Sichuan Wenxuan art investment management institutions
pub@todayartmuseum.org
http://www.todayartmuseum.com
[Help wanted]
Inviting volunteer staff / pro bono for contribution and translation. Please
e-mail
to us.