Upcoming brand from Sweden.
They are plenty of talent, energy and an ambition that follows, and as their name claims, with a committed work. Every single collection becomes a universe where different platforms in art, design, multimedia and music co-live together in a great whole. Uniforms for the Dedicated is a creative collective of young guns. Winners of the prestigious Rookies Award in Sweden barely a couple of years ago ("Upcoming brand of the year 2008" by the Swedish Fashion Council), today they presents a established creative profile with a worldwide distribution.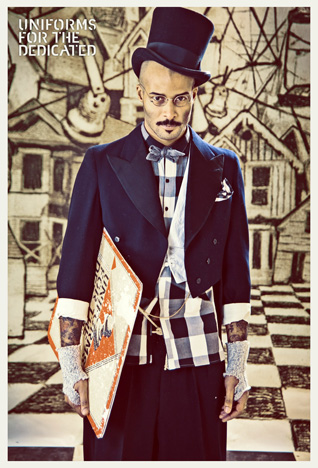 March of No Coincidence, Collection for AW2010/2011
The collective is based between both cities of Stockholm and Gothenburg. They don´t find boundaries and limits when is it the time to create. Able to produce, as a collateral result of their next autumn-winter collection 2010-2011 March of No Coincidence, a board-game in series about how to find your path in life. Breaking a bar just to express their creative flow in form of an installation (1020 Trickery Lane – Spring/Summer 2010). They also have broadcasted videoclips for some up & coming Swedish artist, for instance A play of Nonsense with Ram Di Dam was part of their last Fall-Winter campaign.
In fact, some big Swedish IT companies has turned to ask for their opinion and their contribution with further internal strategies. Most prestigious Scandinavian Department store NK, No. A in Los Angeles, Urban Outfitters London and Copenhagen, Wood Wood in Copenhagen and Berlin, Concrete in Amsterdam or Inoui Maison in Tokyo are a few good examples where you will find the brand.
How did the collective start?
Uniforms for the Dedicated serves as a platform for musicians, illustrators, artists and designers who are continuously invited to contribute with their innovations. Uniforms first took form in 2001 as a traveling snowboard collective. Today, the label has evolved into a co-creative design & music network, expanding with each new project. Main focus being our men´s fashion line, music, film and art direction, recently also doing consultancy work in the fields of design and strategic communication.
The first collection saw the light of day August 2008.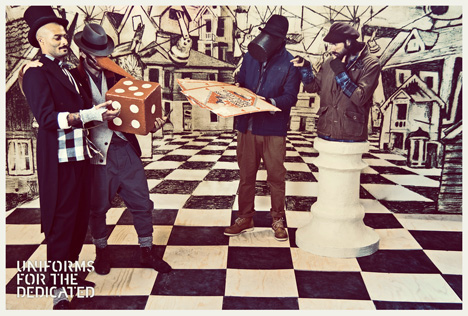 March of No Coincidence, Collection for AW2010/2011
Who is currently involved with UNIFORMS?
Four core members work full time and these are the people who were behind the shaping of the concept and starting up the company/collective. 2 full time staff also occupy themselves in our office, all and all I would say somewhat 12-15 people are in some way involved in music, fashion, film or arts, stepping in and out of the collective.
Is it was fashion design in the forefront of the collective from the beginning?
The primary purpose of Uniforms has never been merely fashion. Instead the foundation of what we are today took form years ago – a group of friends traveling the world together. Later we realized we wanted to continue the creative journey together and fashion became the tool we gathered around. It allowed us to apply and combine various expressions such as art, design, and music.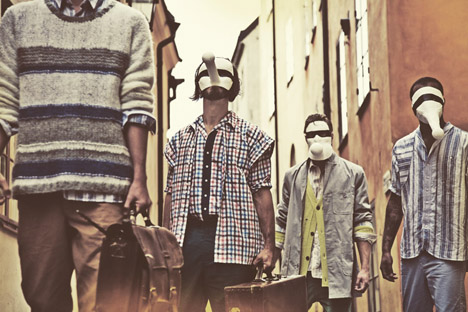 1020 Trickery Lane
How does it work as an artistic collective with the interaction between different platforms?
We live by two almost opposite perspectives when starting a new process; Either we release a "package", for instance this spring we released a fashion collection called 1020 Trickery Lane, produced an art installation at Restaurant Riche, also producing a music single under same name and producing a music video that ties in to the clothing as well as the concept in which the design process started. This leading to a strong communication platform; clothing, imagery, film, music and art under one name, one outlook and one meaning; A playful state of mind fosters creativity.
Or as long as a project is interesting and strong enough it can create a life of it´s own not needing to be a part of above package. Whatever concept or work method the bottom line is that Uniforms for the Dedicated is a tool for the artists involved, getting to create freely will generate best possible result, trust the creative work force!
A few years ago UNIFORMS won the "Rookies of the Year" Award in Sweden.
At that point it gave us confidence in knowing that we where on the right track. We also broke somewhat of a trend being a collective of almost only guys doing men´s fashion in a fun quirky way. Fashion in Sweden often ends up on too much of a serious level… correction brands and designers easily take themselves too serious.
Do you think the government and other institutions in Sweden can really help for the development of the fashion industry?
I´m not sure there is need specifically in the fashion industry, new designers pop up constantly. What is needed is a stronger over all support of the entrepreneurial force in Sweden. It´s a rough climate for anyone trying to start their own business. It´s getting better but there´s a long walk before the government full on walk the walk instead of talking the talk.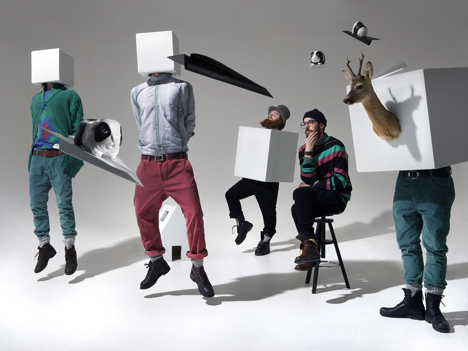 A Play of Nonsense
How do you see fashion design schools in Scandinavia, do you think is it necessary get a complementary experience from abroad?
I know very little about Swedish design schools but I would say that whatever the education it all boils down to you as an individual and your design. You can get the finest education but still create something no ones interested in… or come from nowhere and hit it big, the beauty of consumer knowledge.
In the field of design we´re totally self-taught.
Now is to your opinion the current situation and the perception about Scandinavian fashion from abroad?
I think that "the Swedish design wonder" is bigger in Sweden than anywhere else, somewhat of a media hype. Brandbuilding, design, creative expression and so on is not in any way geographically bound, it´s full on individual. Not saying that the environment doesn´t have an effect but it´s just a bit too simplifying judging a brand based on it´s home turf. Something that you still experience when abroad.
Which Scandinavian brands are interesting for you for any reason? Why?
Brands that have a unique approach, Acne of course, Henrik Vibskov, Our Legacy. I would say Tres Bien Shop as a retailer has a strong identity, hence keeping it interesting.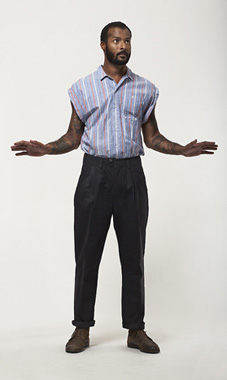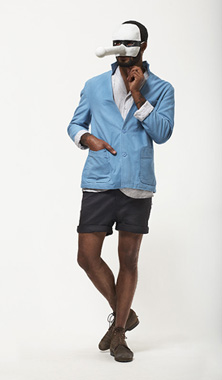 1020 Trickery Lane, Collection for SS2010
UNIFORMS has a worldwide distribution. Which markets are the most interesting for you and why?
Focus markets at the moment are Sweden, Norway, UK, Italy & Japan but there are several markets that are interesting, just a matter of taking it step by step. Strong web based retail solutions need to be mentioned, it´s a global and very interactive market.
How it can be found in Japan?
Yes we have Japanese distribution via Swedish Lifestyle, in Tokyo, at stores like Nubian, Stadium and Inoui Maison.
Could you brief me a little bit about this music side in UNIFORMS?
Uniforms production duo is made up by my colleagues Jonas and Nils. In general they produce the music and then do a collaboration with an interesting singer or band. Now come end April we release a new single which features Swedish singer Adiam Dymott. I´m really looking forward to see the reception and get the verdict ha ha.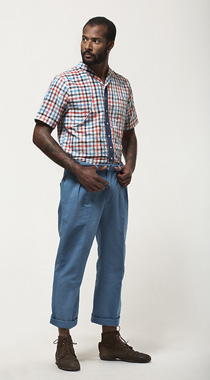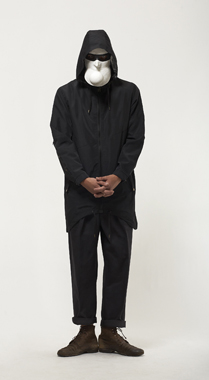 1020 Trickery Lane, Collection for SS2010
What kind of genres are do you usually inspired for?
All and everything I guess, our music lean towards electronics but the inspiration is utterly vast. With UNIFORMS we have involved artists such Stuffa, Nils Krogh, Wester & Wedrén, The Touch, Ram Di dam, etc..
Other interest artists for us: Adrian Lux, Style of Eye, Paul Kalkbrenner, Familjen, Hot Chip, LCDSS, Metronomy, Dan Lissvik, Fever Ray, James Yuill, Siriusmo, The Subliminal Kid & Van Rivers, Miike Snow, Jonathan Johansson, Bogdan Irkuk, Marcus Enochsson, Tiger Stripes, Rollerboys, Punks Jump Up, La Fleur, Dj Nibc, JayAre, Sven Väth, John Dahlbäck, Fakebeat, Krazyfiesta, Hall & Oates, Minimal Compact, Frida Hyvönen and tons of others need mentioning. Could go on answering this question for a couple of days….
Illustration and art-orientated work is another strength within the collective.
Yes as I described before, all is meant to intertwine one way or another, often a new concept starts with a brainstorm and quick sketching leading on to illustrations which are used in the collection and as the first stepping stone in building installations and other forms of art projects.
Have you exhibited the art pieces in any gallery so far?
The art projects are still in an early stage within Uniforms, or at least the structure of it. We´ve travelled the world showing the fashion line in Paris, NY, Milan, Tokyo and so on but art you´ve only been able to see at Galleri Kleerup and Restaurant Riche in Stockholm so far. This is all gonna change as the coming year progress.
Text: Victor Moreno

[Help wanted]
Inviting volunteer staff / pro bono for contribution and translation. Please
e-mail
to us.