Fabulous fashion duos that live and work in Vienna.
As the Austria-Japan Year 2009, which was called out to celebrate 140 years of diplomatic relations between the two countries, is coming to its end, we are happy to present the readers of Shift magazine with the last part of a special editorial collaboration with AUSTRIANFASHION.NET. Throughout the year, we introduced various avantgarde and cutting-edge positions from the Austrian fashion scene and covered the domains of menswear, womenswear, accessory design, Green fashion and fashion photography. At the end of this series comes our portrait of four highly renowned fashion labels that started out as a collaborative effort between two or more creative individuals.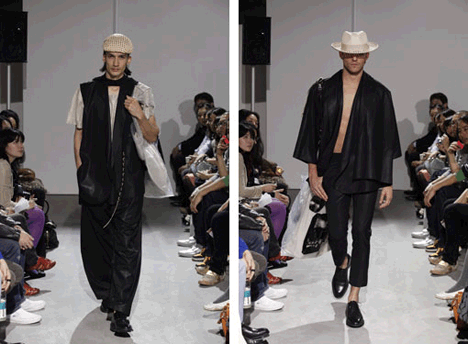 ___fabrics interseason spring/summer 2010, Photos by Naoko Nambu
___fabrics interseason
The Japanese public is well familiar with this Austrian duo of artsy fashion designers, as they are represented by DUNE agency in Tokyo – and recently had a big runway show in the context of Tokyo Fashion Week. ___fabrics interseason is the joint project that was started by Wally Salner and Johannes Schweiger ten years ago – their conceptual take on fashion essentially involves an intrinsic opennes towards the art world, which is why they have frequently taken part in important exhibition projects in Austria and abroad. ___fabrics interseason is an exciting design venture that scrutinizes the boundaries and overlappings of several related yet independent creative fields. Since October 2009, they are professors at Vienna's renowned fashion institute in Hetzendorf palace, where they head the bachelor programme for fashion design in collaboration with the University of Arts in Linz.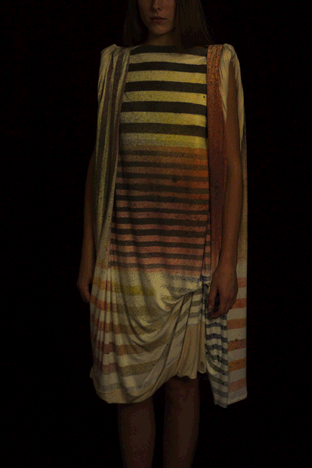 Hartmann Nordenholz spring/summer 2010, Photos by Nordenholz
Hartmann Nordenholz
The very beautiful name of fashion label Hartmann Nordenholz was inspired by the maidennames of the designers' grandmothers: Agnes Schorer and Filip Fiska met at Vienna's University of Applied Arts, where they started working together in 2000 – and never stopped until today. Their refined aesthetics and the fact that they frequently turn to literature or the arts to find inspiration for their collections (their spring 2010 collection is called "Moebius" and references the infamous Moebius strip that represents a simple yet almost upsetting and at first glance even paradox construction). Filip and Agnes have made themselves a name for a range of intricately executed pleats and drapings, which characterise their dresses as well as an interesting range of accessories. More recently, they started working and experimenting with print fabrics – and you can only love the results.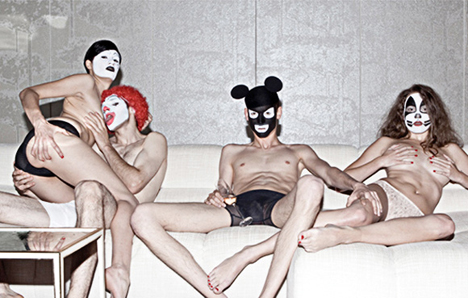 Wendy & Jim & DJ Hell underwear, Photos by Lukas Gansterer
Wendy & Jim
They often refer to themselves as the first Austrians with a runway show during Paris Fashion Week after Helmut Lang: Helga Schania and Hermann Fankhauser started their infamous fashion label Wendy & Jim with a bang when they presented their first collection in Paris. For a lot of people, the fast success of this young label became symbolic of the emerging Austrian fashion scene. Ten years later, Wendy & Jim are still around as an avantgardistic design duo and ceaselessly try out new strategies to increase their popularity – and commercial success. In addition to their ready-to-wear collection, they recently started an independent denim line called New H Denim and put together a quite sexy-looking underwear collection for men in collaboration with techno legend DJ Hell, which will soon hit the stores.
Read more ...

1
2
[Help wanted]
Inviting volunteer staff / pro bono for contribution and translation. Please
e-mail
to us.