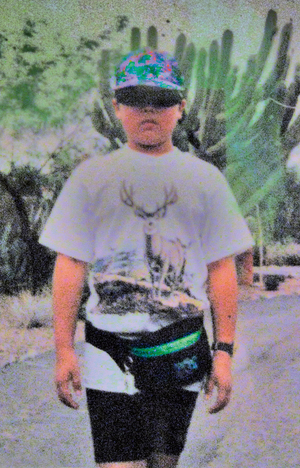 Portrait (childhood) taken in Arizona, wearing leggings, a deer T, a pochette, same sunglasses as Terminator wears.
Please tell us how you started to do drawings.
It might have originated when I was into drawing labyrinths as a kindergarten kid.
As a elementary school kid, I was fat, always wearing a pair of leggings like a goalkeeper. Playing with a survival game and Pokemon, I have launched "Shei÷2", a book of collected mangas we made on our own.
In my junior and senior high school days, we made many new things to play, as I went to a boarding school located in a deep mountain where you cannot watch TV. At that time, I did many things like making a secret hide-out in the woods, getting into shell mounds to collect earthenware and animal bones, visiting into the deeper mountain to get lost by myself with plenty of food, making something like plastic bombs by breaking down firecrackers, and so on. Just to mention, I did become a student council president.
I spent interesting days in the dormitory, where a Pringles (Large) was sold at 1000 yen as we had no free time to eat snacks and where we needed to listen to music in secret as we are prohibited music (except for hymns). As I went to a Christian school, I studied a lot about eschaton and the devil. One day I pretended to be possessed by devil (act to vomit repeatedly with shaking my body), then the teacher Mr. Miyagi prayed religiously (exorcism). I feel sorry for him that I was bad.
*Mr. Miyagi who has a strong body has seen a student who was possessed by the devil for real. He says that the student started to have super strength, could not be held by 5 men and went on a rampage.
In those days, I spent my time to drawing UMA, singing hymns, getting beaten by Senpai (seniors), baking cheese on an iron, crying and smiling.
Please introduce some of your drawings.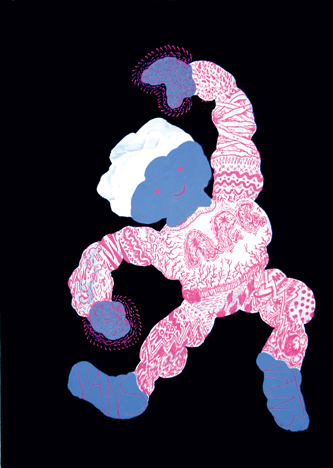 JUNBITAISO
Saying "I got this bullet belt at ZOZOTOWN", he warms up wearing his favorite AxPxCx pajama. This guy would be a lead character for 200000V tonight!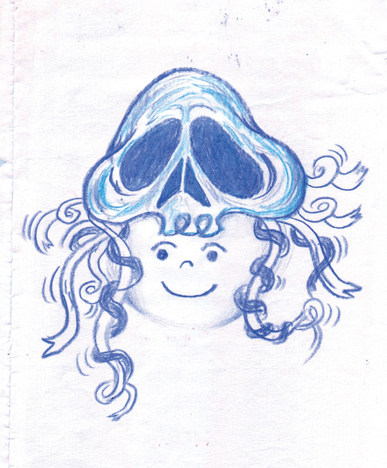 T.S.G.(Tokyo Skull Girl)
She is a first year student at Bunka Fashion College, just moved to Tokyo. "I wear my favorite clothes despite what others think." She is cool as she says so, but give me a break wearing a skull!
Read more ...
[Help wanted]
Inviting volunteer staff / pro bono for contribution and translation. Please
e-mail
to us.