An artist bridge between digital and analog.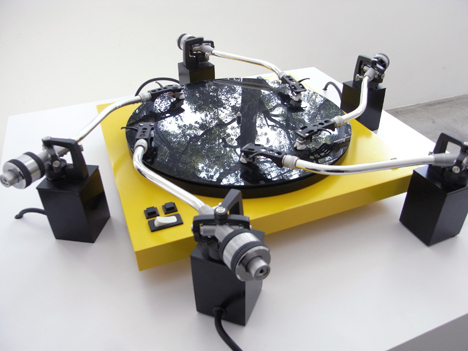 Aren't you the kind of person that prefers a digital-acoustic guitar, electric dictionary over a hand-writing pad, a digital camera over a LEICA, or reading the newspaper on an iPhone? Based in London, Yuri Suzuki, a product designer working on product design, interactive design and music, arouses the feeling of those people who are between digital and analog.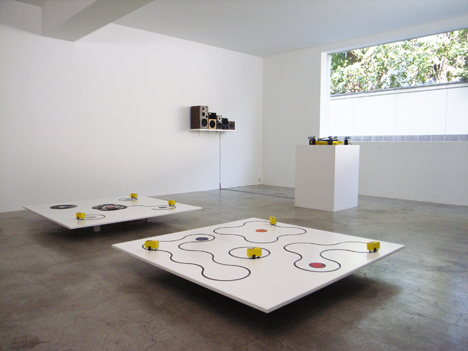 ©Yuri Suzuki, courtesy of CLEAR GALLERY
That's easy to say "digital and analog". I think there seems to be long, deep profound disagreements between them. Some say they don't read the newspaper on the Internet, and others say they get music only from iTunes Store. Of course, I don't mean to make a sweeping judgment about which is better, digital or analog. Nevertheless, it can't be denied that the world around us has transformed into such a digital dominant world, and the whole society is expected to make analog society a legacy of the past.
In this present age, Yuri Suzuki bridges analog and digital by his digital but analog, complicated but instinctive, cold but warm, and data and figurative works. What is the mechanical but tender feeling in his work? Thinking this would help you find an answer to a question of design; that is Simplicity. He creates a definite mechanism of analog and sense of fun.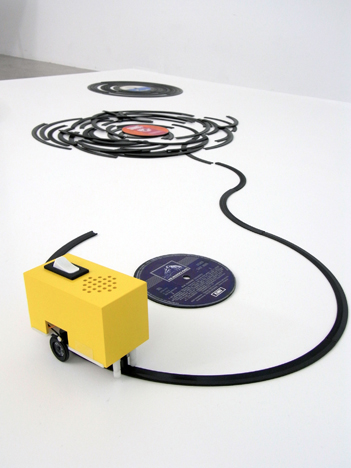 Sound Chaser 2008, Technical collaboration with Yaroslav Tencer. ©Yuri Suzuki, courtesy of CLEAR GALLERY
In "Sound Chaser", the yellow car running on the rail of pieces of old records free to fit together, creates unique sounds by users. Because of its simple mechanism, they can repeat the process of trial and error and be finally excited to complete the one they want. The feeling that only the simple and analog things arouses the physical aspect of sound.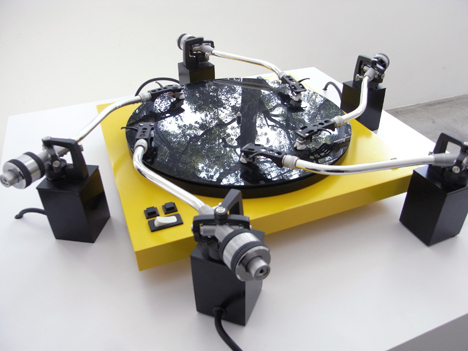 Prepared Turntable 2008 ©Yuri Suzuki, courtesy of CLEAR GALLERY
The "PREPAREDTURNTABLE" spins a tune on a record with 5 arms. The seemingly-complicated work is so easy to use that they can affect it, get close to it, and get hold of the sound as an exteriorized thing not just as sound in air. They feel "raw things" in the work.
Things have become more multifaceted and complex, but people haven't changed, neither has design. Why not do subtraction and think complex ideas simply? Then, you'll get more deep insight about things, which may enable you to get along with digital and analog world.
Yuri Suzuki Exhibition "Physical Value of Sound"
Date: March 6th – May 16th, 2009
Time: 11:00 – 19:00 (Closed on Sun, Mon, National holidays)
Place: Clear Gallery
Address: 1F Place Aoyama, 4-2-5 Shibuya, Shibuya-ku, Tokyo
Tel: 03-5485-8461
http://www.cleargallery.jp
Text:Tatsuhiko Akutsu
[Help wanted]
Inviting volunteer staff / pro bono for contribution and translation. Please
e-mail
to us.