MAISON MARTIN MARGIELA INTERIOR DECORATION
An ultra modern temple. The world of Maison Martin Margiela.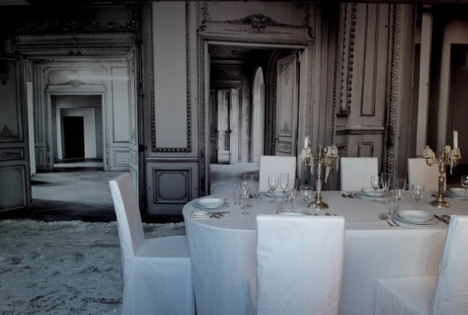 What awakens you by a proper noun, Martin Margiela? Margiela's "white". Margiela's "cotton". Margiela's "trompe-l'oil". It's amazing to realize to see that all of it comes with "Margiela's".
You can fully enjoy "Margiela's interior decoration" at the Cite de L'architecture & du patrimonine until the beggning of October in 2009.
Torocadero in Paris, where Le Palais de Chaillot spreads its wings just like veiling the Eiffel Tower across the Seine. In the eastern wing, the omnibus museum that consists of French architecture and cultural heritage opened in September 2007.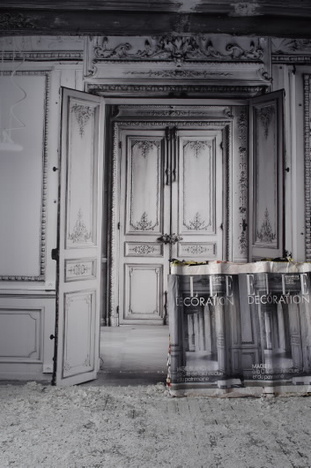 Hosted by the renowned French interior magazine "ELLE decoration", a project "la suite" features a 220 square meter apartment with a great view of the Eiffel Tower and Paris city where Jacques Carlu, architect of palais Chaillot, used to live and offers an opportunity for a distinctive designer to take in all of the interior decorations each year.
Christian Lacroix, who is also well-known as a modern art collector, started 2008 by letting works from young artists dancing in his color and style. (Last year's view from here)
This year, carrying a contrastive style of color to him called "Ultra modern temple", Maison Martin Margiela was designated for him to use.
He made his debut in the fashion industry at the spring / summer Paris collection in 1989. An group of designers from Antwerp Royal Academy of Fine Arts and his collection with most artistic concept and form in modern fashion who has kept us amazed and amused.
This exhibit is by appointment only and just 20 people an hour are allowed to appreciate his world.
One door is opened in a maze of palais Chaillot. You are in the middle of a corridor that is covered with a sullen tasteful silver cloth. This is the place to greet guests and most considerable as the hall, however, my fixed ideas were immediately destroyed. Then my vibration was led by a light to the right back side of the corridor and was left still deeper later on in the first room. That is a studio with grey and white where it seems like a shooting spot for his new collection taken place a couple hours ago. Chairs, tables, umbrella stands, a life-sized dog statue, and a round sofa that used to be organized in the room are all put together in the middle and covered with Margiela's "white cotton". A shooting light and a ladder with dried paints are casually left as well as an artificial ELLE decoration poster and picture frame's marks on the wall. Still taped translucent plastic covers in the window. Its presence silhouettes against traceable objects from the past.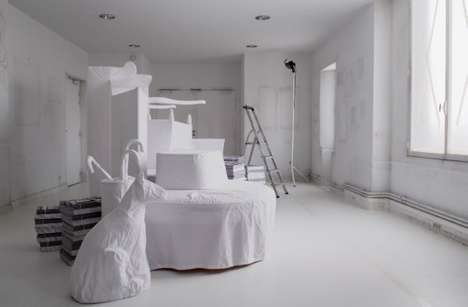 That is so Maison Martin Margiela. His concept is that while the vestibule and first chamber of a residence are without luxurious decorations, the best way to welcome a visitor to Margiela's world will be to show it from behind the scenes.
This process reminds me of his white dress. All of his atelier staff wear white as well as boutique staff all over the world.
Besides that, Margiela puts a rectangular white cotton stitch as an imprint, instead of his brand label. An apparent completely neutral label sewn with 4 white radial threads that appears at the back of the head makes Maison Martin Margiela stand out. By hiding and by covering, his intention is very appealing.
For margiela, "white" is not only original pure white but also the one that gets soiled and stained by touch and by use as time slides by.
Going through the backstage ruled by both the "white" that covers him and "time" that's roused by the trace, I open the door and step into the saloon and see "white" again. The bright sunlight through the glass wall facing the terrace swells the effect more than previous shining cotton "white" with mirror and window.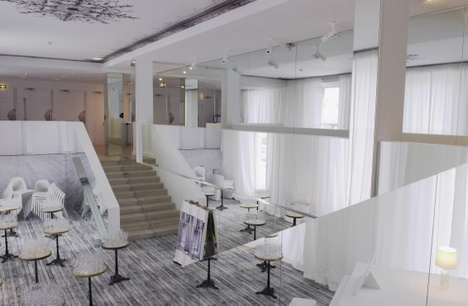 This appartement interior is on the subject of "After The Party" which Maison Martin Margiela brings.
Tables in the hall are choked up with wine glasses and chairs are stacked up just like that.
Margiela's concept "trompe l'oeil" appears in the saloon. You will not recognize at fist sight, but white and grey grained floor and French taste ceiling and walls are all just pasted wallpapers. If you strip away the white cloth on the piano, you will see a full-length piano made by cardboard.
On the extensive terrace through the glass facade, white stools are stacked on the laid fake lawn and large and small used drooping candles line up on the parapet, you can see the whole city of Paris.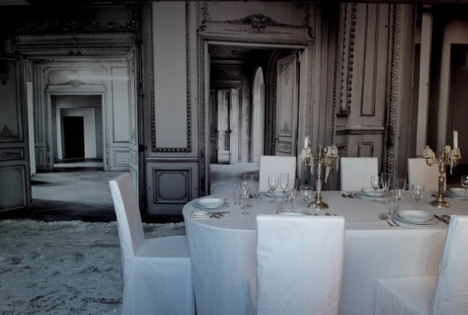 The final chamber is a dining room. Tables and chairs with white cotton cloth, dishes and cutlery are placed in order, melting candles, cluttered wastepaper on the floor, are all factors that I saw in the other rooms. The best part above all things is his tremendous work with white and grey light effects of trompe l'oeil wallpaper that gives you an illusion of an ever lasting door. It seems like a perfect figure at first sight, however, it is printed incompletely on purpose that gives a curious perspective drifting in the dining space.
This apartment is available only by appointment and open for public on weekends. You can throw a reserved party on weekdays. Margiela's subject, "After The Party", is not only the theme but also that you are literally seeing the scene after the party that might have been held the previous night. A bathroom next to the saloon is surrounded by white walls, and that is the place for party participants to leave graffiti. Melting candles also remain after each party.
Remake-clothes that is made of patched vintage clothes turning into brand new shirts and dresses, Maison Martin Margiela official website, a conception of complicated combination of "white" and "time" and interior decorations presented here.
There is no completed works with a concept of "end" for anything that Margiela creates. It has one form and one concluded entity in front of us, nevertheless, we only catch the moment and it implies the transformation in the future. Any work touched by Margiela is always in progress. Yesterday, Today, and Tomorrow.
Maison Martin Margiela / la suite
Date: Deceember 20th 2008 – End of October 2009
Place: Palais de Chaillot
Address: Place du Trocadéro et du 11 Novembre, 75016 Paris
Text: Kana Sunayama
Translation: Yoshitaka Futakawa
Photos: Courtesy of Cité de l'architecture et du patrimoine, Paris. © Marie-Pierre Morel pour Elle Décoration
[Help wanted]
Inviting volunteer staff / pro bono for contribution and translation. Please
e-mail
to us.