ATAK NIGHT 4, produced by the Yamaguchi Center for Arts and Media (YCAM) and the music label ATAK together, is the seventh installment of "sound tectonics" (a series of concerts of sound art created using media technology at YCAM). Participating artists are Keiichiro Shibuya of ATAK, a New York-based legendary sound artist Yasunao Tone, Finnish duo Pan Sonic and evala. These 4 groups have just returned from a European tour and will appear in Japan for the first time, giving audiences an experience of a sharp-pointed sound performance that generates electric music and science. ATAK NIGHT 4 will start touring 3 different places in Japan: first at YCAM, then to Kyoto and Tokyo. As an organizer of ATAK NIGHT 4, Keiichiro Shibuya reveals some things about the festival of sound art.
You have established the music label ATAK, which showcases a series of sound art events called ATAK NIGHT. Could you talk about when and how it started?
I've been thinking about it lately. ATAK was launched in 2002, which started a bit late as this kind of music label. It could be said it's the last label among other labels of the same kind. The first ATAK NIGHT was held in 2004, I think. The reason why I launched ATAK NIGHT was simply that there were no such events of sound art and electronica that were held with high quality acoustic system at that time.
Needless to say, in the case making music with technology, like computers as a medium, one of the most important things is the final output…in other words, speaker system and space. I figured out that there was only one way to carry high-quality sound systems to an appropriate space by trial and error. What I'm talking about is not that the clubs are bad and that concert halls are good. Concert halls are actually designed and arranged for better acoustics for instruments. There are problems with club space though. So I carefully consider the selection of venue and members for ATAK NIGHT every time.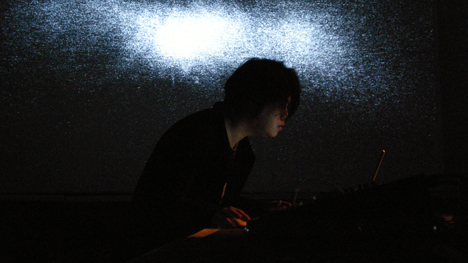 ATAK NIGHT 4 in Berlin, photo by Stefan Riekeles.
The 4th ATAK NIGHT finished its European tour and is now waiting to be held in Japan starting in the end of April. Please introduce ATAK NIGHT 4 including the touring members.
As we finished a tour to Europe and Taiwan, the members of each event have been changed easily. But the main performance for the European tour this time took place at the ClubTransMediale in Berlin, and the Japan tour will take place with the same lineup from the Berlin performance.
ATAK NIGHT 4 was actually started with a work by Mr. Tone for the tour, which was created in an 8-channel surround piece. The performances at YCAM in Yamaguchi and UNIT in Tokyo will surround the audience with 8-channel set-ups. It will give the audience a totally different experience of the volume and resolution of sound. You can view ATAK NIGHT 4 in Berlin.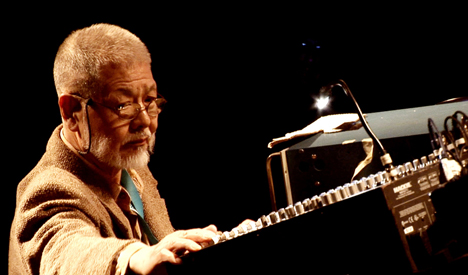 ATAK NIGHT 4 in Berlin, photo by Takeshi Furuya.
Among participating members of ATAK NIGHT 4, the appearance of Yasunao Tone has been a focus of attention for many people, as he is a 73-year-old electronic sound artist who has been part of the Fluxus movement since its beginning. How did you select four participating members this time?
I actually didn't select. They are only four of them who came up in my head.
Pan Sonic has joined the tour of ATAK NIGHT 3, which took place last year, and I was surprised by their high ability of managing time…that is a quite significant aspect in music, I think. And I couldn't find anyone else to best describe their performance of electronic music as "playing." I don't think they're inspired by experimenting with the typical human interface, but I always do get inspiration from their music. So one year later I wanted to know how they were and asked them to join again and perform together.
I had several chances to talk to Mr. Yasunao Tone in Japan, and we shared common understandings of music and favorite music even though our music style is completely different. Another common thing between us is the obsessive way we work on creation, as Mr. Yuji Takahashi once mentioned Mr. Tone and I would probably groove together. And later I was asked to release his work from ATAK…like his life work and one of his outstanding works – transforming Chinese characters from the "Man'yo-shu" anthology into digital images and then into sound. Having been quite interested in the work and respecting him so much, I decided to undertake the project. The work will be released in the application format created into the CD-ROM form. So the tour of ATAK NIGHT 4 initially started from this.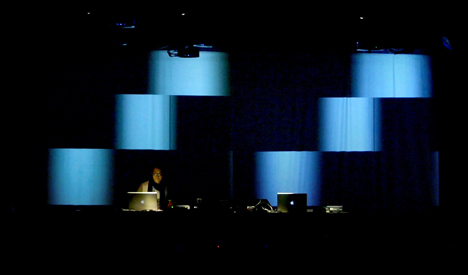 ATAK NIGHT 4 in Berlin, photo by Takeshi Furuya.
ATAK NIGHT has toured in Europe for the first time. What did you think about the European tour?
We got different feedback from each performance, and that's interesting. Overall I got a feeling that the scene there has stagnated. But I guess it's not only about music. In Berlin I think there are more people who are responsive and looking for something new in music, as we performed ATAK NIGHT last year.
At YCAM and UNIT in Tokyo, ATAK NIGHT 4 will multi-channel-tour with 8 speakers, which will be different from the usual PA system. What will be different from the past live?
A concert and show is not only a place to perform music but also a place to experience what you usually can't. And I think it should function as such a place, to feel music via sound resolution and acoustic pressure and to experience vibration in the brain, and so forth. In any case playing in the stereo system is too close to the usual context of listening music. That's why I used to do lives with 4 channels at least that surrounded audience. ATAK NIGHT 4 will be the double of it, so I am very excited about it.
Could you tell us the highlight of ATAK NIGHT 4 in Japan?
As I mentioned, the highlight will be a multi-channel live as well as an explosive experience of high sound quality, high sound resolution and high sound pressure. And you can imagine the rest of the highlights from the lineup. At UNIT in Tokyo we are planning to have a surprise special guest.
What's the next plan for ATAK NIGHT? Do you have any vision?
It has never been on the way I want. I don't have vision particularly. I always think each event of ATAK NIGHT, a showcase of our label inviting guests, will be the last one. It will keep continuing if there is someone I want to work together with. Basically, I will have more solo tours and concerts.
Please tell us about future plan on ATAK.
In July I will release my 3rd album, which will focus on tracks and materials from a sound installation "filmachine" created at YCAM in 2006 to "ATAK NIGHT 4." And 2 months after that, in September, I will release a solo album of piano works for the first time. It will be only piano works, playing a piano without computer and digital elements. But I tried many things that are different from the usual acoustic aspects, so the resolution will come out quite high.
In the fall I'm planning to do a solo piano tour in several places. Besides that, a collaboration album with a Canadian artist i8u and UK artist Tomas Phillips will be released, which I think will become a masterpiece of field recording and drone.
Also a member of ATAK, evala's second album, and earlier mentioned Mr. Yasunao Tone's CD-ROM work will be released in this year. In the next year I will also work on a new sound installation at YCAM, which will be scheduled to show in Europe later. These are the plans I can think of. There might be more coming up as we are unpredictable.
ATAK NIGHT 4 Japan Tour Update
Pan Sonic has canceled the tour due to one of the members of Pan Sonic, Mika Vainio's sudden illness. Instead, Ryoji Ikeda will join performing at the tour of ATAK NIGHT 4.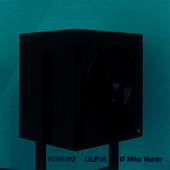 ATAK012 OLEVA by Φ Mika Vainio
Label: ATAK
Release: February 18th, 2009
Price: 2,400Yen
ASIN: B001QUS28U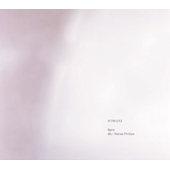 ATAK013 ligne i8u+Tomas Phillips
Label: ATAK
Scheculed to be released on May 20th, 2009
Price: 2,400Yen
ATAK NIGHT4 Japan Tour
Yamaguchi live at YCAM: sound tectonics #7
Date: April 29th, 2009 (Wed) Open 19:00 / Start 19:30
Place: Yamaguchi Center for Arts and Media Studio A
Price: 2,000Yen (Advance), 1,700Yen ("any" members & special discounts), 2,500Yen (Door)
*No discount at door.
Ticket: Yamaguchi City Foundation for Cultural Promotion Tickets Information [YCAM]
Tel: +81-83-920-6111 (10:00 – 19:00 Tuesday closed)
Artists: Keiichiro Shibuya (ATAK), Ryoji Ikeda, Yasunao Tone, evala (ATAK, port)
PA, 8ch surround system: Takayuki Ito(YCAM InterLab)
Organized by: ATAK
Co-sponsor: Yamaguchi City Foundation for Cultural Promotion
Support: Yamaguchi City, The Board of Education of Yamaguchi City
Produced by ATAK, Yamaguchi Center for Arts and Media[YCAM]
http://www.ycam.jp
Kyoto live
Date: April 30th, 2009 (Thus) Open 19:30 / Start 20:00
Place: KYOTO CLUB METRO
Price: 3,000Yen (Advance, w/ flyer), 4,000Yen (Door)
Ticket:
Ticket PIA: 0570-02-9999 (P Cord:314-833)
Lawson Ticket: 0570-084-005 (L Cord:58577)
Artists: Keiichiro Shibuya (ATAK), Ryoji Ikeda, Yasunao Tone, evala (ATAK, port)
PA: Yoshihisa Fukuhara (T&HY)
Organized by: ATAK
Support: CLUB METRO
Tokyo live
Date: May 3rd, 2009 (Sun) Open 23:30 / Start 24:00
Place: Daikanyama UNIT
Price: 4,000Yen (Advance, w/ flyer), 5,000Yen (Door)
Ticket:
Ticket PIA: 0570-02-9999 (P Cord:316-164)
Lawson Ticket: 0570-00-0777 (L Cord:78949)
Artists: Keiichiro Shibuya (ATAK), Ryoji Ikeda, Yasunao Tone, evala (ATAK, port) + a special guest
DJ: Masaya Nakahara, LOCO2KIT (YumYumMummy!)
PA, 8ch surround system: AO + Mizuki Nishimura (Raysound Co.,Ltd.)
Organized by: ATAK
Special support: Sony Corporation
Mechanical Support: Meyer Sound, Raysound Co.,Ltd.
Text: Mariko Takei
[Help wanted]
Inviting volunteer staff / pro bono for contribution and translation. Please
e-mail
to us.