Each year at the end of January Berlin gets for some days the center of the international media art scene. "Deep North" was the theme for this years Transmediale 2009 for "art and digital culture", which was held at "Haus der Kulturen der Welt" called "pregnant oyster" by the berliner. And again the temperatures in Berlin were suitable for this subject.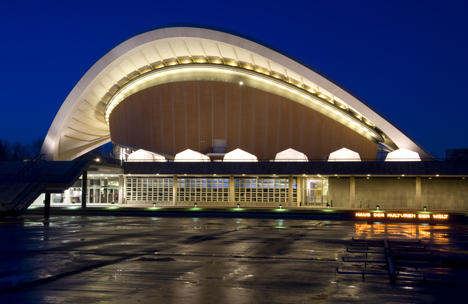 Interesting highlights were the performances curated by Stefan Riekeles who is one of the young co-curators of the Transmediale with artistic director Stephen Kovats. Among them extraordinary performances were the soundsobjects by Pe Lang and Zimoun.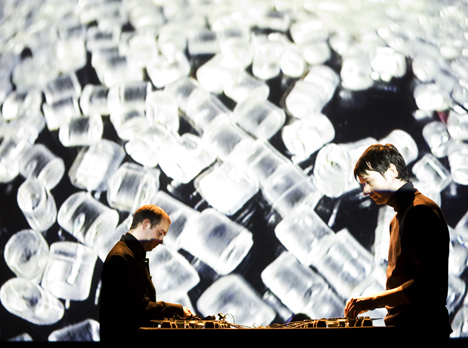 Vibrating motors are attached to a transparent glass plate and makes it move and oscillate. Various kinds of objects are placed on this plate and they generate sound which are processed and amplified. The fragility and complexity of the resulting sound architecture resonates with the elegance and simplicity of their instruments.
On the same evening Sonolevitation by Evelina Domnitch and Dimitry Gelfand with TeZ was presented.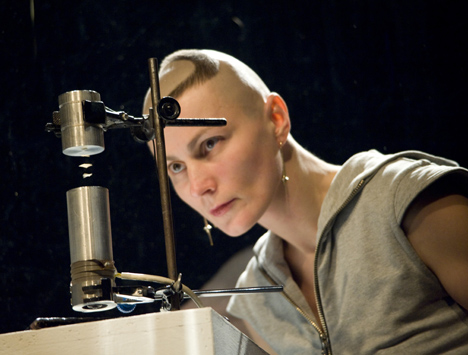 Sonolevitation is a project where levitation is made by sound. Small pieces of gold seem to hover in air. It looks like magic.
Another very memorable perforamance was by Ryoichi Kurokawa, who worked with berliner based japanese musician Aoki Takamasa. His audiovisual explorations are very poetic and dense.
Most suitable and interesting contribution of Transmediale 2009 was the lecture by Marko Peljhan (1969*), who works as a conceptual scientist-artist. In the context of "Deep North", he presented his works in both the north and south pole of this planet.
Marko Peljhan's works are difficult to describe as they are mostly whole projects, where the outputs are only one aspect of the whole. In Makrolab for example he studied the geopolitical history of the northpole connected to the history of technology. Makrolab was not a project conducted only by Marko Peljhan. He collaborated with a lot of other artists and scientists. It was a mobile laboratory for receiving electromagentic waves: A kind of radar for all sorts of data going on air and through telecommunications networks.
In his lecture during "Deep North" he showed also some relations between the northpole and electronic warfare during the cold war. The north pole builds still a kind of void in the consiousness of the humans. In todays world hyperculturality has become normal. Still the north pole is unknown and is a kind of "other".
Besides the Transmediale there is always the Club Transmediale organized and curated by a different team with main curators: Jan Rohlf, Oliver Baurhenn and Remco Schuurbiers. What was new this year was the marvelous dayprogramm. Highlights of it were the xxxxx workshop presentations, the installation Stimuline, soundmuseum.fm and the workbase of platoniq.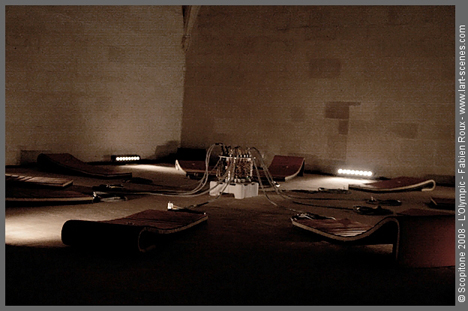 Stimuline by Julien Clauss and Lynn Pook is an installation, which works with vibrating speakers. These are detached to the body of the audience by a wearable vibration suit. A session endured about 30 min and you came out of the installation very fresh like after a massage.
The night programm was also excellent. Some hightlights here, were ATAK NIGHT and rasternoton night.
Transmediale 2009
Date: 28th January – 1st Feburuary 2009
Place: Haus der Kulturen der Welt
Address: John-Foster-Dulles-Allee 10, 10557 Berlin
www.transmediale.de
Text: Shintaro Miyazaki from la-condition-japonaise, Berlin
[Help wanted]
Inviting volunteer staff / pro bono for contribution and translation. Please
e-mail
to us.