STRANGE KINOKO DANCE COMPANY
Turning the everyday into a cute dance spectacle.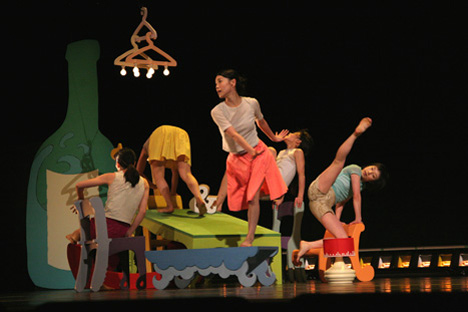 Launched in 1990, Strange Kinoko Dance Company has cultivated a remarkable dance style that connects directly to everyday life. Their new performance piece "The Rainy Table", which will be performed at Yamaguchi Center for Arts and Media [YCAM] on February 28 and March 1, is the first ever collaboration between Strange Kinoko Dance Company and a media art unit plaplax, created over the period of approximately one month during the artists' residency at YCAM. Chie Ito, the artistic director of Strange Kinoko Dance Company about to hold the magical journey The Rainy Table, told us about their activity.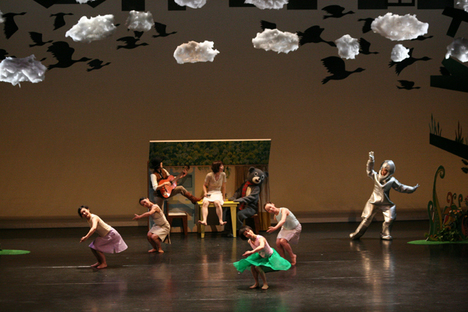 Strange Kinoko Dance Company, not quite right (2006) photo: Yohta Kataoka

Why and how did you start Strange Kinoko Dance Company?
I learned modern dance when I was old enough to be in kindergarten. As a high school student, I found out about contemporary dance, which was popular as Nouvelle Dance in France. Saburo Teshigawara was a great success in the field of contemporary dance in Japan. Seeing such a kind of dance performance, I felt so much for creating dance by myself. Even during high school I wanted to step up efforts to hold my dance performance so I entered Nihon University College of Art to work it out. I had passion and made the decision to find fellows as soon as I entered the university, where I finally found many who were in the same camp. That's how it begun…we even had our first performance in the cafeteria.
Many readers know your activities for TV programs such as Doremino TV on NHK Education and the choreography for Golden Green of UA, as well as performances on stage. You are also working on some events and stages widely overseas. Have you ever worked on making a piece in the residency program?
In 2006, we worked on the project "not quite right." We had performed it after working during our stay in Melbourne, Australia and at the 21st Century Museum of Contemporary Art, Kanazawa, then we performed it at the Sydney Opera House among other places. So, "The Rainy Table" is the second piece of work prepared for the residency program.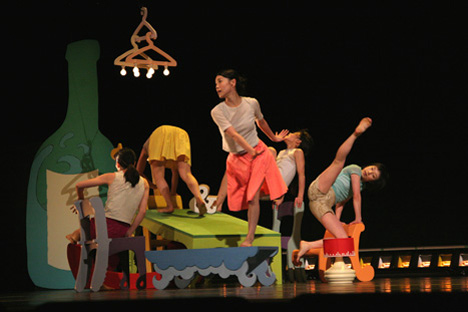 Strange Kinoko Dance Company, not quite right (2006) photo: Yohta Kataoka
What meaning does the new performance The Rainy Table at YCAM imply?
The name "The rainy Table" is the theme for this piece of work. In our work tables are often used on stage, which carries with it the connotation of family or home – a representation of a tool for the home. This time, the element rain is added; rain can be avoided with a raincoat, umbrella, roof, etc…, but we can't make it stop raining; however, it does stop with time. There are things outside of our will that can somehow be avoided. The theme of this work is a suggestion for people to accept things first. We are often faced with what is outside of our will in everyday life and throughout the whole of society. We hope to share with the audience the idea to accept first and foremost when we don't know what to do.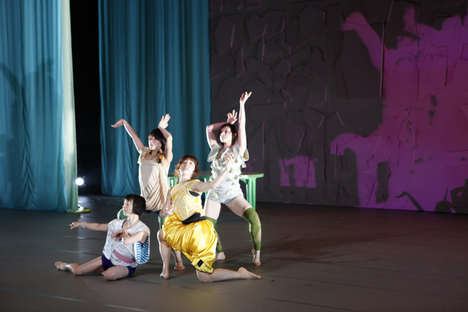 In this new work, you collaborate with plaplax (Motoshi Chikamori, Kyoko Kunoh, Yasuaki Kakehi), the unit working on interactive art using shadows and perfumes. How do their works interact with the performance of Strange Kinoko Dance Company?
The video for dance performances has been, so far, considered a prepared and a determinate thing; but dance is real and extemporaneous when bringing together video and dance. There are inevitably going to be occasions where dance must be adjusted for video, and in that case dance becomes stiff. However, dance and video could interact better by building the system itself when taking dance into careful consideration. The system would need a lot of energy and trial and error, but at least it sorts out what we thought might be stiff otherwise. Videos are mixed with our free dance so it's new for us. Music, art, and lights are used as elements on stage, and videos are the same in this respect. So, we have a good idea of how to balance out these elements with dance.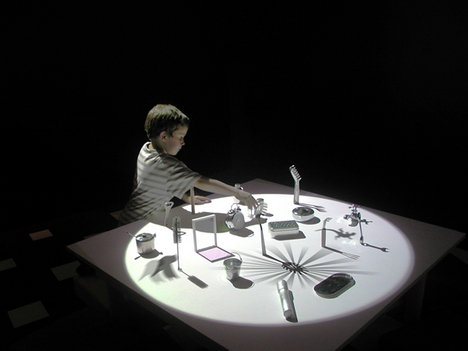 minim++, Tool's Life (2001)
On top of the collaboration with plaplax, Yumiko Ohno (Buffaro Daughter) takes charge of music, and costume AOMI. What is the decisive reason for choosing them to work with?
I have known Yumiko Ohno for 7 years, and before I knew her I was originally a fan. We joined Buffalo Daughter's live when she came to see us. Yumiko and I were looking forward to work together so this time around I asked her to come on board. I have been a fan hers for a long time, so I feel that my dreams have come true. Around that time, I was looking for a costumer and consulted with her; it was AOMI whom she introduced me to. Upon our first meeting we found out that we had a lot of mutual friends…I wondered why I had not met her until then. We got along together very quickly and soon after she became the costumer for our project. We first came down to work with plaplax through YCAM. In some cases, I asked if I could directly coorporate with our project and in others I got offers to do collaboration work. Plaplax for "The Rainy Table" is just the case. I came to work with Namaiki encouraged by those around me. These encounters happen through different links.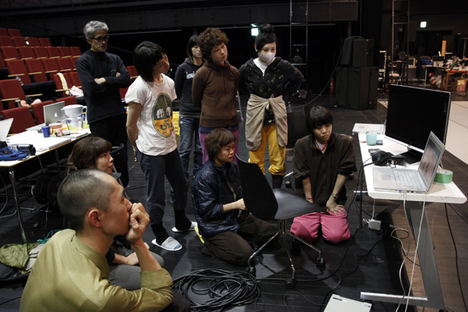 A making scene at YCAM
Where do you get your greatest inspiration for the working process?
I used to go out and study to get inspiration but now I try not to do or look for something to create work, which makes me more aware of my thoughts and worries in daily life. They become the themes in the working process. In the process of shopping, watching TV, and imaging the likely future, the ideas and feelings accumulate and eventually lead to the work. So these days idea come to me through daily life. Arts and costumes linked to the actual visibility of the work are germinated through watching TV, films, and magazines. I think themes and visuals should not really be thought about, but should just pop up naturally. Working also affects these things; I used to get all excited about going out to museums or galleries, but now I go because I just want to enjoy.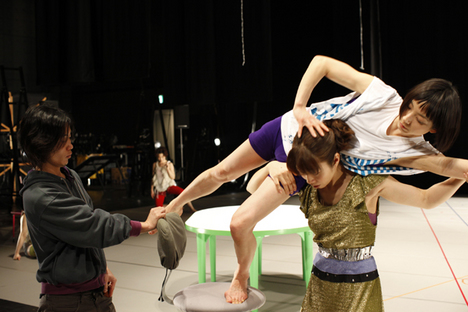 A making scene at YCAM
Please tell us the highlight of The Rainy Table and something new there?
In the past works of Strange Kinoko Dance Company, the dancers have each have their own individuality and have danced independently as the staring role. But this time, the individuality of each dancer are brought together in the work. To put it concretely, there is one main character on the stage and dancers take turns to playing the role. At last, they dance with the same costume worn, which is the first trial since the organization. We will not offer such a performance in the near future, so this might be the point of the play. And this work has a story; usually the works in The Strange Kinoko Dance Company seldom have a story. So this is the first time performing after performing Hekkoki Yome in Dance of Tales of Old Japan with Ryohei Kondo (THE CONDORS) in Saitama Arts Hall. This time, we build a story and dance to the theme of "The Rainy Table."
What was impressive during the work at YCAM?
On the very day of our arrival at Yamaguchi, we held a big Fugu party with YCAM staff and ate a pot of Fugu and deep-fried Fugu. I had eaten Fugu sashimi then only a few times, but those thick ones was my first time – I finally sampled the delights of Fugu dishes. I enjoyed Yamaguchi and Fugu very much.
Strange Kinoko Dance Company × plaplax "The Rainy Table"
Concept, direction, choreography: Chie Ito(Strange Kinoko Dance Company)
Stage design, projection, media technology: plaplax(Motoshi Chikamori + Kyoko Kunoh + Yasuaki Kakehi)
Music: Yumiko Ohno(Buffaro Daughter)
Costume: AOMI
Concept, direction, choreography: Chie Ito(Strange Kinoko Dance Company)
Stage design, projection, media technology: plaplax(Motoshi Chikamori + Kyoko Kunoh + Yasuaki Kakehi)
Music: Yumiko Ohno(Buffaro Daughter)
Costume: AOMI
With: Masako Ide, Satomi Yamada, Memi Shinozaki, Mayumi Chaki, Mao Nakagawa, Chie Ito
Date: February 28th, 2009, 19:00- / March 1st 14:00-
(the venue opens 30 minutes prior to each performance)
Admission: Advanced 2,500 yen / Door 2,800 yen
Venue: Yamaguchi Center for Arts and Media [YCAM]
Address: 7-7 Nakazono-cho Yamaguchi-city, JAPAN
Tel: 083-901-2222
http://www.ycam.jp
Text: Mariko Takei, Fumi Hirota
Tatsuhiko Akutsu
[Help wanted]
Inviting volunteer staff / pro bono for contribution and translation. Please
e-mail
to us.