The Saddest Place on Earth – The creative world of Ms. Mimi and Mr. Pong.
Ms. Mimi and Mr. Pong are a design duo under the collective title, Mimipong. Their latest project, The Saddest Place on Earth, gathers the creative artists, writers and musicians we all love to come together and conquer sorrow! Well, for the time being! We had a chance to talk with the duo about their exhibit which is currently running until January 11, 2009!
First off, where did the idea for these dolls come from?

We simply wanted to explore and expand upon the fundamental function of plush toys as comfort objects you run to in your moments of wretchedness.
How did you go from making a doll to a full on exhibit with a long and accomplished list of artists and musicians to join you?
In a way, it was quite a natural progression. The tag on each of the dolls serves to contain a personal story on the topic of sorrow. We were envisioning a room full of tear drops, each with a unique little story to call its own – and that is essentially how the idea and name for the exhibition, The Saddest Place on Earth, came about. Once we had that nailed, we started dreaming up a list of creatives whom we greatly respect and feel could tell a good story. It was important that we could resonate with their existing bodies of work in a very personal way.
While Karen and Kenny of BooksActually (the lovely book shop that is home to the exhibition) helped curate a good half of the show by personally inviting Singaporean writers they love, we began emailing film-makers we admire and, obviously, the musicians whose songs we listened to most often. Actually, we even tried getting Yoko Ono involved.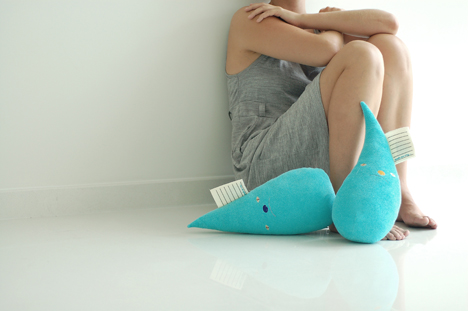 © Mimipong, Photo: Mackie Tan
Its quite a long list, so what are some of your favorites from the collection?
Ms Mimi: I could read Leslie Low's again and again and I really like Laura Marling's for being cheeky and lastly, Jens Lekman's poignant statement. We only have 21 entries and they could really easily all be my favorites!
Mr Pong: The pieces written by April Lee of aspidistrafly and Ellery Ngiam were very heartwarming and struck a personal chord with me, especially so during this holiday season. Like Mimi, I too love Laura Marling's contribution. It leaves me so much room to wonder why she was sad to receive bedsheets on a particular Christmas!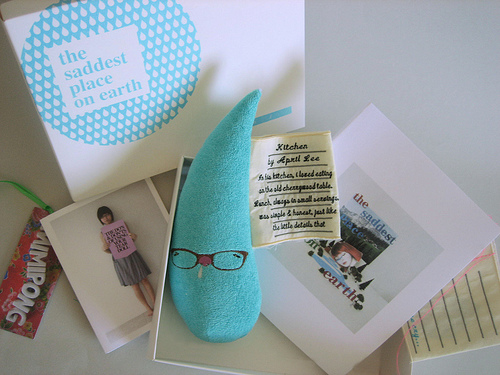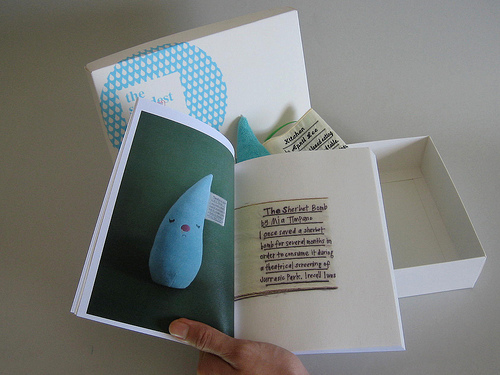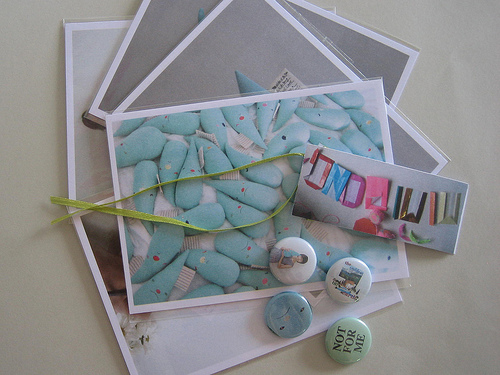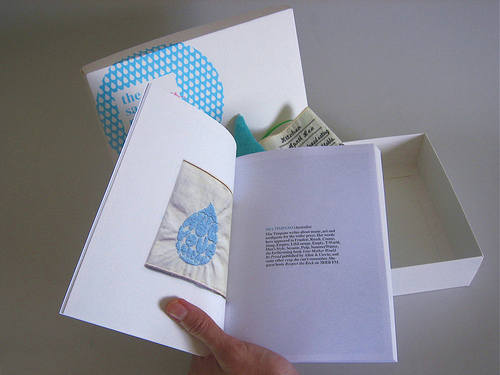 © Mimipong
I've heard people say, "depression is the next worldwide epidemic." What are your thoughts on that with respect to your exhibit?
We're more concerned with avian flu being the next worldwide epidemic (laughs)! But really, having grown up with Care Bears, Skittles and Sesame Street, it's hard for us to not be a little positive in our outlook. This is why we made something to quell sorrow because it's really ok to feel sad from time to time. We feel a tear-shaped doll can become the conduit for someone grieving to (literally) embrace his or her sadness and, together with The Sadness Place on Earth, serve as testimonies of sorrow conquered.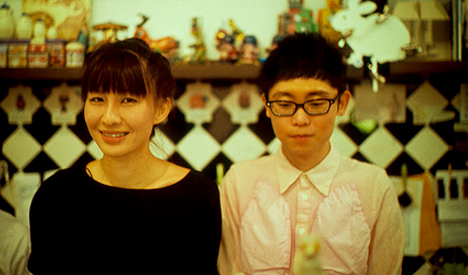 Photo: Dovevader (Francis Tan)
Well said! And lets do introductions last, who or what is Mimipong ?!?
Mimipong consists of Ms. Mimi and Mr. Pong, an art director and a graphic designer, who get together (despite their many tugs of war in opinions) to create and share the things they love and enjoy with everyone.
Ok, Ms. Mimi and Mr. Pong thanks for taking time to share!
Mimipong's 'Hug Your Sorrow' dolls are currently available via toy retailer, Kidrobot.
Mimipong Exhibition – The Saddest Place on Earth
Date: December 12th 2008 – January 12th 2009
Place: BooksActually
Address: 5 Ann Siang Road, Singapore
Text: Vicente Gutierrez
[Help wanted]
Inviting volunteer staff / pro bono for contribution and translation. Please
e-mail
to us.