VENICE ARCHITECTURE BIENNALE 2008
Out there: Architecture beyond building.
The 11th International Architecture Exhibition of La Biennale di Venezia (Venice Biennale) explores architecture beyond building. Directed by Aaron Betsky, the 2008 edition of the international exhibition concentrates on experiments, visions and concrete criticism.
"What then is an architecture beyond building? We look to architecture to provide shelter, but also to make us at home in the confusion of the modern world and to perhaps even offer concrete alternatives to the structures we are forced to inhabit, but over which we have no control" writes Aaron Betsky director of the Biennale of Architecture 2008.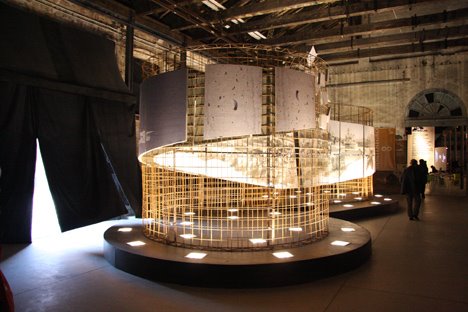 During my short visit to Venice, I had the chance to visit the two main venues during the last two days of exhibition. Giardini, where 32 countries are represented by their pavilions; and Arsenale, a place where to visit 23 selected installations by Asymptote, Atelier Bow Wow, Barkow Leibinger Architects, Nigel Coates, Coop Himmelb(l)au, Diller Scofidio+Renfro, Droog Design+Kesselkramer, Vicente Guallart, Frank O. Gehry, Zaha Hadid, Ante Liu, Greg Lynn, M-A-D, Massimiliano Fuksas, MVRDV, Penezić and Rogina, Philippe Rahm, Matthew Ritchie in collaboration with Aranda/Lasch and Daniel Bosia/ARUP AGU, Kramervanderveer, Thonik and UNStudio.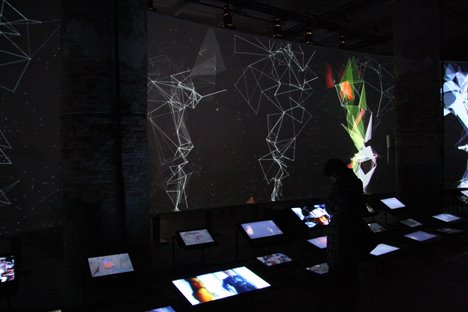 The Golden Lion for best national participation went to Poland Pavilion and its "Hotel Polonia – The afterlife of buildings", while the Golden Lion for best installation project went to Greg Lynn Form (USA) for his "Recycled Toys Furniture". Check the full Biennale of Architecture Awards here.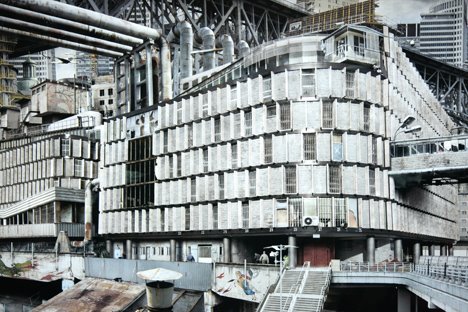 Image from Poland Pavilion – The afterlife of buildings
Curated by Grzegorz Piątek and Jarosław Trybuś, the Afterlife of Buildings questions Building's durability and how the pass of time and social changes make impact and could influence buildings. In a way, is like thinking about recycling buildings into something different. Something they weren't ment for.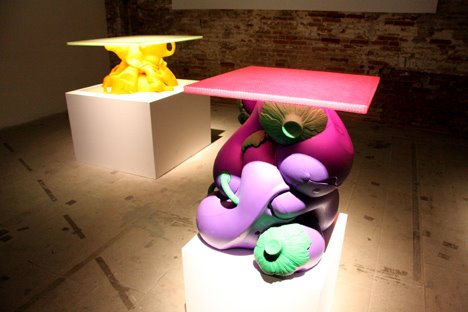 Image from Lynn's Recycled Toys Furniture
Greg Lynn has taken a bunch of plastic toys and turned them into attractive furniture. "I got the idea from looking at these giant hollow plastic toys my kids played with", says Lynn, "We'd like to get it to the point where it's a product that someone can just go out and buy".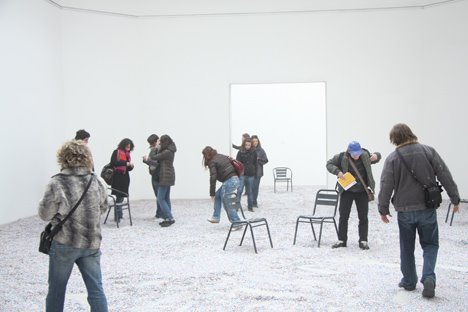 Belgium Pavilion
After visiting all pavilions available at the Giardini venue; I think not all countries have done an effort to really think beyond building. It has been a bit disappointing to see regular floor-plans and building models exhibit as in a "regular" architecture exhibition; far away from what director Aaron Betsky was calling for.
Personally, I would like to highlight the Belgian Pavilion, a bright white empty room full of confetti that left tracks all around the venue and the city. I found myself having dinner with my wife in a little "Trattoria" where two little confetti pieces on the chair next to our table revealed some other Biennale visitors beyond the exhibition.
I would also like to mention the British Pavilion, with a critical approach to London housing; and Estonia, presenting one of the most provocative messages with an installation emulating a gas pipe between Russia and Germany.
"Inspired of the planned NordStream pipeline project, the installation comprises of a real scale gas pipe set between the pavilions of Russia and Germany. The purpose of the project is to test the possibilities of critical art and architecture, addressing various issues of contemporary spatial environment, landscape of politics, infrastructure, and energetics." – biennaal.arhliit.ee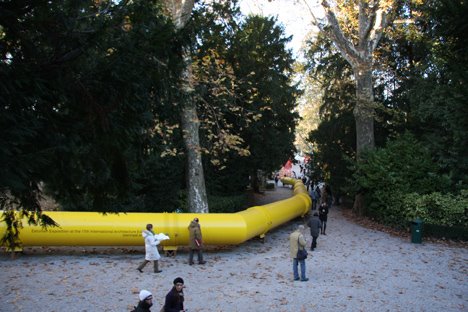 Gas Pipe – Estonian installation
The Arsenale presented a total of 23 installations; an exhibition not only to watch but quite interactive and playful in some occasions.
I personally enjoyed the installation by Vicente Guallart in collaboration with Bestiario, Institute for Advanced Architecture of Catalonia (IaaC) and Center for Bits and Atoms – MIT (CBA). Hyperhabitat – Reprogramming the World, is an installation based on embedding microcomputers in objects present in our physical world (furniture, clothes, cutlery,…) so they can have addresses and be interconnected within a network and interact and stablish relationships in-between them.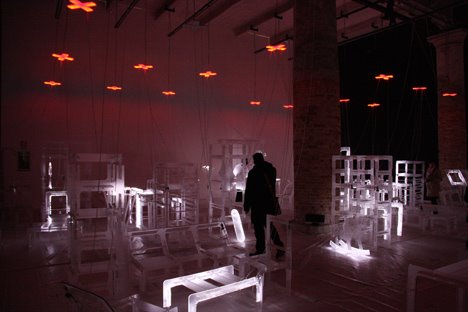 Image from Hyperhabitat – Reprogramming the World
I would also like to mention a project by Asymptote called "Prototyping the future: three houses for the subconscious", a set of lighting smooth-plastic objects between buildings and furniture.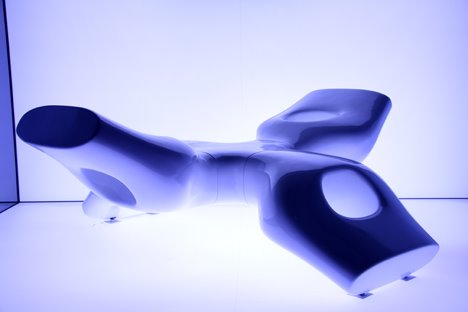 Image from Prototyping the future: three houses for the subconscious
Visiting the Biennale of Architecture 2008 has been a great and inspirational experience. Director Aaron Betsky brought a necessary subject into question. To think beyond building is to think about society; and, as it happened in the British pavilion, I believe it is necessary for architects to be critical with housing nowadays; during the global crisis times we are living.
I would recommend having a look at the Monocle Video Podcasts: Part 1, Part 2
11th International Architecture Exhibition
Date: September 14th – November 23rd. 2008
Place: Giardini area
The Giardini has been the historic exhibition venue of the Venice Biennale since 1895. The Giardini area hosts the Italian Pavilion and some 30 pavilions built over the years so as to make up a sort of anthology of modern architecture.
Text and photo: Eduard Prats Molner
[Help wanted]
Inviting volunteer staff / pro bono for contribution and translation. Please
e-mail
to us.