PORTLAND PIRATE FESTIVAL 2008
I'm a pirate. You're a pirate. We're all pirates.

Well, that was the general mood on Sunday at the 3rd Annual Portland Pirate Festival. The festival happens every year, rain or shine, underneath the St. John's bridge in North Portland. You would imagine that this festival was intended and created for kids who are living and dying by Johnny Depp's unforgettable character Jack Sparrow in Pirates of the Caribbean. But what you are about to see, dear readers, is that the dream of becoming a pirate leaves us at no age; for better or worse. Warning: the people displayed in these photographs are pretending using the highest level of concentration and imagination at the expense of our 21st century eyes.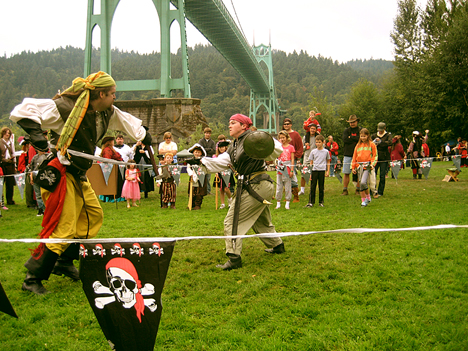 I first found myself underneath a towering bridge, watching a pirate "dispute" being settled with violence and some level of swordplay. I couldn't help but notice that during these disputes, the people in the ring were a bit more into it than the onlookers. Every time the swords clanged, you'd see the disputers get more excited. After the dispute was settled, I decided to keep walking.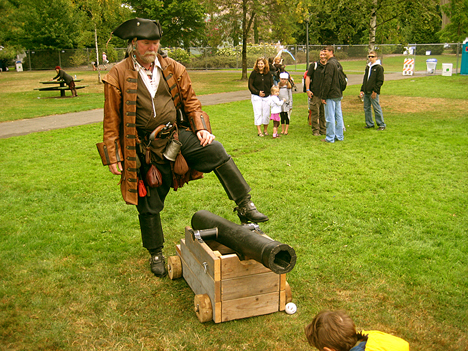 Apparently, this is some sort of game for children where they throw the cannon balls into the cannon. For me, it was a guessing game to find out how many sacks this pirate had in suggestive places. I found 3.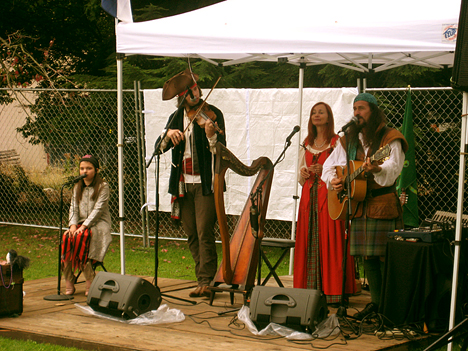 Music was a very prominent part of the festival, with sounds coming from almost every direction. I found this Celtic quartet playing called Golden Boughs. The music felt very pirate-y, so I sat down and clapped along a bit.
This was a bit strange. I noticed a roped off area in the distance with a guy tinkering around. I thought it was a little off, so I went to investigate. It turns out that he was a blacksmith using all period tools and instruments. He was making a spoon handle, not eye-contact.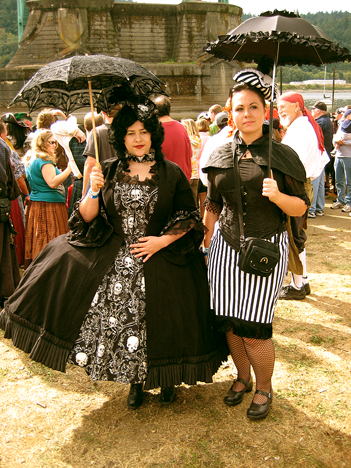 Around the festival, it appeared that many people had some interesting interpretations of what a Pirate looked like. For instance: Some Pirate Druids. King Neptune. Captain Galoshes and Company. Glastonbury Pirate on hold. Harujuku Lolita Pirates. And who could forget the Creepy Stage Assistant Pirate?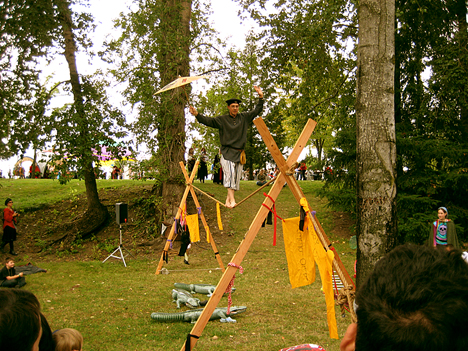 One of my favorite attractions was juggler Rhys Thomas. His humor made the tricks for me, especially with the line, "Kids, read more history. You'll get the jokes." He juggled flaming torches, climbed up a stairway of machetes while juggling meat cleavers, and walked a tightrope while the audience shot cannon balls at him.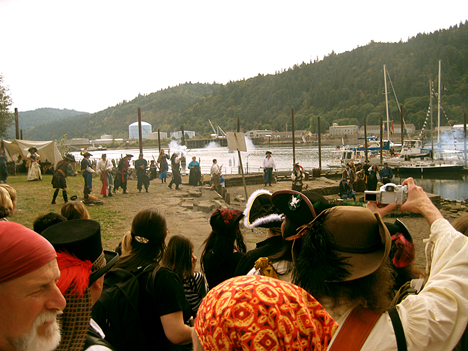 A series of huge explosions got my attention fast as I followed the sounds. Down by the waterfront, a group of pirates dubbed the Brotherhood of Ocean Mercenaries, or B.O.O.M., were re-enacting an invasion of British troops. They were using gun powder, mini-cannons, firearms and pistols which were all deafeningly loud. The crowd watched on as the battle raged. Some of the Pirate mercenaries were wounded, but thankfully none were killed. The British finally gave up and retreated to a resounding "Yaaaaarrrrrr!"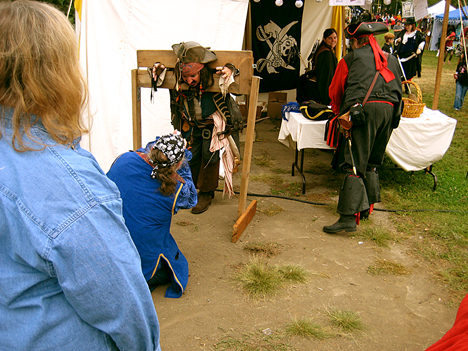 On my way back to the main stage, I caught sight of the legendary Pirate, Jack Sparrow at the stocks.
At the main stage, the musical side of B.O.O.M. was on stage, playing sea shanties and tales of Pirate-dom, which, oddly enough, sounded miraculously close to Santana's "Smooth." The crowd was really feeling it.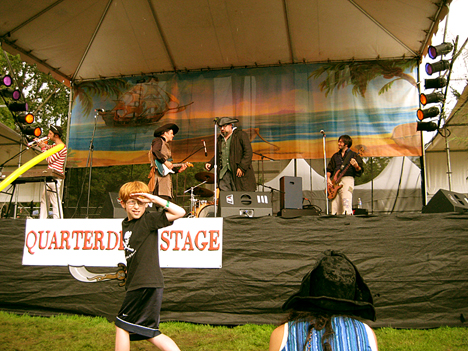 The last stage show I saw of the day was a super kid-friendly group called Captain Bogg & Salty. As soon as the music started, all of the kids jumped up to the front and started dancing like crazy. I miss being able to just move around and hop whenever I wanted to. Anyway, enough lamenting. Their songs were very bouncy and fun and felt slightly targeted to kid's music, but there were a fair amount of bigger kids and Pirates singing along too. Their show was a good note to leave on, so I made my way out of the grounds with a smile on my face, knowing that someday, I too, will be confident enough to be a Pirate in public; but not this year.
Portland Pirate Festival 2008
Date: September 20th, 21st, 2008
Place: Cathedral Park, Oregon
http://www.portlandpiratefestival.com
Text and photos: delilah.loves.you
[Help wanted]
Inviting volunteer staff / pro bono for contribution and translation. Please
e-mail
to us.