Drawings discovering the future that exists deep in the moment.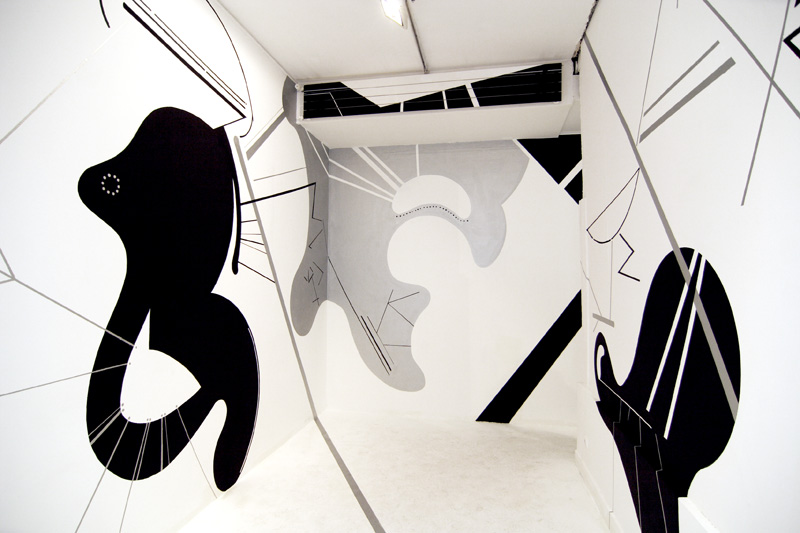 Hiraku Suzuki has been working on a series of drawings including wall paintings, leaf-vein drawings, asphalt drawings, live paintings with earth, and etc. His drawings visualize something that emerges to the surface, which is very archaic and futuristic at the same time. These 2 bipolar dimensional aspects cross each other through the moment and invite you to a new space. Shift interviewed Hiraku Suzuki during his stay for the artist in residency program in Norway, and now he is waiting to participate in the art event that will be held here in Sapporo, "FIX MIX MAX!2", starting on November 8th.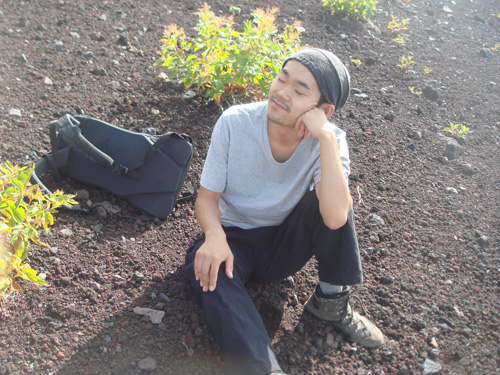 portrait at Mt.Fuji 2008 / © Hiraku Suzuki
Please introduce yourself.
Hello, nice to meet you. My name is Hiraku Suzuki. I was born in 1978. I'm currently live and work in Tokyo.
Could you tell me about your current art activity?
I do drawing.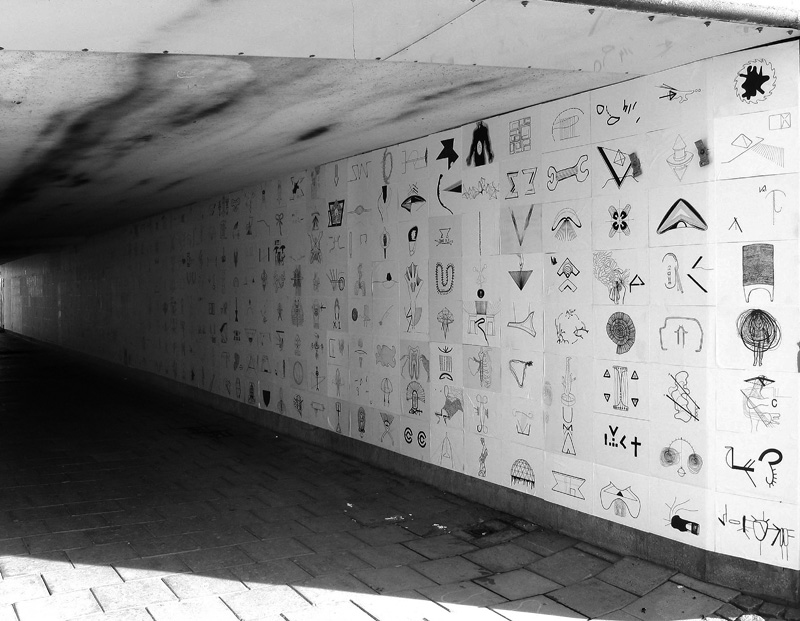 The Passage / 2004 / installation / 33m / Karl Jjohans Torg(Stockholm, Sweden) / photo by the artist / © Hiraku Suzuki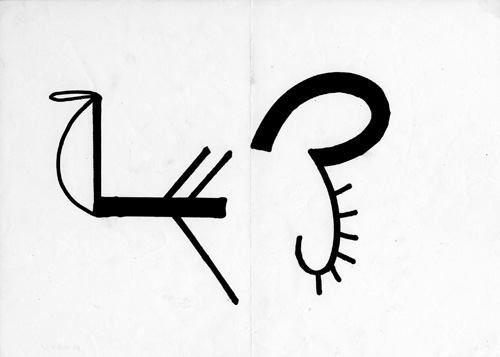 Genga #243 / 2008 / marker on paper / 21×29.7cm / © Hiraku Suzuki
When did you start to create art work? Please tell me the detail.
I've been drawing since I was around 4. There used to be a lot of blueprints at my home because my father was an architect. I used to draw something like a moai at the back side of the blueprints using many kinds of materials. When I got to 6,7 years-old, I was playing at a vacant lot and sometimes digging out earthenware, foreign coins, and the various enigmatic objects such as broken pieces of plastics after school. It became my basic attitude that I could reach to another place and time if I dig into the ordinary scene. After that, as it happens to everybody, I'd been dreaming to be an archaeologist under the influence of Goonies and Indiana Jones.
Also, my grandma often took me to the hot spring towns and bought me some masks, minerals, fossils, and charms every time we went to the souvenir shops. Looking at these kinds of things in my room made me feel so good, because they seemed like the souvenirs from "the other side." Meanwhile, I started to feel like I wanted to make these things by myself. So, I began to carve something like a small figure of Buddha out of wood, which I found at the dump of the construction sites. I was around 8 at that time.
After that, I joined the athletics club and devoted myself running. Also I spent most of my time doing music. In 2000, after I reached the first stage of music activity, I started to create art work that I still continue working on.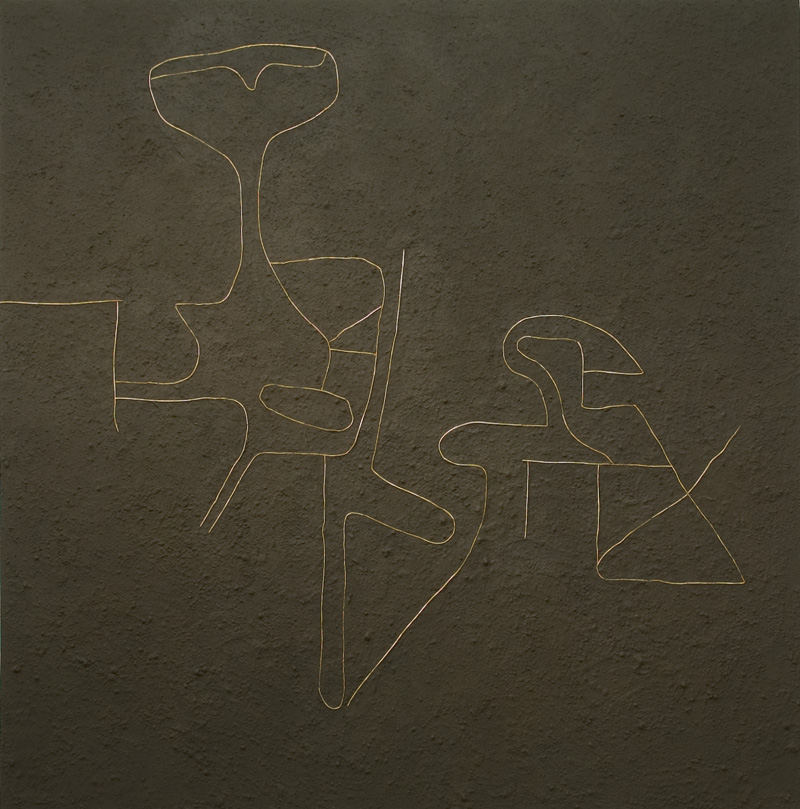 bacteria sign #30 / 2008 / earth, dead leaves, acrylic on wooden panel / 180x180cm / photo by Riichi Yamaguchi / © Hiraku Suzuki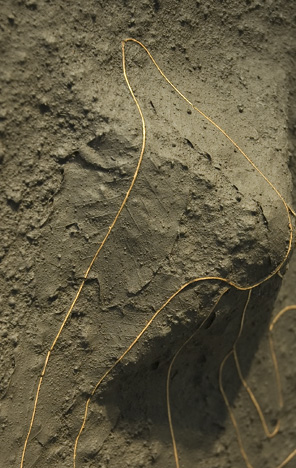 bacteria sign#17(detail) / 2007 / photo by Riichi Yamaguchi / © Hiraku Suzuki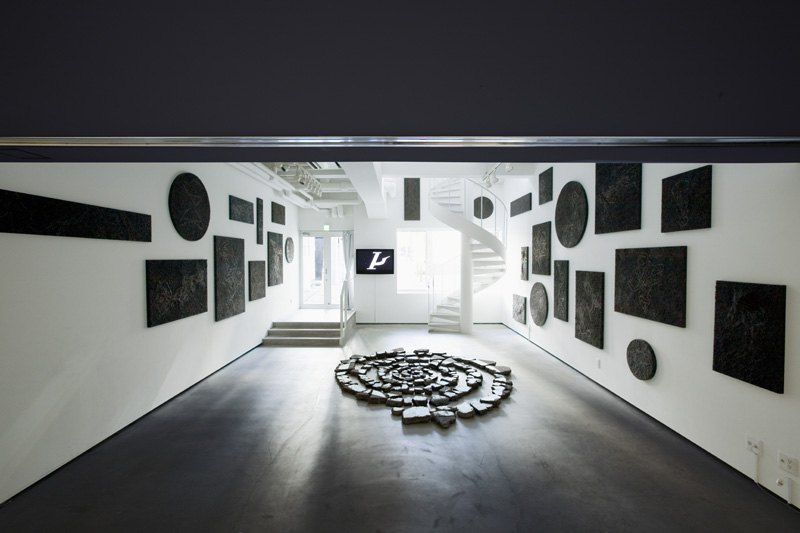 solo exhibition "NEW CAVE" installation view / 2008 / Tokyo Wonder Site Shibuya(Tokyo)/ photo by Ooki Jingu / © Hiraku Suzuki
You use various mediums such as a wall-painting, paper drawing, drawing with veins of leaves, work with broken pieces of asphalt, and live-painting. How did you decide the medium and the method to create work? Could you introduce some of your work as an example?
Currently, I am working on six different series continuously. However, I consider all series as a form of drawing. For example, I have work such as creating lines with veins of dead leaves, and making another road signs by connecting the white lines of broken asphalts. One of my points on every work is the trace that "is drawn" by using these materials, not to end up giving the feeling as just a collage.
It is like a structure of plants considering the act of drawing as a trunk. My creation of work is just same as synchronizing each points of ramified branches each other, and at the same time let the whole including the trunk grow together. I have no intension of being hurry, but new branches suddenly grow as a mutation because of the encounter to new environments. I am waiting for such changes as well.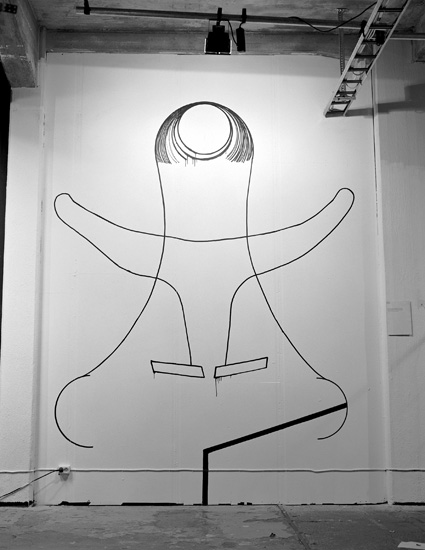 Right One / 2004 / Mural / Roda Sten (Gothenburg, Sweden) / photo by Christoffer Holmstrom / © Hiraku Suzuki
For instance, the two big walls in the exhibition space provoked me into creating the mural work in the group exhibition in Sweden. Even now, I often get into trifling points such as the unevenness of the wall, the laying pipes on the ceiling and floor, and the surrounded environment first, then choose the tools and start to draw as I excavate the wall. Regarding mural work, I am always hoping to create a mural which seems like it was there all along. To sum up, it is like a imaginary time trip such as becoming the current point: "here and now" distorted into the different space-time.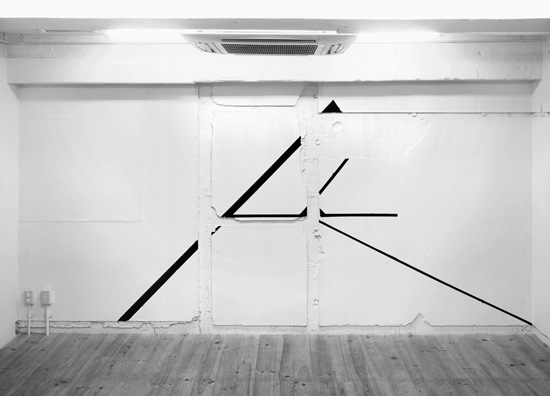 ZBR / 2004 / Mural / Uplink Gallery (Tokyo) / photo by Ooki Jingu / © Hiraku Suzuki
In your catalog for the solo exhibition, you described that you hoped your method is not only "expressing" something, but also "discovering" something like an excavation. For example, under the circumstance with full of chance factors such as a live-painting, there must be a high frequency of "discovering" something. I felt that the moment of "discovering" something was so precious to you. What kind of excavations you have done so far? Do you have any impressive discovery?
My live-painting is also an action to transform a certain place into a fictitious excavation site with the reality that I'm using the soil I dig. Scene means the "place" where something "appears." In other words, I am doing this because something unexpected invariably happens.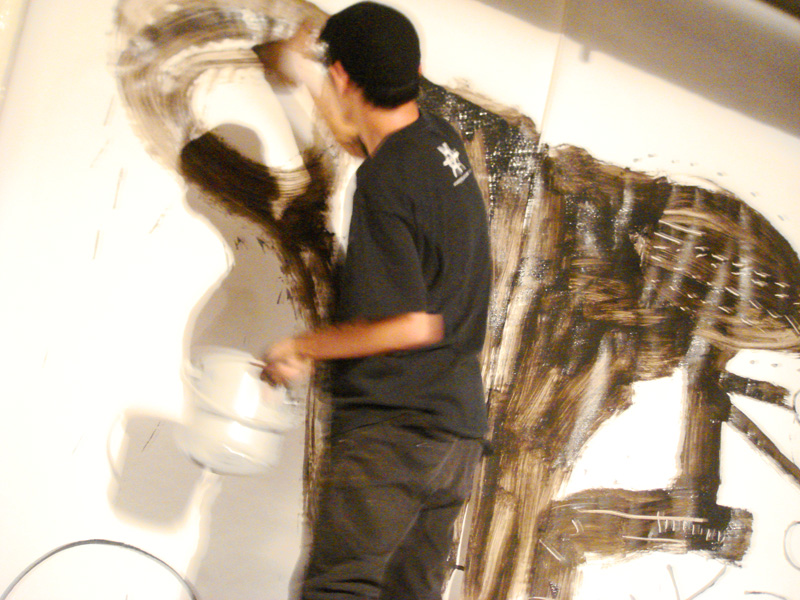 live painting view / 2008(Super Deluxe, Tokyo)/ photo by Chito Yoshida / © Hiraku Suzuki
"Excavation" I mean is opposite action of painting another coat on something. It is an action to pull something out from existing things and observe it. In the former idea, we feel that "something is always missing" in this world. But, in the latter, we feel that all potential has already existed in this world. We could feel that this place has already had different dimensions. That's why we could work as creating a different world from something lying about somewhere around here.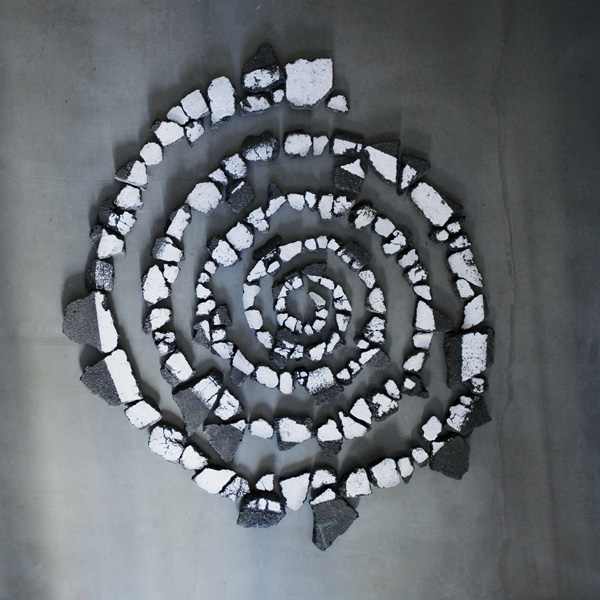 Road Sign -Spiral / 2008 / pieces of asphalt / 3.2 x 3.2m / photo by Ooki Jingu / © Hiraku Suzuki
In a broad way, it is the idea closer to Eastern calligraphy than Western oil painting. Among oil paintings, I could say that Dali didn't excavate, but Picaso did. Furthermore, Brion Gysin, who taught the cut-up technique to William Burroughs, used to do paintings like another primitive calligraphy in Tanger and Paris. He said that "Painters want to write a new world. Painting is the signal." Gysin's work is like a code from an alien and has dubious feeling, however I feel like I understand his work in terms of "excavation". In addition, he used to do live-paintings too.
I'm interested in not only the act of excavation itself, also the fact that discovered subject is fluid. Sometimes it is fabricated, and it transforms itself as time goes by. The shape of our memory is very unstable, and it transforms as much as they can, doesn't it?
If I think that way, tapping the keys of a computer like this is also a sort of excavation. Moreover, living itself is a continuous action of excavation. It's like a discovering future among the present time that transforms evermore. And it is also related to the most primal part in the history of drawing.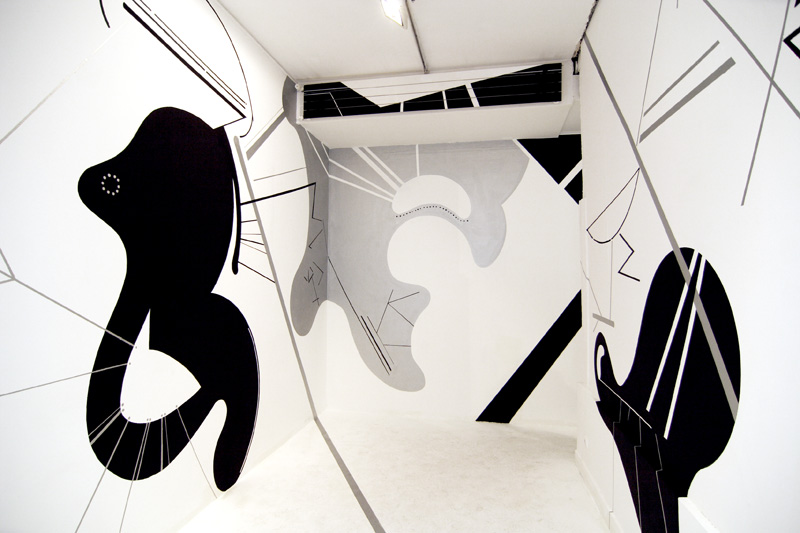 Safari / 2006 / Mural / Galerie du Jour (Paris, France) / photo by Ryo Suzuki / © Hiraku Suzuki
You just done the mural painting and live-painting in Norway this October. Up to the present, what kind of activities have you done in which countries? How is the reaction in foreign countries?
I am answering this interview in the town called Stavanger, which is closed to Norwegian fjord. Crawfish-like shrimp is really yummy here. I've done twelve drawings in my room today. I was working on the mural this afternoon. As a part of the project between Super Deluxe and TOUSCENE supported by EU-JAPAN FEST and the city of Stavanger, I got a commission to draw in the GEOPARKEN that is a new park constructed by huge abandoned machine parts, which had been used for the oil industry. I overpainted some parts of them by using only white paint, and draw lines. White color, which is dotted with the noisy landscape, transforms this park into some ruins from unknown civilization under excavation.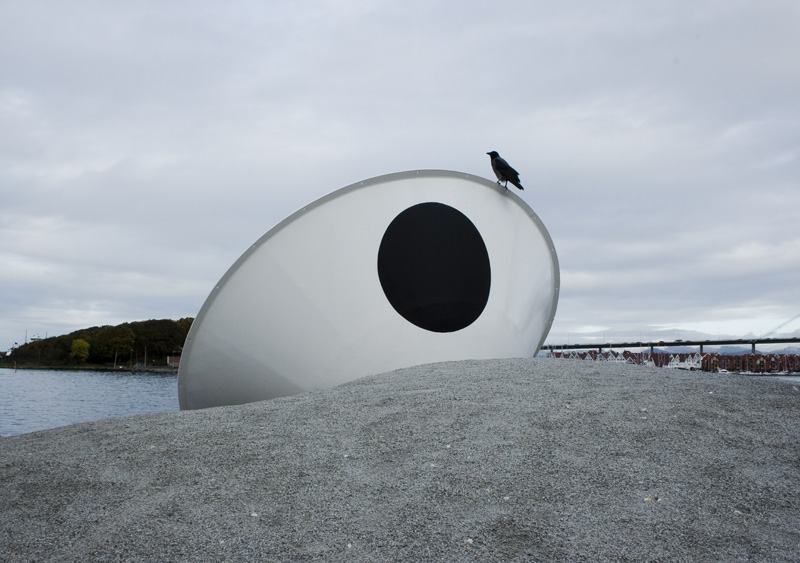 SHLL / 2008 / Mural / GEO PARKEN (Stavanger, Norway) / photo by the artist / © Hiraku Suzuki
I might met some people who could have interests in my work in person by chance, because I've never visited foreign countries using a connection through the galleries so far. I haven't visited so many countries yet, but the things I do doesn't change basically in wherever I go. I think Japan is also interesting. I really love my current studio in Tokyo, and the neighborhood.
Talking about reaction, TV crews from Mexican government-managed program visited my studio the other day. They got to the essence of my work in an instant. It made me break into a cold sweat. They asked me like "from your work, I see that you are trying to pursue in archaeologic manners the similarity between the deep forest-like urban chaos and your personal and experimental dream. How do you think?" I liked the keyword "experimental dream." I stopped by Mexico in the middle of my travel last year, and spent 2 weeks while looking at some pyramids, watching squirrels, and eating tacos. Then I felt the exotic part which I would never understand completely while finding strong affinity and deep connection to my work. I have the same kind of this ambivalent feeling on the Mexican muralist David Alfaro Siqueiros's work. Mexico rocks me.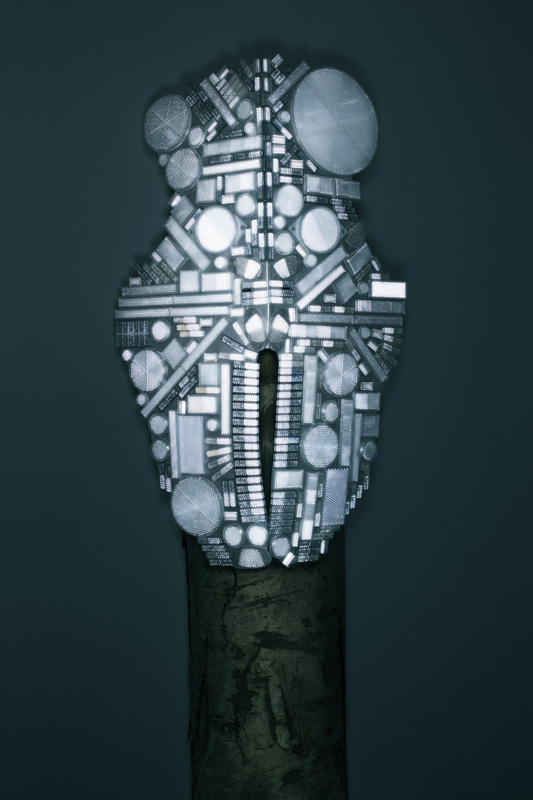 Night Mask / 2008 / reflector plate, wood and mixed media / 86cmx57cm / photo by Ooki Jingu / © Hiraku Suzuki
You are participating in the contemporary art event FIX MIX MAX! which is held in Sapporo this November, as an artist from outside Hokkaido. What kind of work you are planning to create for the event?
I am just imagining the temperature of Sapporo next month while staying the coldness of Norway right now. I really look forward participating the event, because Hokkaido is one of my important places.
Please tell me your favorite music, art and book etc?
Music: I'm listening "Kanata Kara No Tegami (Letter from the far side)" by Scha Dara Parr on my Macbook right now.
Art: I was strongly impressed by the attitude of New York based artist, Tony Conrad, who stayed at my studio the other days. We took a walk along the river, talked to crows, and wrote musical scores while listening the sound of cicadas. Yokohama Triennial 2008 is presenting his art work right now. If you have a chance, please go to see it.
Movie: I don't watch movies much because I often drop off to sleep in the middle. But, "Dodesukaden" by Akira Kurosawa is absolutely a great movie.
Book: I'm fond of the writing of Seiichi Yamamoto these days.
What did you get inspiration from?
"Road" itself inspires me at any time. Sometimes I feel there is everything on the road. Walking on the roads is just same as listing musics, watching movies, reading books, and scanning the geographical landscapes by my whole body. Even mushrooms are grown if I happen to see the detail.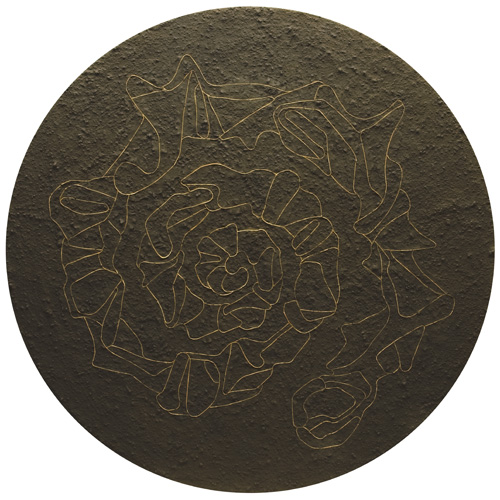 bacteria sign#21 / 2007 / earth, dead leaves, acrylic on wooden panel / 120x120cm / photo by Kaori Tada / © Hiraku Suzuki
Do you have anything you want to try in the future?
I want to try to keep doing as right now.
What is your up-coming schedule?
I'm going back to Japan next week. Two days later, there is an event of a French fashion brand "Agnes.b". Bags and clothes, which I collaborated with Ms. Agnes, will be on sale. And also FIX MIX MAX! will be started in about 10 days.
Early in the next year, I will stay in Sydney for the production of a group exhibition by Japanese and Australian 6 artists.
・March 12th – April 12th, 2009: "between site&space" ARTSPACE Visual Art Centre(Sydney, Australia)
・March 15th – 30th, 2009: "VOCA Exhibition 2009" The Ueno Royal Museum (Tokyo)
If you need further information, please check my website, which is created by a great web designer, also my friend, Asami Kazamatsuri. I asked her to update it sometimes.
FIX MIX MAX!2
Date: November 8th – December 7th, 2008
Place: Miyanomori Art Museum
Ticket: Adult 300 yen, College and high school students 200 yen, Free for under junior high students
Hours: 11:00-19:00 (Enter by 18:30) / Closed on Monday (Next day in the case of national holiday)
Produced by: FIX MIX MAX! committee
Supported by: Hokkaido, Hokkaido Prefectural Government
Artists: Ikuko Imamura / Chu Enoki / Masao Okabe / Hiraku Suzuki / Mikio Taka / Kiyoshi Takahashi / Hiroshi Takeda / Nina Fischer & Maroan el Sani / Shino Hisano / Near Future Arts Lab / Satoshi Hata / Matsuritaro
* FIX MIX MAX!2 will also take place in Gallery Monma Annex, CAI, CAI02 and other venues. The date and program will be different on each venue, please check FIX MIX MAX!2 website for more details.
Text: Mariko Takei
Translation: Fumi Nakamura
[Help wanted]
Inviting volunteer staff / pro bono for contribution and translation. Please
e-mail
to us.