RISING SUN ROCK FESTIVAL 2008
An open-air rock festival in Hokkaido "Rising Sun Rock Festival (RSR)" a.k.a "Ezorock" passed a significant milestone, its 10th anniversary. This is the biggest rock festival in Hokkaido. Last year they had more than 100 groups of artists and about 70,000 visitors. On August 15th and 16th, 2008, total 7 stages of RSR were filled with people enjoying in their own way. You just have to enjoy it!

The dream venue appeared on the broad ground in Ishikari area for 2 days only. Unfortunately, it was drizzling when the festival started. Where we went first to raise our motivation with big sounds was "Sun Stage", a main stage located in front of the entrance. The QURULI's show started at 15:00, who had been in many festivals in this summer as usual, including "Kyoto Ongaku Hakurankai (Kyoto Onpaku) 2008". They presented total 9 songs with funny MC by Kansai accent. When the 8th song "Bara no Hana (song of rose)" was started, my body was comfortably moving to the combination of sound of guitar and rain.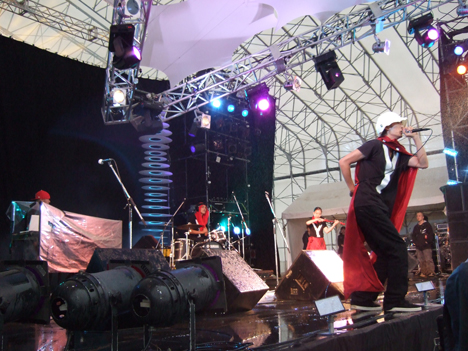 Going through the "Sun Stage" and passing by "Red Star Field", we reached "Moon Circus" with club-like lighting, decorations and a stage set. There Shingo02 was waiting. Recently, his name has been seen on various club sites. He is a hiphop MC artist whose original lyric and ever-changing style are supported by many young people. Although the genre is called hiphop, the dramatic sounds were very diverse, which was clearly different from past hiphop.
It was still drizzling and my notebook was crumb up with rain and damp. Having a lot of moisture I even wanted to take off my rain coat, "Tokyo Jihen" appeared wearing Japanese Yukata. To my surprise, it was their first RSR appearance. The expected show was started with "Marunouchi Sadistic" being added their arrange, and the matured music was presented with gorgeous lighting set of the Sun Stage.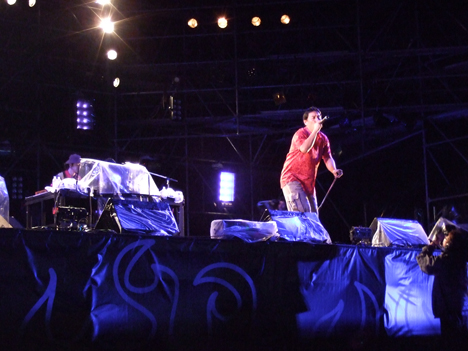 Again, the atmosphere was completely changed with resonated techno sounds. Which club is this? While the whole audience looked like a wave, naturally moving to the sounds, "Denki Groove" appeared on the stage.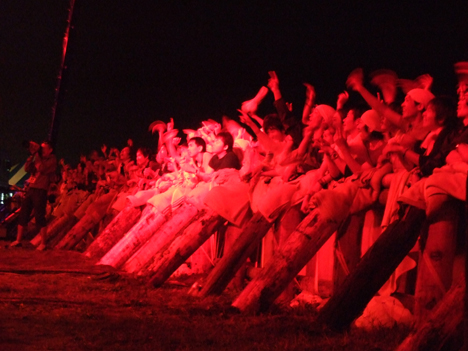 All the time, I couldn't stop laughing and moving for their show. The big screens by the "Sun Stage" showed Denki Groove's video, which was really cool. On the way, Pierre Taki changed his costume to the one with electric spectaculars to show his dance, to their song called "Kakkoii Jumper (cool jumper)". Personally, I was happy to listen their "N.O." and "Flashback Disco" !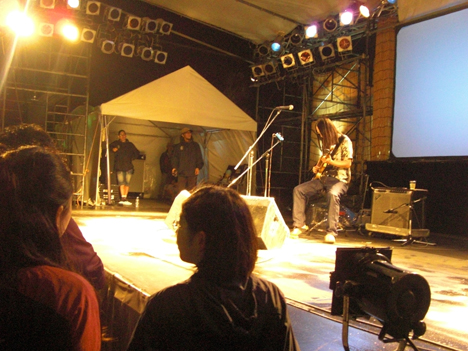 Placed in the deepest site of RSR venue, the "Bohemian Garden" was a stage you could experience completely different atmosphere from other stages. Running from the "Sun Stage" to the "Bohemian Garden", I could see the performance I was looking for, "Suzuki Kenji a.k.a Kenji Jammer". His leisurely guitar sounds was running slowly while I was laying down on bed of straws, completely forgetting about the impatience I had when I was running. How fantastic to listen to the music of "Suzuki Kenji a.k.a Kenji Jammer" watching the waving veils above the audience space.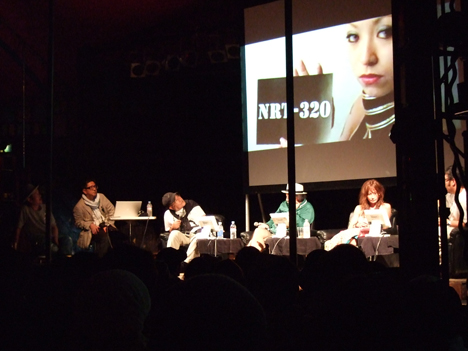 It was past 23:00. There was a long line in from of the entrance of "Crystal Palace". A talk show by Masayoshi Sukita, Itaru Hirama, Mitsuo Shindo, and YOU had started, with surprise participant Lily Franky with long boats. The theme was mainly about photography, and the talk show was easily presented over their visual works. It was large helping of contents; a photographer Masayoshi Sukita who had been taking big stars told about his long career, there was an introduction of their project "Save the Film", paper-scissors-stone session to get YOU's dvd, Q&A between the audience and Mitsuo Shindo, and even singing performance of Lily Franky.
Another show by "bloodthirsty butchers" was already started at "Earth Tent". The condition of "Earth Tent" was like a live-house, which was very suitable for the band like "bloodthirsty butchers". This band was formed in Sapporo 20 years ago. The veteran's performance quickly warmed up our cold bodies with night rain.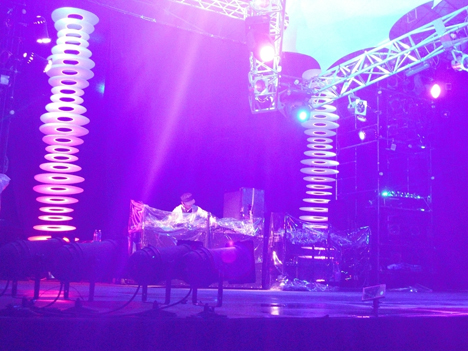 The last show we saw in the RSR first day was TOWA TEI. The shortest description of his show was "edgy!". He created strong flow in about 1 hour play, and ended up making the audience get excited. The audience called for an encore, and he gave us one more high-quality sound.
[NEXT]
[Help wanted]
Inviting volunteer staff / pro bono for contribution and translation. Please
e-mail
to us.