EXPERIMENTA DESIGN AMSTERDAM 2008
As we reach a majority urban population for the first time in the history of humanity, the Space and Place theme of Experimenta's first foray onto Dutch soil, after 4 successful biennales in its native Lisbon, celebrated a new "glocal" direction for design production and consumption. The series of exhibitions, urban interventions, lectures and debates organised for Experimenta reflects the inclusion of vast and exciting new talent pools with the likes of Latin America, Korea and China represented – and proving that design is now reaching far beyond the London-Paris-New York hat-trick. Experimenta saw an emerging discourse on the transience of identity of both designers and consumers alike, and an accompanying obsession with personalization and customizing our objects and spaces.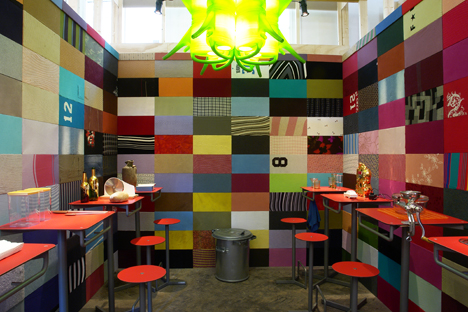 Qubus Studio "Come to My Place 1" © Edo Kuijpers
I had the pleasure of attending some of the opening week's highlights, which I'm going to share with you because I'm nice like that. Let's start with the Droog Design event, Urban Play, an international project that celebrates creative urban intervention and the beginnings of what they call "open source urban design", a belief that street-level inventiveness, energy and innovation is a window into a new form of creativity and urbanism in the city.

Urban Play Poster by Droog © Scott Burnham
A project in two parts, Urban Play includes firstly an exhibition of work by 19 of the world's most talented interventionists – from Mexican Gilberto Esparza to tried and true Graffiti Research Lab of Brooklyn NY – brought together under the watchful eye of "Hacking Reality" author Scott Burnham.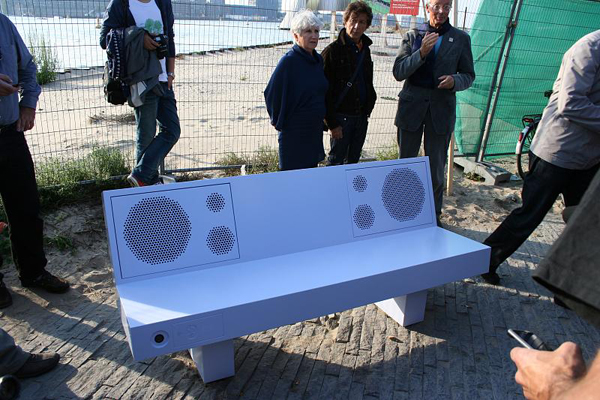 Boom Bench by NL Architects "UrbanPlay" © Scott Burnham
Secondly, a series of 13 outdoor "interventions", assembled by Droog Design and Scott Burnham, behind Amsterdam's Centraal Station's Ij waterfront, included Stefan Sagmeister's eye-popping 250,000 eurocent installation, which took four days and hundreds of volunteers to complete, and which embodied beautifully the changing rules of engagement between citizens and sanctioned urban creative expression.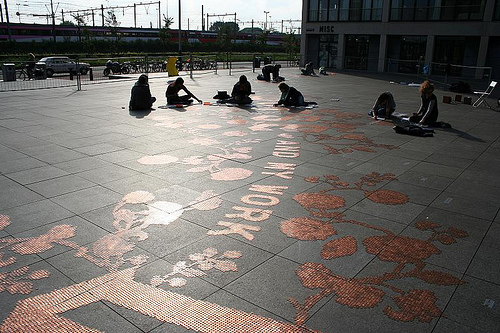 Stefan Sagmeister for Urban Play © Scott Burnham
Sadly, the installation was removed overnight by over-zealous police who, in trying to protect it from alleged thieves, deprived it of its public ebb and flow – and thus missed the point entirely!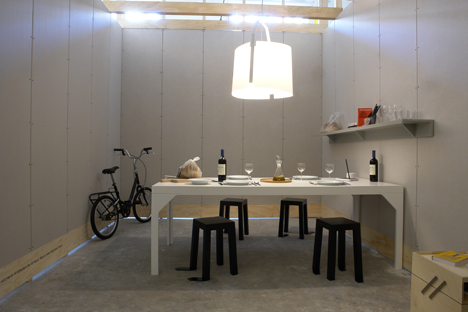 Miguel Vieira Baptista "Come to My Place" © Edo Kuijpers
Over in the glorious old dance hall, Paradiso, the Amsterdam Conferences treated ticket-holders to a series of one-off lectures by some of the world's leading design pioneers, including architects Rem Koolhaas and Alvaro Siza Vieira, conceptual consultant Cyril Duval, graphic design demi-God Ian Anderson and master of sculptural chairs and buildings, Ron Arad.
I attended the latter two, and although they clearly had done no preparation (other than bringing along assistant-prepared slide-shows), I acquiesced that these guys can pretty much get away with unstructured rambling because they are charming and funny, and because almost everything they say is interesting.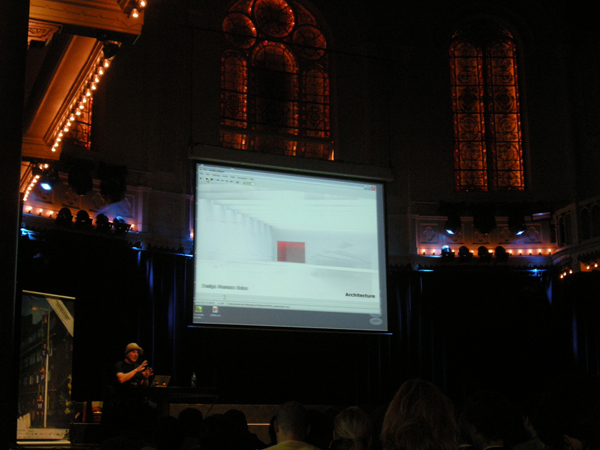 Ron Arad "Amsterdam Conference" © Max Akkerman
Arad talked us through past works; the Tel Aviv Opera House; the history of the Rover Chair and its new incarnation as the Moreover Chair; the now classic bookworm – of which Kartell extrudes over 1000km per year – and future projects like the architectural wet dream he is living: a spectacular ski-lift-cum-revolving-restaurant atop a bankrupt Alpine mountain in the Swiss town of Gstaad.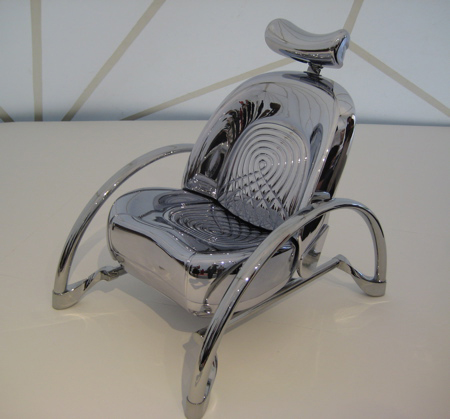 Ron Arad "Moreover Chrome"
Arad also shared a boundary-breaking new idea that sprung on him during a visit to a factory in China that openly and unabashedly produces fraudulent copies of his designs. Struck with the industrious work ethic of the factory boss, and the dependency of his 200 employees on the factory's existence, Arad came up with the idea to create new templates for such factories so they wouldn't have to copy – and convinced Vitra and Moroso to join him. Although the project is still in
progress, Arad has high hopes that this action will set a new standard for designers across the board to solve the now critical bootlegging issue in a positive way.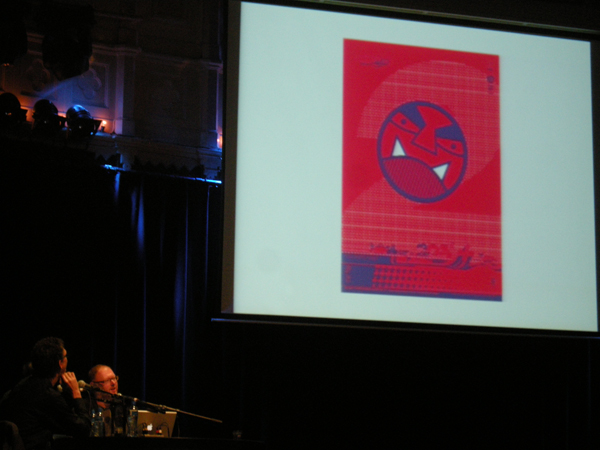 Ian Anderson "Amsterdam Conference" © Max Akkerman
Secod up, Ian Anderson shared some fascinating anecdotes from anarchic early years of The Designers Republic, when "we didn't break the rules, we just didn't know them". An interesting discussion emerged when the two panellists flanking Anderson on stage, questioned his current "shopper-marketing" and consumer psychology work with giant client Coca-Cola – a definite turnaround for TDR since their days of "Work, Buy, Consume, Die" and anti-brand ethics.
"There is an element of hypocrisy, certainly", admitted Anderson. But convincingly argued that although he may not agree politically with the ideals of clients such as Coca-Cola, it is hugely exciting to be able to reach such global audiences rather than an elite few within the design realm.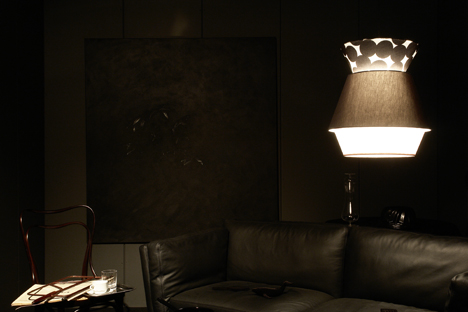 POLKA "Cometo My Place 3" © Edo Kuijpers
Finally, the award for party of the week goes to Marcel Wanders for the "Come to My Place" opening at his fantastic Westerhuis cultural flagship building in central Amsterdam.
An exhibition curated by Experimenta asked 8 designers, including Tobias Wong (USA), OVO (Brazil) and Ming Xu (China) to reflect on how we make a space our own through design, confronting and combining the global design culture and the vernacular of local production. Using both design pieces and objects picked from local building supplies warehouses and hardware stores, the ground floor of this former school building housed 8 "cells", each one housing an installation that explores our needs as a society to arrange the public and private environments of our lives not only to fulfill our basic needs, but to also act as a representation of who we are as cultural beings.
Warm champagne in plastic cups couldn't dampen the enthusiasm of the dense, happy crowd, pouring in to the party to celebrate our new global, local, personal yet public design world – the embodiment of Experimenta 2008.
ExperimentaDesign Amsterdam 2008
Date: September 28th – November 2nd, 2008
Place: Amsterdam, The Netherlands
http://www.experimentadesign.nl
Text: Lotje Sodderland, Co-Director, Maxalot Gallery
[Help wanted]
Inviting volunteer staff / pro bono for contribution and translation. Please
e-mail
to us.