Eric Siu, a bright young artist from Hong Kong, graduated from City University and has been teaching Media Arts for 2 years. His creative mind brought him to New York in 2007, with the support of the Asian Cultural Council, as a resident artist at the 18th Street Arts Center in LA and at Location One in NY. His interactive work sensually marriages technology and human senses into a new level of experience. One of his honorable films "Sliding White" was shown in WRO Portland in 2005. His other works have also been shown in USA, Australia, Japan, Korea, Germany, and China.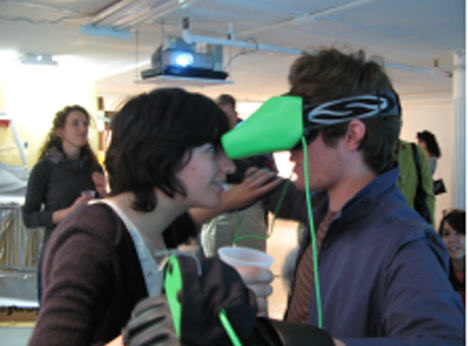 What made you start making video? Why media? How did you get into it?

Back in high school, I was into drawings, especially comics. Then my interest floated onto animation when I became a student at the Institute of Vocation Education (where I also taught for two years from 2005). Out of the 3D concept form the 2D drawing canvas, I started to explore the 4th-axis—time, which I felt fulfilled my creativity more than traditional media. After the institute, I did my undergraduate program in the School of Creative Media at the City University of Hong Kong, where I started to make video and animation in a more artistic and experimental way. I am interested in exploring the concept of "media art" to carry out experiments to define specific meanings to the medium.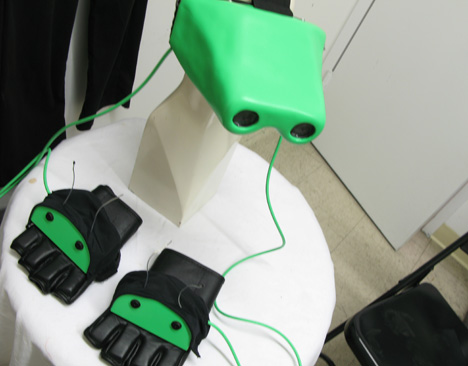 "eeyee" is one of your latest projects, what do you want to bring to your audience/user?
"eeyee" is an extended version of my former project "Optical Handlers" that employs the concept of stereoscopic visual illusion to create a pair of mobile eyes with three-dimensional sense. The new device consists of four LCDs and four cameras rather then two as a set of the first version. Four LCDs are arranged as two in a pair, which are placed side-by-side in the front of the right and left eye separately. Eventually mobile stereoscopic vision becomes possible when the brain functions normally under this setting. "eeyee's" goggles are equipped with an identical pair of LCDs that faces outward for the bystander to see through "eeyee's" eyes, encouraging social interactions.
In a word, this work frees our vision from our body, where our eyes are permanently on our skull and our experience of seeing is a lifelong habit. From this work, you can experience your vision through technology by hand control/mobilization.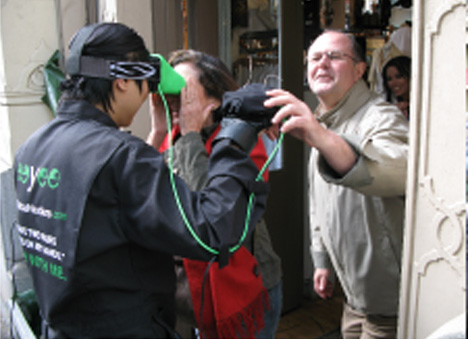 This work provides the user a visual experience that they have never had before. I want to draw people's attention and observe how they react to "eeyee". I hope to give people an unexpected joyful intervention that encourages their thought. For instance, a husband of a couple held my hand/eye to cheer his wife, who was seeing through me. Some others even gave me suggestions on of how to practically make use of it. I consider it as an ongoing research project, which transforms through time.
What is your vision?
I think art can help me understand myself more. I am interested in finding from my work, the logics of my thought, which are recursively expressed, and I hope that would eventually communicate with the public.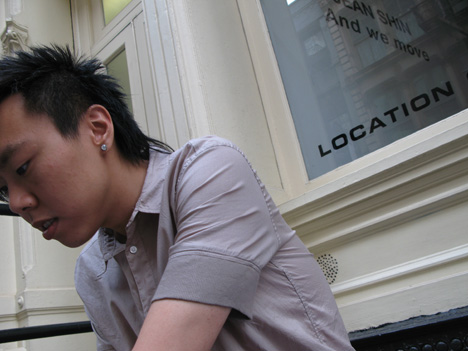 Where does your inspiration come from?
Basically from life.
The ideas ringing in my head connect to what I see in my daily life. Sometime it's from a book, a face I've seen in the subway, a piece of writing, or theories I've learned, then they reconnect and generate into a new concept. When I am brainstorming an interactive piece, I mentally divide my body into parts, and think about the relationship between each of them in conjunction with my mind. I consider human responses/interactions as one of the outcomes of my art, which I love to explore.
Why did you continue you art career in the United States? What are you planning to do here?
The art scene here is much bigger with lots of exhibition space, which gives me an opportunity to be exposed to a huge variety of art creation. Also, I want to see things differently and interact with people in various cultural settings. Coming from a different city in the east, I find that their (American) culture, communication and way of thinking have informed me a lot and give me alternate sources for inspiration. I look forward to seeing where it might take my art to.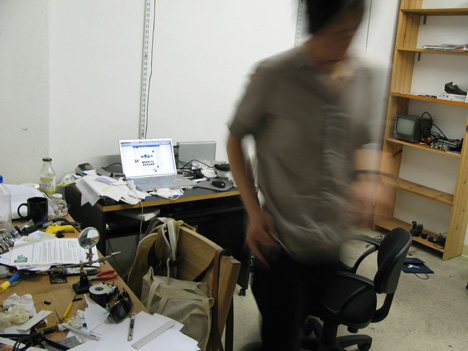 What do you think about the media art/ art field in Hong Kong?
To be an artist in such a capitalistic society is tough, because of the lack of audience and facilities for art. The culture of art appreciation is still developing. Therefore, education is very important to let people know what type of art they are seeing and why it is interesting. Also, there is potential to "apply media art" in Hong Kong because public art is quite welcome. It could be introduced as a form of new commercial, film, movie and entertainment industry, and some of them have already been applied in a very successful way.
Growing up in Eastern culture, what influences are reflected on your art?
The city structure has so much influence.
Overly excessive information, having too many things constantly happening at this small and over-crowded place simultaneously, has built an ability in me to spot out a wide variety of things and marriage them. Hong Kong is a completely highly mediated urban city with multi and mixed cultures. I love linking up the unlinked situation and matter in my creations. I think that this massive way of thinking is exclusively derived from a city like this. My ideas articulated from a complicated group, which focus on one specific meaning resulting in new alternatives.
As a young emerging Asian artist, what kind of suggestion would you give to fellow artists?
I think one of the most difficult challenges of being an artist is to be substantial, especially at the beginning. Art is something where you won't see an immediate result, which not always realistic too. It is regretful to see talented fellows giving up art for the most realistic reasons, which is quite common. As an artist raised in Hong Kong, I think it is a strange place where arts are highly marginalized and alienated from the social life, which gives extreme limitation for artists to survive. I will say to any newcomers that as long as you have the passion and interest in creating art, do it! Though the process is tough, if you give up, you might be giving up your talent.
After interviewing Eric Siu in his studio, I am led to think that to succeed as an artist in materialistic world, trust in your beliefs and a strong mind are the artist survival kits. Thus, to see art works shown in a gallery is akin to finding treasure.
Text: Josephine Sze Chan
[Help wanted]
Inviting volunteer staff / pro bono for contribution and translation. Please
e-mail
to us.