The Poets of the Paste show at the Ad Hoc Art gallery in Bushwick, Brooklyn, opened to a packed house on Friday, June 13th. The group show features the work of four street artists known primarily for pasting original images to walls: Armsrock, Elbow-Toe, Gaia and Imminent Disaster. Although not all of them are currently living in Brooklyn, it is safe to say that they've each left their mark on the borough's walls.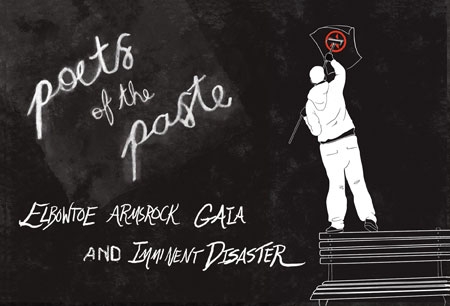 Ad Hoc director Andrew Michael Ford confessed that some questioned his wisdom in curating a group show of artists– with the exception of Armsrock — known principally for their woodcut and linocut prints, a medium that, on the streets, is very much associated with Swoon. That each of these four artists has at one point been confused with Swoon is understandable, since she in essence blazed the trail upon which they all now walk. Yet I would argue, as does Ford, that anyone who claims they're all alike, interchangeable or derivative simply isn't paying attention to the details. That Ford's gambit paid off was evident in a strong show, one I might add that was largely sold out prior to even opening. All four artists stepped up to the challenge, refusing to be pigeonholed and delivering far more than what was expected of them. Each proved without a doubt that they're deserving of the title Poet of the Paste, yet also showed that they were capable of much more. It should come as no surprise then, that each of these artists will be featured in a rash of future shows, and not just in New York.
For this latest showing, veteran street artist Elbow-Toe focused on the topic of flight and its influence on history and society. Elbow-Toe's points of reference are manifold, synthesizing sources as diverse as Greek mythology (Icarus & Hermes), 20th century dance (Pina Bausch), and biography (Wright brothers). His pieces are not just built upon layers of wood, paper, and paint, but also founded upon layers of veiled meaning. The woodcutting skills on display here are formidable, especially on such a large scale.
Also making an impression with the size and scope of pieces presented in this, her first show is Imminent Disaster. For her subject matter, she draws upon New York City, mining the historical press for stories upon which to base her linocut portraits. Her characters – a prime example being the mad organist playing upon his own funeral pyre — aren't historical personages per se, but composites that speak to her from another era. With her deftly cut Victorian imagery, Imminent Disaster successfully sets the tone with a dark yet powerful ambiance.
Upping the ante by displaying not only his latest, to date largest, linocut street piece on canvas, Gaia also presented a selection of imposing oil paintings of a decidedly more personal nature. Gaia took the opportunity to showcase his portraiture skills, in a move that will surely distance him from the animal motifs for which he has become known on the street. If it was his intent to provoke a reaction, the remarkable double portrait of a bare-chested youth caressing himself certainly struck a chord.
Last but hardly least, Armsrock delivered several large canvasses as well as a selection of extraordinary paper and cardboard dioramas. Unlike the other artists in this show, Armsrock eschews printmaking in favor of creating one of a kind, original works. His canvases feature revolutionary, masked figures and incorporate slogans such as "no chain of command" or "no gods no masters". His characters confront themes of fear, alienation and isolation, questioning what it means to be alone in an urban environment.
Poets of the Paste
Date: Wednesdays through Sundays from 1-8pm until July 13th.
Place: Ad Hoc Art Gallery
Address: 49 Bogart Street, Brooklyn, NY 11206
Tel: 718-366-2466
http://www.adhocart.org
Text and photos: Katherine Lorimer
[Help wanted]
Inviting volunteer staff / pro bono for contribution and translation. Please
e-mail
to us.