Fashion, photography, film and something important between them.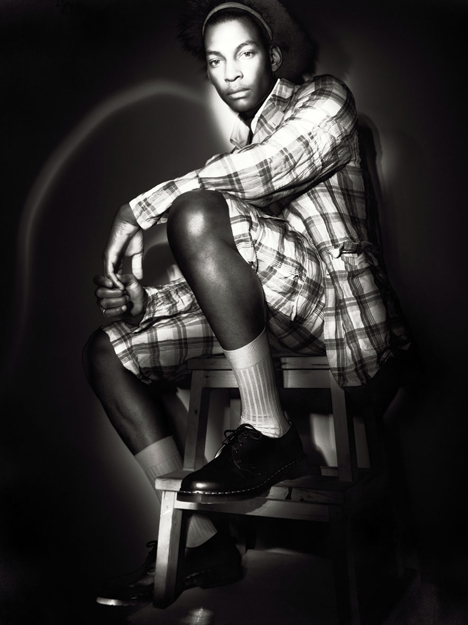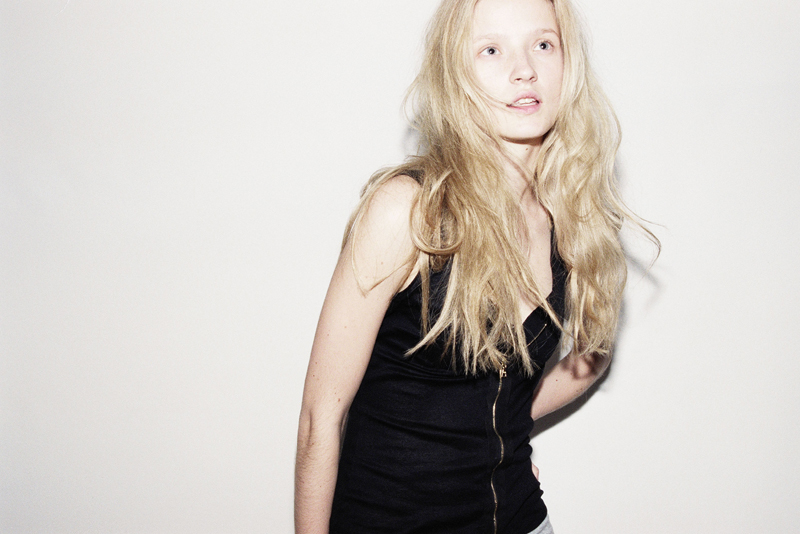 Alek at Select Verve © JEZ TOZER
A journey to the creation world that has started with Makin Jan Ma is ongoing. Guiding now the road to the next area of creativity is Jez Tozer, a London-based fashion photographer who has approached the London's fashion scene through his exploration of his own photography and filmmaking. Zooming in the central part of humans through their movements with garment, he, with photography and film as his methods of representation, visualizes a series of human's motion, a hiding moment, invisible part of humanity and a fragile mind deep inside humans. He collaborates with various fashion designers and makes films, which can be found at SHOWstudio that is produced by Nick Knight, known for his film work for Bjork. While we are excited about his future creation, he now takes us on the journey further ahead.
Could you tell us about yourself including your background?

I had a very scattered childhood with a 2 year spell in Texas as well as a whole load of different places in England. As a result of this I suppose, I have learnt to embrace change. Whilst I was studying photography and afterwards while I was still finding my way I always worked in restaurants and it quickly became more than just earning a bit of extra cash. I love food and the more I learnt from the various chefs in London and finally at The Tresanton in Cornwall the more I enjoyed cooking myself. Cooking is very like photography in many ways and I tend to adopt a similar approach to both – no recipes, a respect for different flavours and how they mix, but most importantly good fresh produce presented in a simple and honest way.
I don't like my food to messed around with and the same goes for my pictures. Almost everything I do has to go through photoshop to get where it's going, but for me it is primarily scanning, cleaning up and proofing rather than comping, stretching or any of the other wonderful image manipulation tools at our disposal now.
Working in restaurants and most particularly The Tresanton under Olga Polizzi, I learnt a lot about meticulous presentation and developed a much more honed attention to detail – funnily enough one of the few things I picked up along the way that in some way prepared me for working as Nick Knight's first assistant.
Could you tell us your recent activities or projects?
In the last 3 months I have done 3 short films including 2 for SHOWstudio and another for Makin Jan Ma. I've also worked with the artist Richard Watkins and most recently just got back from a 3 day trip to Ibiza. Ibiza Rocks are opening a hotel and 3 shops this season to cater for the growing demand for their gigs and the merchandise. I shot this seasons collection with them in and around the new hotel and on the beach. They're a great bunch of people to work with – I didn't want to come home!
I'm working in an ongoing project in London, which I'm hoping to take to New York. It involves a big sheet of canvas and models who I don't direct (and no it doesn't involve throwing paint around!) It is all about questioning the need for control at the final point of the image making process.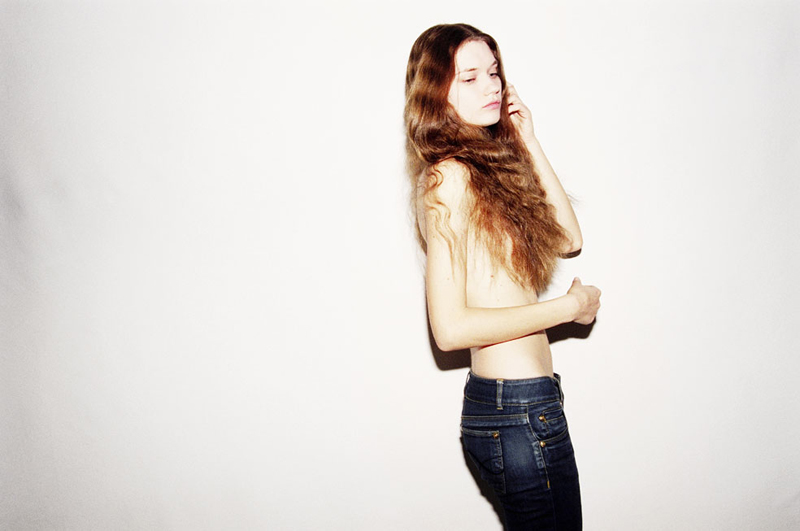 Lyoka at FM Models / Hair Halley Brisker © JEZ TOZER
Other projects coming up include a multi faceted project with Paul Davies who works with Visionaire and a project with a major sportswear label.
Last but by no means least, I've recently been lucky enough to meet Nana and Brooke from Aganovich and am very excited about working with them this season.
As Makin Jan Ma talked on his interview that you worked with him for his collection photos, you are doing many fashion photography. Could you explore more about your interest in fashion photography? How did you start your career in fashion photography?
I took this picture over 10 years ago in Hong Kong for a portfolio that got me a place on the BA Photography degree at Westminster University. Although it was one of my favourites from the series and still is, it did quickly pose a very important question which had a very obvious answer to me – Did I want to be shooting Christian Dior from the outside in or from the inside out?
I started my career in fashion and photography working as Nick Knight's first assistant. I knew nothing and learnt a huge amount from him about a lot of things – not least about humility. He is a wonderful human being and a very humble man. Strangely given this image I had taken 10 years ago, Christian Dior was the company Nick worked with most prolifically while I was with him. He shot their fashion campaigns twice a year as well as perfume ads and commercials.
It was during my time working for Nick that my understanding and love of fashion began to really mature.
Above the technical manifestations of my work I'm primarily interested in the fragility of the human spirit and the fleeting moments visually when these occur. I often relate my work to music and more specifically the drumbeat. For a long time I was interested in the moment between drumbeats. The long exposure work for Makin was the first chapter in this journey and oddly and completely coincidentally was of boys drumming which was an integral part of Makin's narrative.
I explored these extended moments with long exposures for the next 6-8 months for various editorial and advertising projects including Greek Vogue, GQ Style and Jen Tozer4Staerk.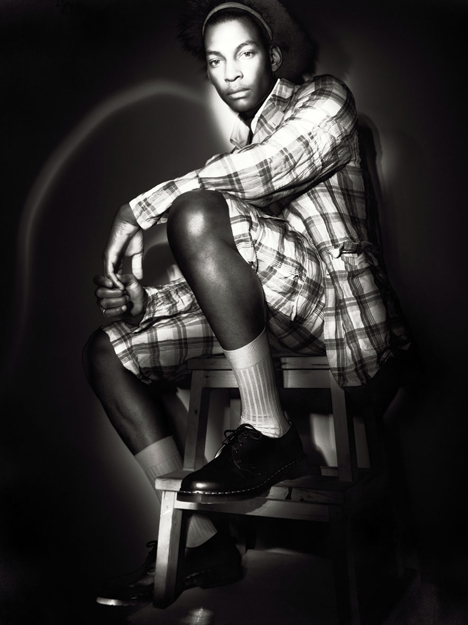 TY at Independent Models for GQ Style / Styling David Lamb © JEZ TOZER
As you tell in your website, you are interested in representing a sequence within one image. We can find it for example in Makin's SS08 collection, Wild In Heart. What is the interesting part to express a sequence within a image? How do you feel like to express a sequence with photography instead of film?
Over a 2 week break over Christmas I really dug into what was important to me about image making and had a rigorous overhaul of my conceptual approach. What came out the other side manifested itself in a much more raw aesthetic. Continuing the vein of challenging the exact photographic moment I became excited by the idea of taking a series of images in quick succession instead of one long exposure. I guess in a very broad way it was inspired by Edward Muybridge's work in the late 19th century, but rather than having analysis of the anatomy as it's raison d'etre, my process was more concerned with using it as a tool for capturing the the bits in between.
What interests me about taking a series of images per garment is the idea that we don't wear clothes in one constructed position we walk, dance, sit stand – and much of the beauty of a garment is only revealed in the fleeting moments during these activities or even the transient moments in between them.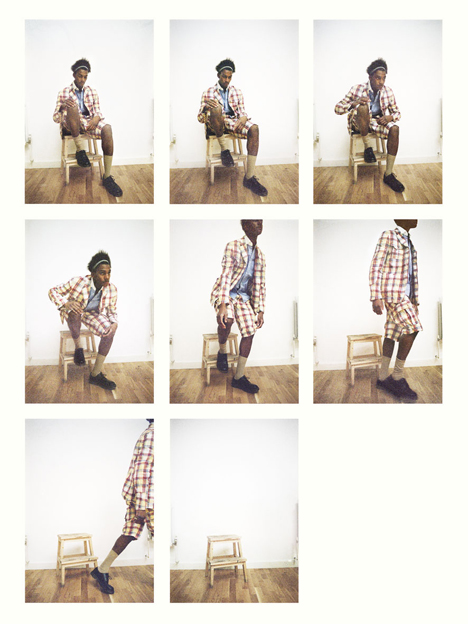 Ty at Independent Models for GQ Style / Styling David Lamb © JEZ TOZER
Through the series work I soon realised that imposing such a strict structure as a method of working was hindering what was most important to me. But without doing it I wouldn't have realised quite so quickly what the burning desire in me to take pictures is really about – to capture the fragility of the human spirit and represent fashion in the context of real movements rather than constructed poses.
It's been in many ways a slow beginning to the journey for me, but realising the excitement of capturing a delicate side of your own personality in the people you shoot is an amazing and also exceedingly humbling realisation.
Capturing a sense of their fragility is not driven by a desire to diminish their strength or position as a subject but more to reflect the fragility I feel in myself. It is also interesting when we as viewers are asked to consider our own fragility by that represented by a model or sitter in a photograph.
Now that I've begun to understand n this feeling I no longer feel bound by the need to define anything else, but least of all not a technical approach. Consequently I feel much freer to work in a way that suits the mood of the clothes the subject and the shoot. Taking pictures is about a feeling for me – everytime.
A lot of my recent work is much more spontaneous and is concerned with capturing a moment rather than constructing one which is both very new and very exciting to me.
Could you tell us about your film work with Aitor Throup?
I first met Aitor when Simon Foxton asked me to shoot his graduate collection for iD magazine.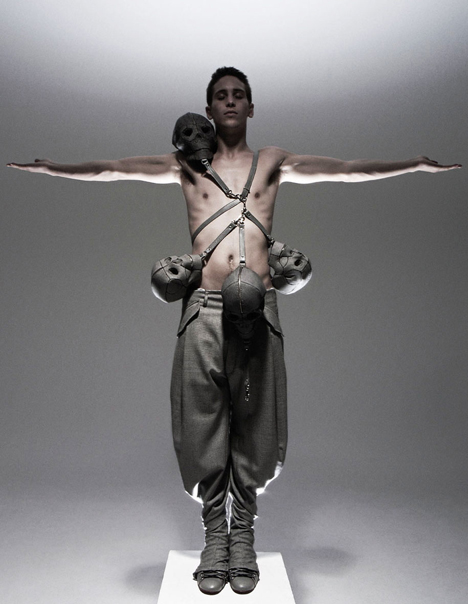 iD Trousers & Bags by Aitor Throup / Styling Mark McMahon © JEZ TOZER
Aitor then lent me this outfit for Nick Knight's Bal Masque, I gave him some prints of the iD series of images for an exhibition he was doing at The Library in South Kensington and we became friends. We have a very interesting dynamic. I think the films naturally reflect that.
The Funeral of New Orleans – Part 1
http://www.showstudio.com/project/neworleans/
'22 JUL 2005' by Aitor Throup
http://www.showstudio.com/project/politicalfashion/movies/2008-04-04
How about another film for SHOWstudio?
Did you see this one?
'Films for SHOWstudio #02:'
http://www.showstudio.com/project/politicalfashion/movies/2008-04-11/
Yes more soon – there are a few things in the pipeline.
As regards representing "fashion", what is the differences between shooting photography and shooting film for you? How do you like to develop to focus on your representation of a sequence using each medium?
Photography is about freezing a moment in time and presenting an often highly constructed single moment to the world. Film is obviously much freer more fluid less controlable and in many ways I prefer that. It is this freedom and relinquishing of control that I am now trying to bring in to my stills work. I press the shutter often when my conscious mind is telling me not to. Film captures these moments automatically.
As a result I have been working a lot with 35mm in my stills work which reduces the delay between seeing a moment and capturing it – and I also tend to press the button randomly and end up capturing the off moments my conscious brain would ignore or even not allow me to shoot.I think I subconsciously try and blur the boundaries between photography and film.
I subconsciously try and blur the boundaries between photography and film and it is only afterwards I say to myself "why do I keep doing this?" If I understood why I'm sure I wouldn't get half as much fun out of it afterwards!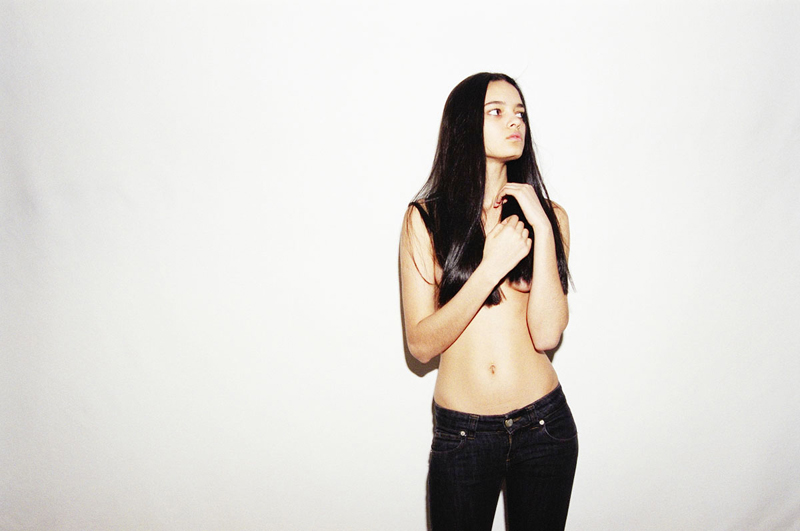 Wanessa at Select Verve / Hair Halley Brisker © JEZ TOZER
What are your inspirations and influences?
People, humanity, fragility, music … life.
What do you want to be in the future?
A good friend.
What's your next plan for the future?
Do Yoga, Love, Collaborate, Eat, Sleep.
Jez Tozer
studio@jeztozer.com
http://www.jeztozer.com
Text: Mariko Takei
[Help wanted]
Inviting volunteer staff / pro bono for contribution and translation. Please
e-mail
to us.