2008/2009 AW, if you are soaking in the spacey atmosphere and as soon as you saw the words, we couldn't call you the master. If you have the silver invitation which was given by the maison, it makes you able to travel space without any breathing trouble. Visitors were fascinated by the Marithe Francois Girbaud, show where the floor was changing constantly with digital lightning like the colors of auroras in galaxies.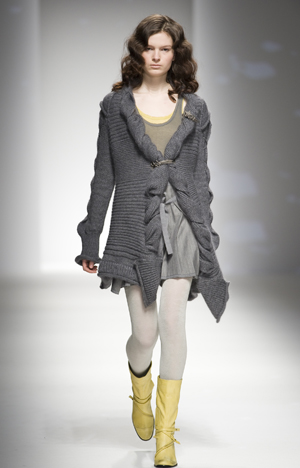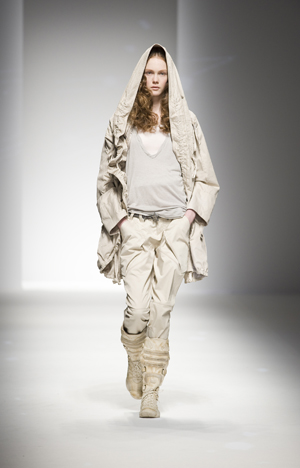 Marithe Francois Girbaud
Stars were shining everywhere on the clothes, strange shaped trousers which seem like gravity doesn't exist. If you were Star Trek fan, I bet you would love this but even if you were not, your heart would float in the space-like atmosphere. Put on some heavy boots when you wear that feathery dress so you don't fly away.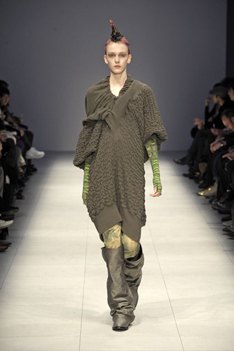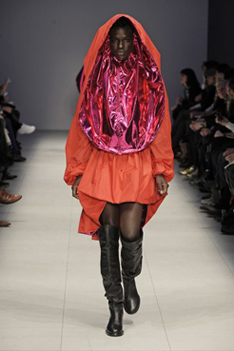 Zucca
The Zucca show was held in an art school across the river in Louvre Museum. When I thought I found the entrance, it was the back stage entrance even though some students told me that the school was like a maze. OK, the only way to get to the entrance of the fashion show is asking models who are just standing around, smoking and chilling. But even I, who had asked the way every 30meters or so, got scared to ask and I just couldn't bring myself to do it. I thought I was in Camden in London because there were punk rockers everywhere. A boy with countless duck curl pins, shocking pink and yellow mohawk, a chain necklace, grunge style shirt and huge boots. With a washed out big sweater, sparkling new material, and a girl who wore a poncho was looking at me. Am I going to ask to these people? I summoned all my courage and asked the way, wow, how kind they were, I was surprised. This collection was inspired by Medussa who had the power to change humans to stone. This meant that people who look strong tend to have a warm and kind heart. At least, thats what I understood from this experience.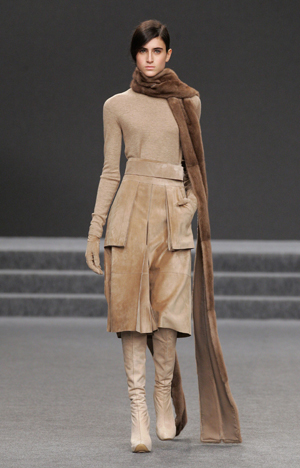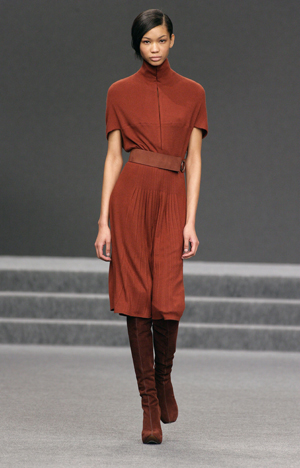 Akris
Akris hall which was unified with an all grey color scheme was sophisticated and cool. The brochures were aligned perfectly and inside, there were sketches, small samples of fabric, all of the models' names and what exactly they wore on stage. Super models like Iekeliene Stange and Irina Kulikova walk on the stage. Camel, maple, and chestnut colored Swede tunics folded on their bodies ever so softly, silk dresses and flannel trousers also left a fresh impression. He was the only one person who could make clothes which look beautiful as soon as we just put them on- that is for certain. He gave me warm phone call the day before of the show, and also sent me a polite email after the show, and what's more, the Swiss chocolates on every seats told us more about his thoughtful character.
Read more ...
[Help wanted]
Inviting volunteer staff / pro bono for contribution and translation. Please
e-mail
to us.