OKI DUB AINU BAND is a progressive roots band led by OKI. OKI is well known for reviving the "Tonkori", a traditional stringed instrument of the Karafuto Ainu. He boldly electrified this ancient instrument and plays dub sounds over Ainu music throughout the world. OKI DUB AINU BAND JAPAN TOUR 2008 starts this April. Here, we interview OKI who is showcasing the appeal of Ainu music.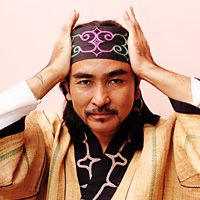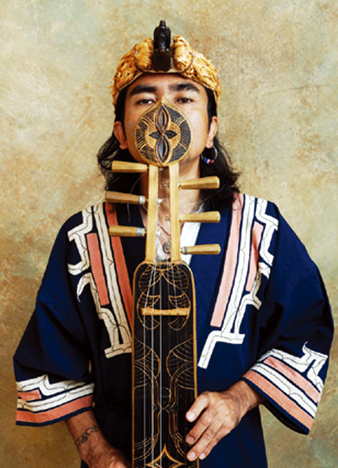 Could you tell us about yourself?
I am OKI. I play the Tonkori, a traditional stringed instrument of the Karafuto Ainu.
How do you play the Tonkori?
The Tonkori was represented in literature over 300 years ago. The structure and shape had not been changed for more than 300 years, but I electrified it. Now I can play it through an amplifier. The Tonkori has no frets, and the number of scales is the same as the strings. Therefore, there would be more possibilities if it is applied or approached as a rhythm instrument.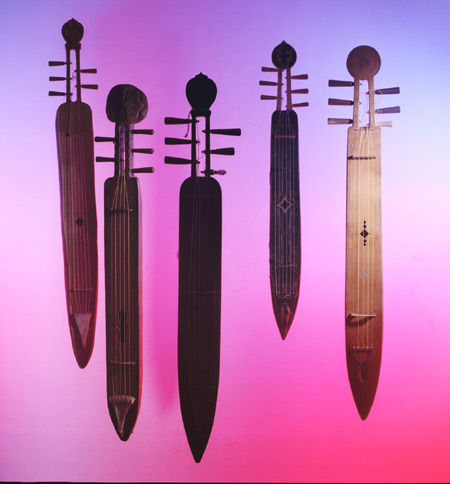 What was the beginning of pursuing your current original music style?
Before knowing the Tonkori, I was studying visual art. When I was seeking my own roots, I met the Tonkori, which was the beginning of everything.
How did you start "OKI DUB AINU BAND"? Could you tell us about its members?
I needed other instruments like the drums and bass guitar to actualize the sound in my mind. As a result of various coincidences, I met Hiro from the reggae band called STONED ROCKERS. He is a good bass player who firmly has the reggae spirit inside of him. And our drummer is Takashi Numazawa, one of the worlds top drummers as we all know. His gig list also includes Al Mckay, Yosui Inoue and Gilberto Gil. Futoshi Ikabe is a fellow Tonkori-player and backing vocals with the Ainu spirit. And the last member of the band is Naoyuki Uchida, who is an engineer for LITTLE TEMPO, FLYING RHYTHMS, GOMA and JUNGLE RHYTHM SECTION. His sound is a magic.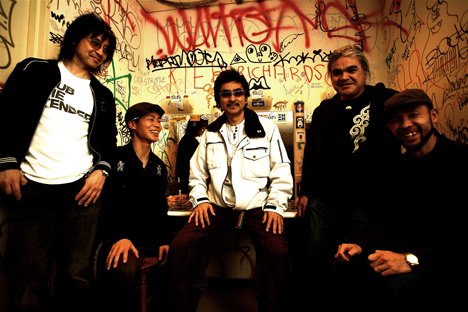 Last year, you had a lot of tours in Singapore, Europe, and Festivals in Japan. How did the audience react to the show in each place?
The reaction of the audience is different depending on the characteristic of the festival, but no doubt we enjoyed the festivals in Europe. Even if they don't know about the band at all, they follow us as long as the show is good. Because they get excited, we can also play with confidence. This synergistic effect makes the show explode.
On the other hand, festivals in Japan are milder. But if you can raise the Japanese audience, you can definitely kick ass in Europe.
Could you tell us about the session for "Tarachine" with Kirie artist Risa Fukui?
"Tarachine" is a short animation movie all made by Kirie (Japanese paper cutout). Risa Fukui did all the Kirie and script, and I did the sound.
I sympathize with the world she is trying to achieve with Kirie, which has a lot more limits comparing to drawings or paintings. Because Tonkori also has a limit of only 5 tones.
Could you tell us about the Japan Tour starting from this April?
The tour production is in progress and gaining a lot of support. The tour will be for a month from Fukuoka to Akanko. We are now taking care of making new songs and both the physical and mental condition. We'd like to show the best sound mixing Tonkori and Dub of DUB AINU BAND.
Do you have any plan in the future?
Parallel with the band, I'm doing a solo project about the Tonkori. There is also another Ainu group's music that I'm producing. I'd like to try something totally different from what I'm doing in the future.
OKI DUB AINU BAND JAPAN TOUR 2008
12th April: Aichi / Mikawawan Resort Linx
18th April: Hiroshima / Hiroshima Club Quattro
19th April: Fukuoka / Beat Station
20th April: Osaka / Shinsaibashi Club Quattro
21th April: Nagoya / Nagoya Club Quattro
23th April: Tokyo / Shibuya Club Quattro
25th April: Yokohama / Thumbs Up
9th May: Akanko / Onnechise
10th May: Obihiro / TBA
11th May: Sapporo / Jasmac Plaza Xanadu
Text: Yurie Hatano
[Help wanted]
Inviting volunteer staff / pro bono for contribution and translation. Please
e-mail
to us.