In 2003 I started working on Urballoon as part of a residency program, again at Eyebeam. This urban art installation consisted of a large three-meter helium balloon with a video projector attached to it, and a wifi laptop.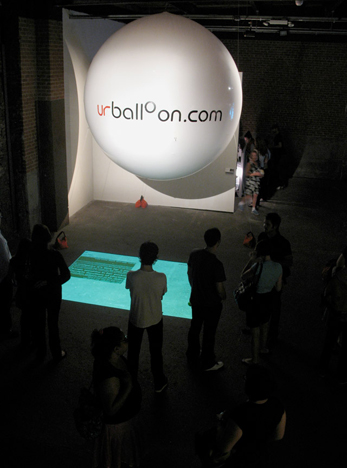 Urballoon (wireless installation & website, 2003)
The project also had a website that allowed people to submit images and texts that were projected by the balloon onto a public space, such as a park, plaza or indoor gallery. This has been one of the longest projects I have undertaken and I eventually worked with my friend David Yates on the technology side to develop it.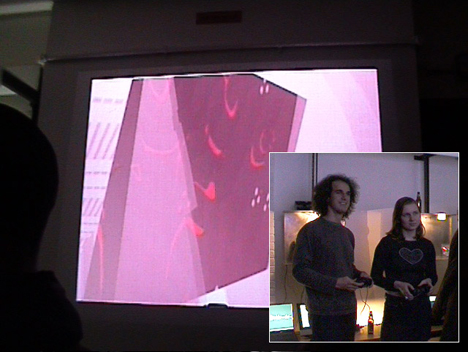 Double Cute Battle Mode (VJ game / performance, 2004)
In 2004 my wife, Aya Karpinska, and I were invited to submit project ideas for a gallery event in New York. We came up with the concept of a two-player VJ battle game that we called Double Cute Battle Mode. It used the familiar Playstation video game controllers to rotate 3D layers of texts and images that were controlled by the two VJs in their visual jam sessions.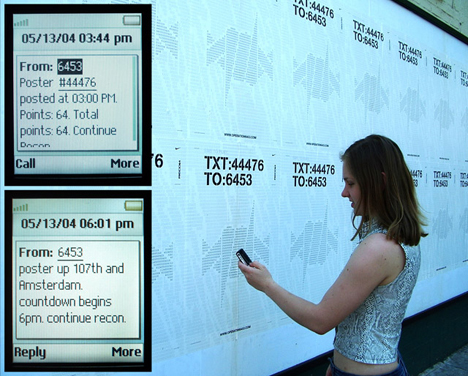 Operation 6453 (mobile urban game, 2004)
I worked on another urban game design project for Nike called Operation 6453. It was a scavenger hunt where players had to roam the city looking for posters with unique number codes. These could be sent by SMS to a website to win points and earn the right to pre-order limited edition sneakers designed by the graffiti artist Stash. There was a website that displayed player rankings and showed the known poster locations as they were being revealed during the four-day game.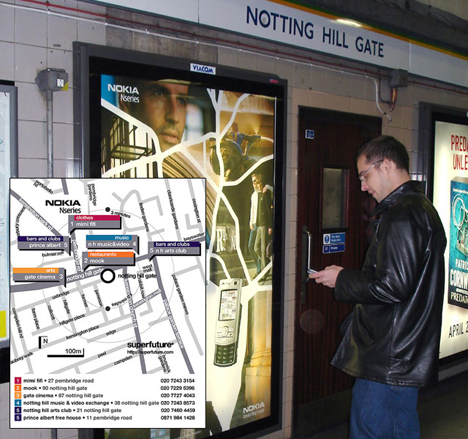 Mobile City Maps & Guides (mobile advertising campaign 2006)
Nokia became an R/GA client in 2005 and I started working for them doing interaction design and concepting for their Nseries digital marketing. Among this work was a mobile advertising campaign in London metro stations which involved Bluetooth-enabled posters sending maps to mobile devices. Each map covered a one kilometer area around a station, with recommendations of bars, restaurants and shops curated by the guys at Superfuture.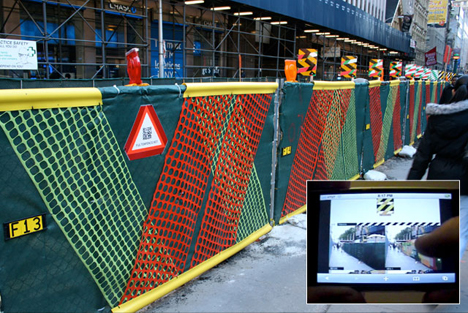 Fulton Fence (outdoor installation & website, 2007)
In 2007, I worked with my Venezuelan friends Carolina Cisneros and Mateo Pintó on the Fulton Fence. This is an art installation (it's still up) on a fence that borders a construction site in New York. It was a commission to improve an urban area that looked chaotic because of street construction. However, we used some of the media architecture ideas to connect our installation to an online "fence" that could be accessed by mobile devices using QR codes, and of course computers. The website in turn mirrors the physical intervention online and explores the notion of a construction site as a generator and aggregator of information.

MetropoliPhone (mobile site, 2008)
This year I launched a service-oriented project for mobile devices, specifically for the iPhone. MetropoliPhone is a simple and free repository of subway maps from cities worldwide. It uses the iPhone's intuitive image zooming and panning features to provide a useful map-viewing experience. I also plan to add bus maps on the site over time.
Read more ...
[Help wanted]
Inviting volunteer staff / pro bono for contribution and translation. Please
e-mail
to us.