The playing style piecing each guitar-riff in the loop is like a graphic drawn by each pixel. Because of the style, it is more enjoyable to see a set of his performance than to listen to only the sound. If you listen to the sound, you cannot imagine that it is played by only one person, but you'll understand when you see his performance. His music is made by mixing the rhythms or timings of such as changing effector and setting the loop. Not only the guitar play, but he is also working as a designer doing web and graphic designs.
You can see his extraordinary design sense at "Cornelius x Merce Death x polo-Really x Google Map x YouTube", which is a music clip that you can enjoy the world of Cornelius music by moving sounds by yourself.
I've interviewed him about his activities as Merce Death, and how his works as a designer are made.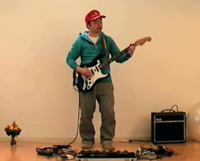 Please tell us about the name "Merce Death".
Originally, I was trying to make a band with 2 friends of mine, and we were sort of talking about the band name. One said "how about using Mercedes and death?" and the name "Merce Death" was made. When I started doing "GIG" by myself, I used the name without thinking that much, and it has already passed 5 years now… My friend who made the name is still complaining about it.
Why do you persist on the form of solo project and live performance in the form of "GIG" ?
The thing is, Merce Death is just exposing the solitary play using a guitar. So basically, one person is enough. Enjoying myself is the big idea. It's a bit geeky doing something with heart and soul only by oneself, don't you think? I have my favorite guitarist called "BOB LOG III" who wears a helmet with a phone handle, dynamically plays the bass drum and shouts with the high-speed blues guitar. While I want to ask him like "why are you doing all this by yourself??", he actually really attracts me and is so cool. So does "Squarepusher". "Lonesome Organist" is funny and cool too, playing about 5 instruments at the same time. I am the person who prefer the things with some funny elements than only cool things. And I guess that is a part of the reason I have chosen to do by myself, not in the form of band. Of course, I love the jam session as it has also another amusingness.
Speaking of the reality, it is much easier to book GIG performance by doing by myself, because I don't have to check members' schedule. So even when I'm busy, I can participate in the event as long as I keep the moment of GIG. This is an important point for me doing music and working for another job at the same time.
Merce Death GIG at Super Deluxe
Who is the artist you have been influenced by?
As a guitarist, the masters in my heart are Mr. Jeff Beck and Mr. Jimi Hendrix. I listened to 70s' music a lot. I liked various genre of music including funk, folk, blues, country, jazz… Especially 70's Frank Zappa's jazz rock was the one I used to really love, and I was playing the guitar to the music like "Hot Rats". Then the middle of 90s, I saw Beck's concert, and started thinking that the current music might be not that bad too. After that I was shocked by Tortoise's "TNT" and felt like "cool music is still here now!". I started listening to post rock and electronica after that, and now I also like stormy ones such as "Battles" and "Sleeping People". Well, I guess my GIG is like all the above (laugh).
Is your guitar riff an improvisation?
Yes it is an improvisation. I am often asked if I don't get nervous not deciding what I play beforehand, but to me, it's rather distress to play fighting with the "anxiousness not knowing when I miss". I would definitely miss the most important phrase (laugh). Of course I know from my experience that there is a feeling of accomplishment after finishing the play, but it's more important that things even I haven't expected come up one after another. I'm trying to do new things every time, such as in the way of connecting phrases. I feel really excited when I try new combination during the play and it unexpectedly goes really well. I enjoy myself rising my spirits with the buildup of those phrases.
Please tell us about the mashup content "Cornelius x Merce Death x polo-Really x Google Map x YouTube".
A friend of mine, Mr.polo-Really who is a musician and a web designer, told me about the Cornelius's remix & music video contest produced by a magazine called Sound and Record. When we started getting the idea, I found an interesting "structure"; the sound sources of Merce Death, polo-Really, and Cornelius are remixed by users, and the result is different every time while still remaining the world view of Cornelius. Soon I emailed the idea to polo-Really, and he replied with proposals "how about using Google Map?". And the idea grew thick and fast, the form was soon completed. We both got really excited seeing the finished work.
As a result, we received "win off the charts" in the music video section of the contest, even if it was over the prescription. We were pleased and felt the possibilities by receiving such an evaluation for the relationship of "interactive" and "sound" as "music", which could ever be only for a part of the web industry.
*It used to be titled "Re-mix 2.0" when it was launched in the later 2006. After the word 2.0 has been expended too much, what we meant is getting different, so we changed the title to "Cornelius x Merce Death x polo-Really x Google Map x YouTube".
In addition to Merce Death, you are working at web design and graphic design. Which parts are you giving importance to? Also, what is the most impressive project you've ever worked for?
Everything is the same basically. I personally think the right word for me is "designer", and I like to design using various ways of communication. As the web communication is being developed at an alarming rate among those, and I think it's very exciting to work around the area, it is certainly to spend time to the web concerned projects.
All the web production is impressive as I've tried to do new things for every project. The website for Sony Walkman made in 2003 had the core concept in substance satisfactory to me and won the silver award in Cannes Lions International Advertising Festival. The award was only a secondary thing, but it was a memorable project which encouraged me a lot that time.
In fact, I did a musical experiment in collaboration with polo-Really for the site too. What we tried to express was outside sounds of the walkmans' headphones. The system had Flash which automatically generates various sounds made by chopping up the materials from field recordings, and the random music come out all the time. It was a quite big challenge in the environment that it was not possible to keep that much of data at that time.
Are you planning to release recording things like CD or DVD in the future?
I'd like to increase video archives. I used to upload the sound source in mp3, but it was hard to let the audience know that it's an improvisation or that I'm playing only with the guitar. Now I'm using Xacti, and recording almost every GIG, so I want to archives those. It's only as samples to call people coming to my GIG though.
By the way it's been acceptable for iPod video since several years ago. If you have iPod and still don't have contents, download and enjoy my GIG. It's free. (laugh)
As for the CD or DVD, it depends on the demand. To me, it's low-priority.
How many kind of effectors and guitars do you use?
The pedals for the sound effect are only 2, Overdrive and Auto Wah. The rest is a volume pedal and a loop machine called loop station (Roland RC-50).
The guitar is a cheap one from Squire that I bought for 3000yen from my senior associate in my junior high. But I think the guitar is all about if it's played often or not, regardless of the price. Also I interchanged all parts to new ones several years ago, and I think it makes good sounds.
For now, I don't think I'm going to change this set because personally I prefer to make various sounds with only one guitar than to make various sounds with various instruments. It's more stoic and cool making the sound original. To stretch a point, as I recently got a compact synthesizer called Kaossilator, it might be interesting to use it in some unique ways, but I don't know yet.
Please tell us about CANON.
This work was inspired by the hyped Amateur – Lasse Gjertsen on YouTube, which is the video editor to create music.
Amateur – Lasse Gjertsen
I've been making the sound source called "Rec series", which was for example, to play single sound with the guitar for about 3 min each and mix those later to enjoy unexpected coincidence of the combination. Developing this idea, we wondered if music can be made by making the several phrases one, and putting off by one bar as editing. The experiment went well and was interesting including its visuals, so we made several versions.
CANON by Merce Death
Furthermore, we tried to do the idea in real time. We asked Mr.ko-hey-hey's advice, one of our friends who has started studying MAX/MSP recently. And the "Real Time CANON" was made.
Real Time Canon Test
The "Real Time CANON" is an expression with performance, there are lot more things to be improved including my movement. I hope to develop it in a good way in the future.
What is your next plan?
I'd like to continue doing GIG at various places as much as possible. I could have my show in Firenze last year, which was my first performance overseas. I hope to go somewhere abroad this year as well.
It would be also very nice to be in some festivals if possible, as I hope many people to listen my GIG. Like "Fuji Rock", "Sonar" and "ATP" seem very exciting. For persons concerned, I'm always open for your offers, feel free to contact me! (laugh)
Text: Hiroshi Kotake
Translation: Yurie Hatano
[Help wanted]
Inviting volunteer staff / pro bono for contribution and translation. Please
e-mail
to us.