Japan and Japanese design is a huge inspiration to us both.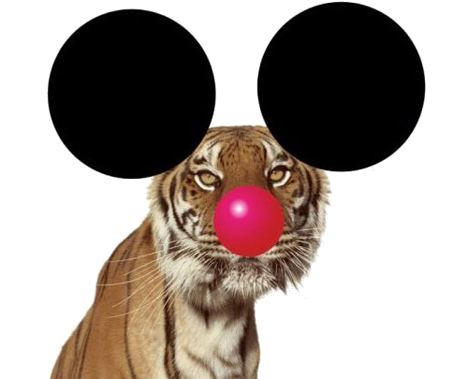 The Chap / Ham – Lo Recordings
Music packaging, Front of CD slipcase with sticker and front of jewelcase
Non format – An creative art team by Kjell Ekhorn, a Norwegian who lives in London, Jon Forss, a British who lives in USA. Their modern graphic works which will catch our eye, a lot of their inspiration is from Japanese traditional design, and they are also art director of Varoom, an illustration journal magazine. This year, they released a monograph, Non Format – Love Song –, published by Die Gestalten Verlag. We interviewed them who are coming to Japan for "HIGH5™" as speaker.
First of all, please introduce yourself.

Kjell Ekhorn: I was born and raised in Narvik, a small industrial town in the far north of Norway. After school I had a short stint in advertising before leaving Norway to travel the world and eventually moving to London to study graphic design at Central Saint Martins. After college I worked as an independent designer and image-maker with clients mostly within the publishing industry and then hooked up with Jon in 1999. We set up Non-Format together a year or so later.
Jon Forss: I grew up in rural Gloucestershire, England. I obtained a degree in graphic design at Leicester Polytechnic in 1989 and then worked in Bath for a short while for an advertising & design agency before moving to London to design for the publishing industry which is where I subsequently met Kjell with whom I set up Non-Format.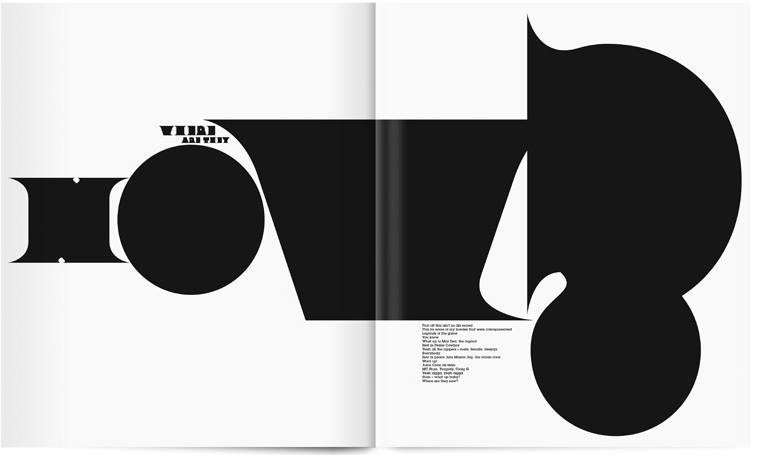 The Epitaph – The Fader Magazine, Editorial contribution.
A typographic interpretation of the lyrics for Where Are They Now by Nas
Please tell us how you guys started Non-Format.
Jon: We were approached by the publisher of the independent music magazine The Wire who wanted us to take on the art direction the magazine. We agreed on the proviso that we could completely redesign the magazine. We took this commission as our cue to become completely independent so we established EkhornForss Ltd, which soon became known as Non-Format.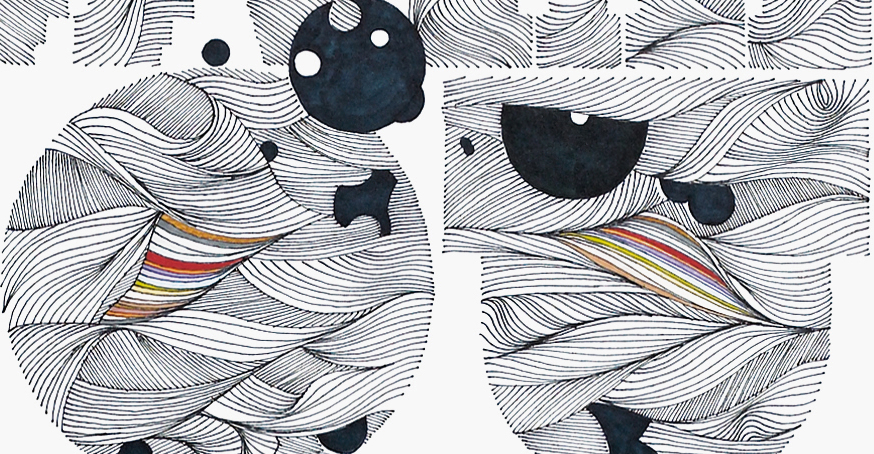 I did mediocre stuff while you were still at school – Grafik magazine/Letraset
Hand drawn poster for Grafik magazine's Felt-Tip exhibition
Please tell us about your recent activities.
Kjell: We are currently designing a book about the work of the LA-based architect Greg Lynn. We continue to work on the brand identity and almost all music packaging for the independent music label Lo Recordings and we are art directors and designers of the illustration journal Varoom, which is published three times a year. We are often involved in design work for the advertising industry and we're currently working on branding work for a major sportswear company.
You guys are now working separately in US and UK, but how are you communicating each other when you guys need to work collaboratively. Is there any difficulties for working separately?
Jon: We owe a lot to the power of the internet. In fact, our set-up would certainly be completely different were it not for the ability to connect our computers together via a high speed internet connection. We email each other all the time but also use Skype to chat to each other and discuss projects. This method of communication has proven to be quite effective and, with the difference in time zones we are able to keep the combined Non-Format studios working for 15 or more hours out of a day. Obviously it helps enormously that we have been working together for several years before the big move otherwise I'm sure it wouldn't have been such a smooth transition.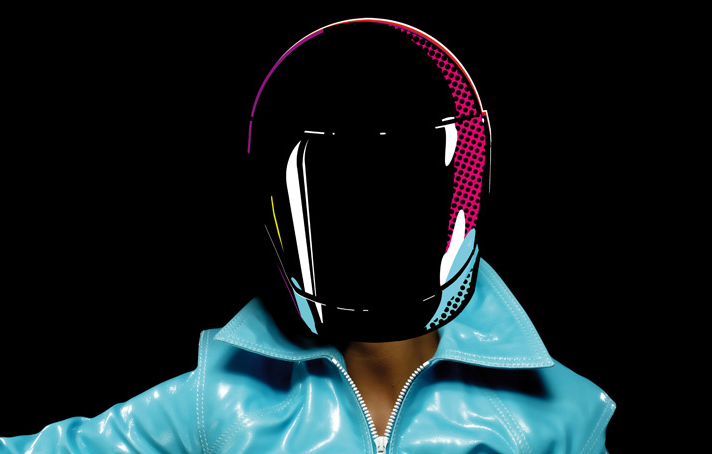 Cursor Miner / Danceflaw – Lo Recordings
Music packaging, Illustrations by Non-Format
Do you guys have a shared design policy?
Jon: We tend to search for some kind of truth, be that a more cerebral, analytical truth or be that an emotional, more personal truth. We are modernists at heart so we tend to want to keep our designs focused around one very clear idea – even if that idea manifests itself in a very expressive or highly decorative aesthetic.
Kjell: Hierarchy is extremely important to us. Much of our working time is spent establishing which elements should be communicated first and which should be the secondary and tertiary levels to a design.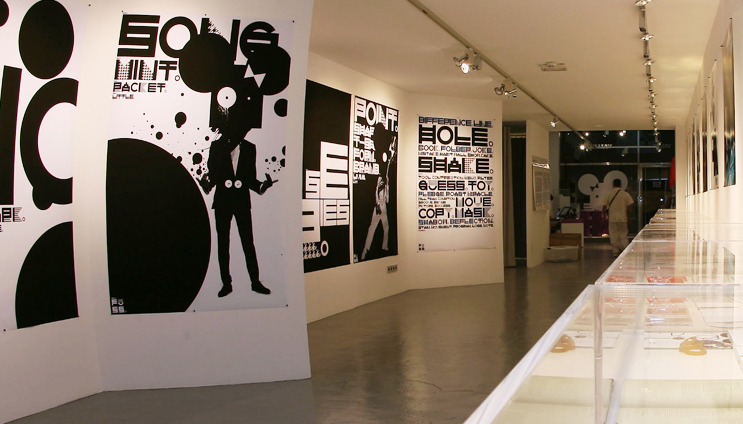 Make A Fuss Exhibition – Vallery, Barcelona
Non-Format's 2006 exhibition Make A Fuss at Vallery, Barcelona, Spain
How was the exhibition at Vallery in Barcelona? Could you briefly explain about the exhibition?
Kjell: We were invited to exhibit our work at Vallery and decided to show not only a selection of our existing print work but also to produce a series of new poster designs, all under the title Make A Fuss. These posters showcased, for the very first time, a new geometric and patterned typeface called Fuss along with a series of photo/illustrations all of which were later developed for the cover and design of our monograph Non Format – Love Song – published by Die Gestalten Verlag. All of the Make A Fuss posters, and many other poster designs are still available at vallery.es
Which place would you like to do an exhibition or project in future?
Jon: A solo show at ggg gallery in Tokyo would be pretty amazing.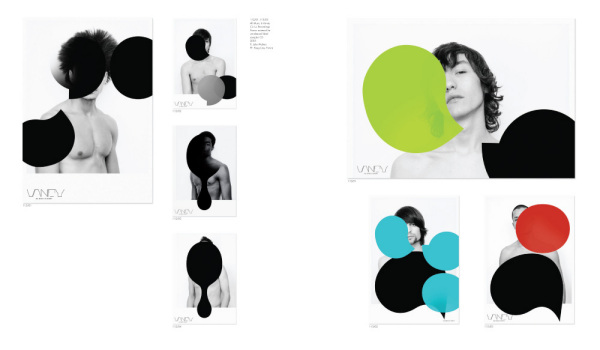 You are coming to Japan in December, as a guest speaker for the conference HIGH5™, please tell us your impression about Japan.
Jon: Japan and Japanese design is a huge inspiration to us both. There is a willingness to embrace an intuitive, emotional approach that is evident in Japanese design as much as there is also a great tradition of modernism its structure and content that Kjell and I find fascinating and also quite liberating. Our appreciation of Japanese design has greatly influenced our own approach to image-making, typography and composition. We can't wait to get back to Tokyo.
What is the concept for the cover design on SHIFT this month?
It's a reflection on collaboration and our desire to let emotions play a significant part in our creative approach.
Could you please share your goal or future plan with us?
Kjell: We're currently going through a bit of a transition phase at Non-Format, particularly as a result of Jon's move to the US. We hope to be able to build on our past work and embrace new opportunities to collaborate with more image-makers, photographers and designers.
Please give some messages to Japanese readers.
Trust your instincts. Now that we can almost instantly communicate with vast numbers of people across the globe, there are sure to be plenty of others who will identify with your own particular way of seeing the world.
Non-Format (UK)
Address: Studio 1, 20 Ebenezer Street, London N1 7NP, UK
Tel: +44 (0)20 7684 3184
Non-Format (US)
Address: 277 Wilder Street N, #5, Saint Paul, MN 55104, USA
Tel: +1 651 603 0767

Non Format – Love Song –
By: Kjell Ekhorn, Jon Forss / Non-Format
Edited by: R.Klanten, H.Hellige
Specification: 192pages, 24 x 28 cm, full colour, hardcover
Price: EUR 44,00 / USD 60,00 / UK 30,00
Release: June 2007
ISBN 978-3-89955-185-3
Published by: Die Gestalten Verlag
Contact: dgv Germany (+49 30 726 13 2000)
Text: Junko Isogawa
[Help wanted]
Inviting volunteer staff / pro bono for contribution and translation. Please
e-mail
to us.