7TH LOMOGRAPHIC WORLD CONGRESS
The World is the centre of LOMO.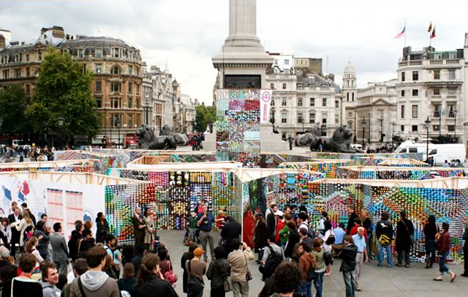 Gerald Matt, Director, Kunsthalle Wien and seasoned Lomographer, kicked-off the 7th Lomographic World Congress in true LOMO-spirit by reciting his '95 Theses of Lomography' in front of an ever-growing audience at Trafalgar Square. Some didn't know what had hit them.
The largest, most expansive LOMOWALL is at this very second snaking its way around the famous London landmark. What began as a friendly invitation from the organisers of the London Design Festival, has grown into an invasion of 100,000 Lomographs from every corner of the globe brazenly displayed on more than 1,365 panels. It's inspiring to see such a historic space filled with an enormous visual reflection of people living in this moment. And that's what it's all about! In the words of Amira Bibawy, Head of Communication and Project Development "The World is the centre of LOMO".
LOMO-Fever is infectious! The curiosity the LOMOWALL provokes in everyone is incredible…. The city-tigers, the tourists, the old folks, the workers, the Old Bill, the punks, the lost, the lunch-breakers…all snatching a moment to lose themselves in a visual documentation of us, Here and Now.

Everyone has played their part. Even the LOMOWALL lorry driver, who after heroically transporting it across Europe, refused to be moved by British transport police until the LOMO-Action Team arrived. The A-Team then raced to erect the mighty creature and the result is the biggest ever global snapshot. As you read there are LOMO enthusiasts like 'milo-steelefox' guarding the LOMOWALL from sticky-fingered LOMO-Bounty hunters!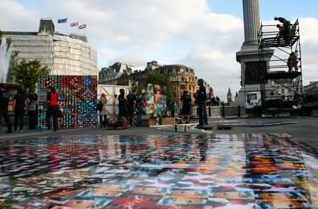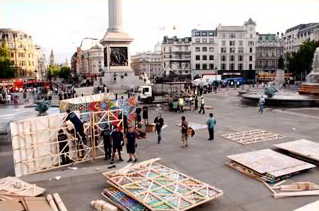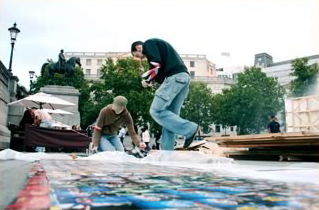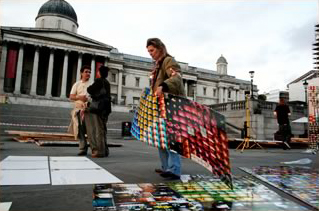 Yes! The Gold Diana is the official World Congress 2007 camera. After taking a 30 year production vacation, Diana is back in the medium-format game. The Diana became an analogue legend for yielding ridiculously vivid images with this unique, otherworldly aesthetic.
All the things that made the Diana great have been left in tact, she has simply been revamped and sexed-up with a host new features. Yeah, like what? For starters…a dapper pinhole feature, a choice of 12 or 16 shots from a single film, the possibility to capture a 360 degree panorama… And especially for the Congress, the Diana appears as a shimmering vision in Gold lacquer. Embossed with a funky, London-inspired illustration, the Gold Diana is a real collector's item.
Only a very small number of these Golden Dianas have been produced to mark this prestigious event in LOMO history. So get your hands on a bit of LOMO gold-dust!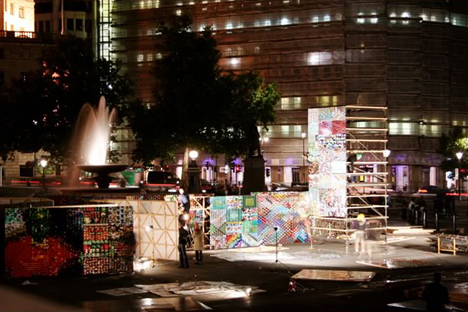 At Austrian Embassy everyone got together to celebrate the successful beginning to what promises to be a truly LOMO-lific week of antics and adventure. Gerald Matt, official digital-hater, summed up the atmosphere by saying "it's amazing to think that from the enthusiasm of a few people, a simple communication project can grow into analogue community of over 1 million people worldwide".
Of course, this high-brow soiree could not escape untouched by controversy. It came, however, from an unlikely corner. It was clear that even Austrian Ambassador, Dr. Gabriele Matzner-Holzer, had caught LOMO-Fever, when she told everyone that she would like to go Trafalgar Square at 3am to reflect on the LOMOWALL in peace and tranquility. The suggestion by Ambassador Matzner-Holzer started talk of a renegade LOMO movement splintering off to pay a dawn homage to the mighty LOMOWALL…
Despite 24 hour guarding… outrage as one LOMOWALL panel is stolen already!
Dalbergaria flies all the way from Brazil for Congress.
Mephisto19 lets the cat out of the bag by revealing to our sources that he has brought 10 cameras and a shocking 100 rolls of film with him. Then reveals that he really just wants to meet Neja.
City of London Council thank LOMOWALL for scaring the pesky Trafalgar Square pigeons away.
*Many thanks to the man-in-the know – Severin
7th Lomographic World Congress
Date: 17th – 22nd September, 2007
Place: Trafalgar Square, London
contact@lomography.com
http://www.lomography.com
[Help wanted]
Inviting volunteer staff / pro bono for contribution and translation. Please
e-mail
to us.