Students holding placards in a mock protest greeted visitors as they entered the stately 1950s Soviet-designed Shanghai Exhibition Center on opening night. I had been looking forward to SH Contemporary 2007 even before I arrive. Yet now I'm walking awkwardly past rows of students, slightly taken aback by the unusual welcome. Perhaps a revolution of the artistic kind will be in store tonight.
SH Contemporary 2007 promises 130 galleries from 23 countries, former Art Basel director Lorenzo Rudolph, as well as "Best of Artists/ Discovery" sections curated by veteran Geneva-based gallerist Pierre Huber fresh from the Christie's controversy earlier this year.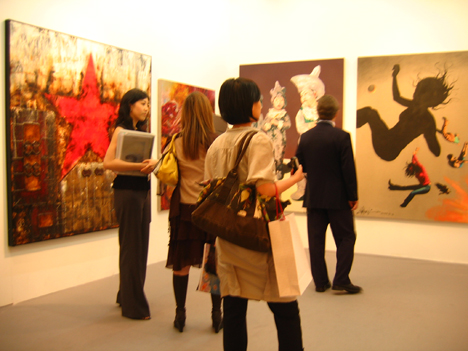 Outside of the usual gallery formats in art fairs, SH Contemporary places exceptional focus on the artists. "Best of Artists" comprises of works by 15 emerging artists Huber had personally sourced from various parts of Asia while "Best of Discovery" presents 20 artists from different generations and genres with potential in the international art market.
True enough, the hype paid off. The inaugural art fair attracted over 25,000 visitors in its four day run and generated sales that got the dealers and galleries smiling, among which a sculpture by the late Korean-American artist Nam June Paik was sold for $450,000.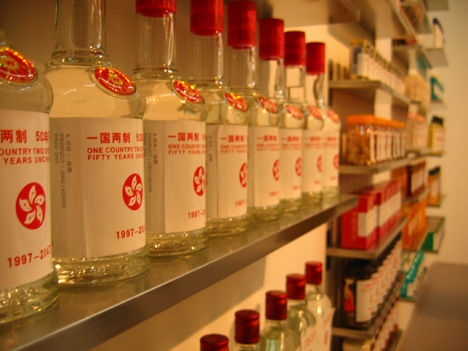 Unlike the myriad of exhibitions and art shows held in China in recent years, SH Contemporary does not pride itself solely on a showcase of Chinese contemporary art. Instead there are plenty of Western galleries and an international selection of artwork ranging from heavyweights such as Yoshitomo Nara, Zhang Huan and Wim Delvoye to unknown young upstarts.
I'm impressed to see a number of Korean galleries at the fair too. Actually, I've never paid much attention to Korean galleries before and they have some rather interesting pieces, like Lee Bae's gorgeous minimal black/white strokes and blobs.
One of the visitors to the fair, Shanghai resident Eric Leleu admitted he had paid more attention to the photography works at the art fair. As a photographer himself, he has some interesting opinions on young Chinese photographers.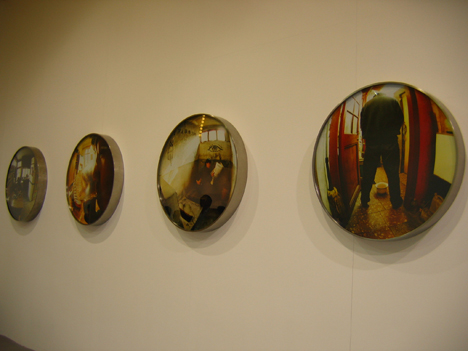 "I'm surprised that mise-en-scène photography plays such a big part in the works of young Chinese photographers today. While photographers in Europe tend to focus more on documenting the reality and in trying to interpret reality, contemporary Chinese photography revolves predominantly around provocative mise-en-scène works. I'm not sure how this trend of creating an imaginary reality can be explained – a result of Chinese censorship, a way of expression or something else?"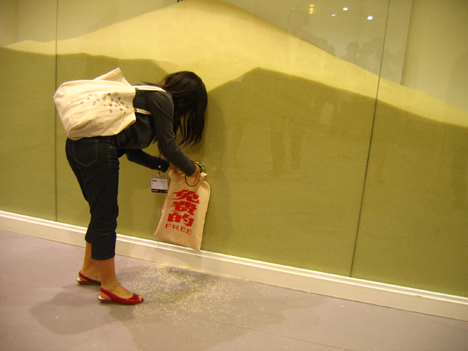 Another visitor at the fair, Noriko Tajima observes that SH Contemporary seem a little too exclusive even though it does provide a good opportunity for local Chinese people to view world-class art works.
I would tend to agree with her. Maybe with the art fair trying to brand itself as a top-notch industry event, much of the exhibition period is devoted to collectors, dealers, auction houses, museums and galleries. That evening, all I saw were well-heeled collector-types, tai-tai's and people on assignment (like me) doing their rounds.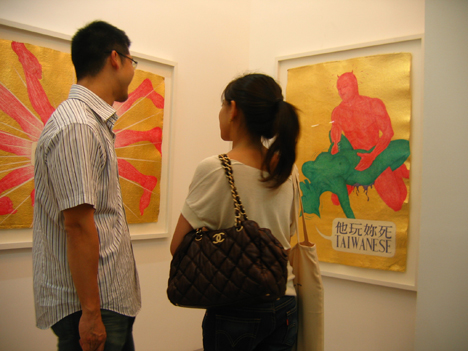 In all I think it is a fine first attempt for SH Contemporary to have assembled such a variety of artists and galleries under one roof in an event of this scale, although it's near humanly-impossible to view all exhibits with equal attentiveness.
Before the end of the night, I almost had to will myself to trudge through the East wing for the remaining lot of exhibitors, my eyes glazed over a mind-boggling selection of never-ending artworks.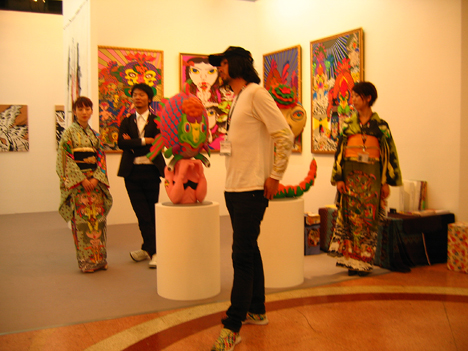 By then, one of the few things that stood out was the Nanzuka Underground Gallery booth which has staff clad in vibrant Keiichi Tanaami kimonos. I should have asked, not sure if they are for sale though.
Next year, I believe it'll only be right to expect nothing less of SH Contemporary 2008 since it will open together with the Shanghai Biennale and likely with a big bang. Don't forget that the art fair catalogue will still be a load to carry and it's definitely a good idea to wear comfortable walking shoes too.
SH Contemporary 07
Date: 6th – 9th September 2007
Place: Shanghai Exhibition Centre
Address: No.1000, Yan'an Middle Rd., Shanghai 200040, P.R.C.
Text and photos: Wee Ling Soh
[Help wanted]
Inviting volunteer staff / pro bono for contribution and translation. Please
e-mail
to us.