THE FORMS OF TRANSPARENCY EXHIBITION
If I have nice things beside myself, I feel I get something by itself.
"The Forms of Transparency" is the exhibition, which is the fair for furniture and products made in collaboration of young designers with small-scale manufacturers around Tokyo.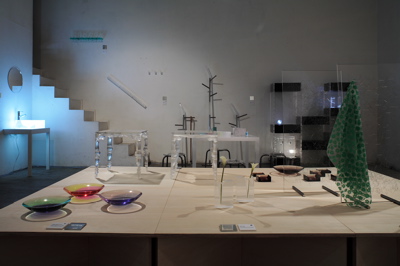 Photo by Koji Sakai 

It is Factory Project that organizes this exhibition. The group started in 2002. They have a broad network of architecture, designer, photographer, editor and so on, with which they work to be the base for total creative design from product development, organizing of exhibition, graphic and web design, architecture to interior design. So far they have performed development and exhibition of original products. Moreover, the group has the aim of inheriting and advancing technique, through collaborative work, that small makers and craftsmen have accumulated. They registered themselves in 2006 as LLP (limited liability partnership) and are now mainly made up of 6 architects and 1 owner of a store for interiors.
"The Forms of Transparency" is the exhibition, which is the fair for furniture and products made in collaboration of young designers with Sakura Plastics, the corporation which operates through processing acrylic. It was held also in Sapporo, at CAI Contemporary Art Institute, which I visited.
I entered the site and saw relatively small products on the whole wall, and bigger ones are in the center. I slowly walked around to look at them.
It seems that this kind of exhibition, which was artistic, was not so rare on first glance. This exhibition was, however, not only for artistic showcases. The exhibited products were actually to be sold through web or retail store, which I thought was the feature.
I found the list about prices on some of initial sales. There were the numbers of about 10000 to 30000yen, which I thought reasonable for this kind of products. They weren't one-by-one products and not expensive. The factor showed that this exhibition wasn't simply artistic, but the exhibitors wanted for purchasers to use them in daily life.
I found each piece great, with which I was able to experience life style of new era. From a technical standpoint, these products were made of beautiful transparent acrylic by acrylic polymerization method. The designs by young designers were arranged by Sakura Plastics to be articles.
The following photos and comments are what I was interested in.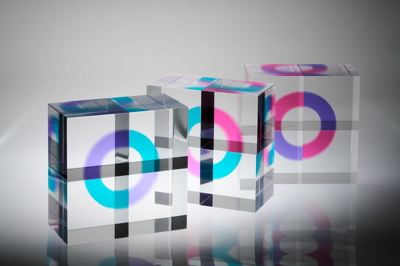 cubic circle / Chiori Ito, Photo by Koji Sakai 
There is a quarterly-divided colorful circle inside an acrylic cube. Color highlight inside a clear shape is beautiful. If you put this on a table, this will be good ornament or you can play with this like wooden bricks. It's good to collect ones of same color or different colors.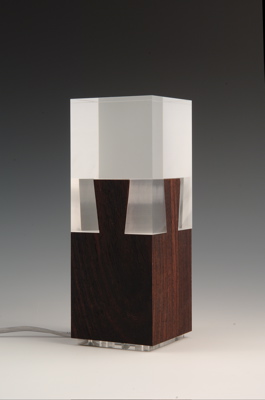 table lamp ari-tsugi / Atuko Kiuchi, Photo by Jin Hosoya
This is a light whose transparent part glows. The bottom half is made of wood. Combination of acrylic and wood is so nice. I feel warmth from it. The detail of part that touches floor is also beautiful, though it's unnoticeable.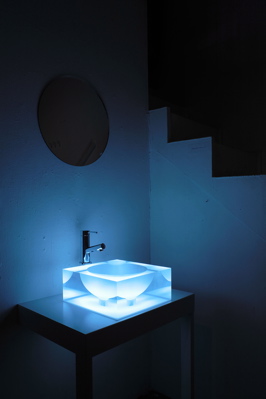 acrylic basin / Ichiro Harada, Photo by Koji Sakai
This is a washbowl as if it were inside a space ship in a science fiction movie. The important place, where we wash our face, brush our teeth and so on with water necessary for human. I often wash my face to refresh myself, so a washbowl like this will be of help to live better life.

mini book "tomei no Katachi"/ Kayoko Takeo, Photo by Jin Hosoya
This is a graphical leaflet that was sold in the site. It has exquisite printing around front cover, which I felt myself compelled to see because I was and am an editor. I appreciated taste like this other than exhibiting itself.
Though this exhibition in Sapporo and Tokyo has already finished, it goes to Osaka and starts from May 21st. You should check. It's because this exhibition shows not only products but also concept for "how new and better goods should be", I think.
"The Forms of Transparency" Sapporo exhibition
Date: April 14th – April 30th, 2007 (Sunday closed, Admission free)
Open: 13:00-19:00
Opening Party : April 14th 18:00-
Place : CAI Contemporary Art Institute
Address : 2-5 W28 N1 Chyuouku, Sapporo
Tel: 011-643-2404
Presented by : The Forms of Transparency exhibition commity
Supported by : Sakura Plastics
"The Forms of Transparency" Osaka exhibition
Date: May 21th – June 30th, 2007 (19th, 20th closed,)
Open: 10:00-18:00
Opening Party : May 18th 18:00-20:00
Place : Interoffice Osaka branch, showroom
Address : Hakko-Shinsaibashi AIR bld 1-19-1 Kitahorie, Nishiku, Osaka
Tel: 06-6532-7001
Text: Shinichi Ishikawa from Numero Deux
[Help wanted]
Inviting volunteer staff / pro bono for contribution and translation. Please
e-mail
to us.