This month's SHIFT cover "Dead web triptych and counter" was designed by REALA, a design team since 1998 based in Stockholm and London. Not only designing, but they are also marked as eminent filmmakers producing lots of music videos for talented musicians in the world. Their cute and analog-taste illustrations, collage and animations include incisive sense of humor. You can also enjoy their own band "RE:RE:RE:" in a DVD "REALA" with many other various works. Two members of REALA, Jonas Williamsson and Samuel Nyholm answer the questions this time.
Do not also miss the "REALA" original poster (by PRINT'EM) and T-shirt (BEAMS T), which will be released very soon!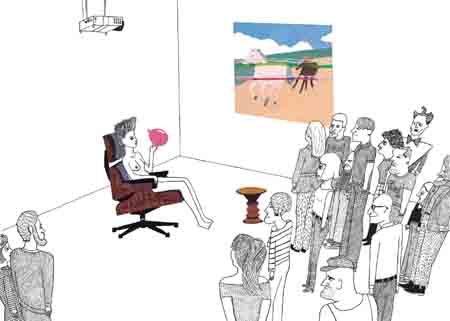 Could you tell us a bit about members and history of REALA?
Samuel: We known each other since we were kids, in fact my uncle Eriklives in the same house as Jonas cousins.
Jonas: Reala officially started 1986, as a preadolescent comic book about a dog called Realbert.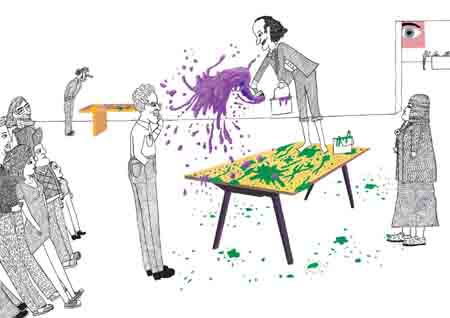 How did each of you start (or learn) design?
J: We studied graphic design at Konstfack in Stockholm. It was quite a pleasure actually to experiment with fonts and all different kinds of paper. The introduction of desktop design was really important for us. We also did Exchange studies at Parsons in New York.
S: And at Central Sait Martins in London.
One of the impressions we get from REALA is you are great at making music promotions. Could you tell us about the music videos you've ever worked for?
S: We have done quite a few music videos through the years, for smaller and bigger bands. The biggest is Garbage, but it was not the best one and they were not really happy about it. Right now we work with a Norwegian band called Dharma and the main guy there, Ole, seems to be very enthusiastic about our work. Usually we collaborate with other directors, such as Henry Moore Selder, Johannes Nyholm and Andreas Nilsson. The best video we have done is for the psychedelic rock'n roll band Silverbullit. A great video in all senses.
You also worked for a band in Stockholm "THE KNIFE", didn't you?
J: We did the video for "you take my breath away" in 2003 together with director Henry Moore Selder.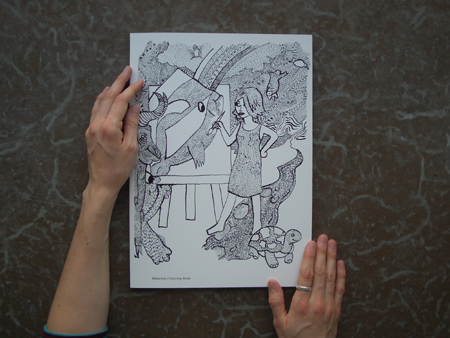 Very cute and pop icons, animations, shapes, colors, concepts, etc are seen in your works. What do you attach great importance to your design?
J: Passion and strong ideas are the most important things. To know about your history, your language, expression and how it's percieved by other people. That your work has to offer the people something new.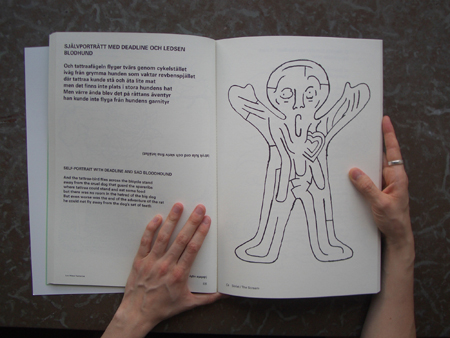 What kind of works or projects are you spending most of your time these days?
J: At the moment we work with corporate identities for Art, museums and festivals. In Stockholm and internationally.
S: We also make "Art".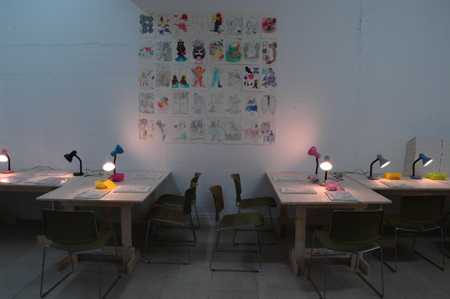 What do you like to do the most except working?
S: Spend quality time with our kids (hello tuli and elly), fooling around, cooking exquisit dinners for Fiances and other ladies.
J: I often experiance problems with my car, especially when Martin "Oven" has borrowed it. Like today.
Do you have any artists, things or happenings you are influenced by?
J: Pablo Picasso, Einstein…
S: Marcel Duchamp, Martin Heidegger, Ludwig Wittgenstein, Marinetti, Stockhausen. You name it.
J: But I can also see beauty in the unexpected…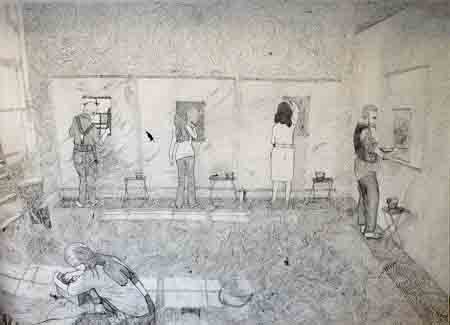 What is the concept of the SHIFT cover this month?
S&J: It's a part of our ongoing project "Dead web", a survey on forgotten websites from the early days and artists outside the Artworld. It's a analogy for Sigmund Freuds old ideas about the human subconcious, applied on the WWW and back to analog.
Do you have any plans in the future? What is your next project?
S: Perhaps to move abroad, to Brooklyn or Berlin. In july we will exhibit Art in Chicago together with Johannes.
J: We will move to a new office with more space, which will hopefully improve the situation.
Please leave a message to readers!
S&J: The are just two things; Truth and Lies, both are equally important in design and Art. Thank you! 🙂
REALA
Address: Hornsgatan 8 SE-118 20 Stockholm
Tel:+46 8 642 81 63
http://www.reala.se
Text: Yurie Hatano
*REALA's original T-shirts by "BEAMS T" and posters by "PRINT'EM" will
be available later this month at SHIFT FACTORY.
[Help wanted]
Inviting volunteer staff / pro bono for contribution and translation. Please
e-mail
to us.