In the evening on 25th of May, while the sun was sinking in Manhattan over East river and a comfortable wind blew, an exhibition "In You", was started at gallery "Riviera" in Williamsburg, Brooklyn. The weather forecast fortunately failed, over 70 people gathered in an opening party. Everyone enjoyed art works respectively and chatted peacefully.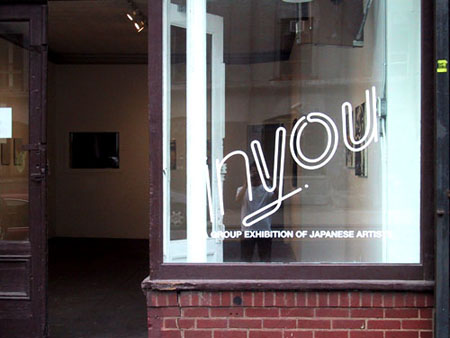 "Cannot the exhibition that features young Japanese graphic artists before and after one's thirties be done? It is needless to say one can see various artists' works while in one's home in all parts of the world. However, how many chances to actually see the work with one's eyes are there?"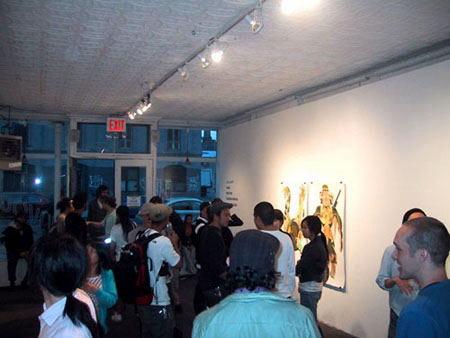 The talk began to move in this exhibit by Kyosuke Ochiai. The place is New York at the end of March when the cold wind still rages. The theme for "In You" was that Japanese can be translated to English "positively and negatively". Each artist is told this, and the pairing work is announced, though it becomes a very wide theme according to how one receives it. It tries for people of this generation who live in this region to touch a lot.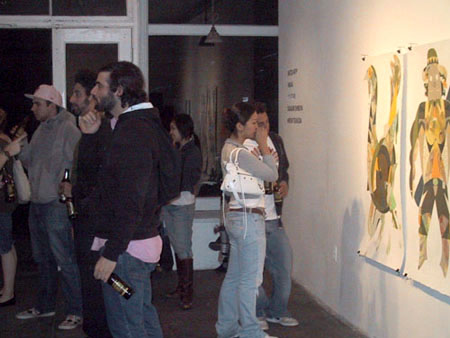 The gallery that he chose is in Williamsburg, Brooklyn. I wonder if it is an area where young artists are filled with vigor similar to Lower East Side and DUMBO. Ochiai immediately made an appointment with one of the owners in the gallery, and the outline of this exhibit was discussed, He consented to it happily. The schedule, however, was very tight, as the preparation period was only about two months.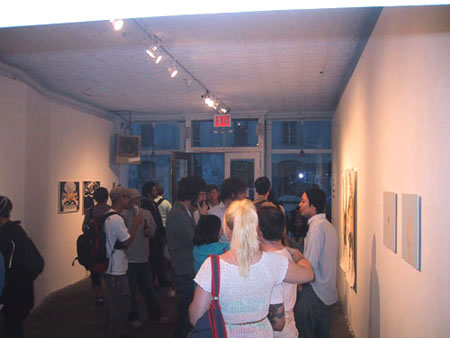 Ochiai already had the original bill of the artist who called for participation . Contacting began immediately and five artists were finally approve for participation through severe conditions. They were MATZU-MTP, Himaa, Mustone, Tadaomi Shibuya, and Hiroki Tsukuda. They all acts in Tokyo exluding MATZU who is based in Brooklyn. When looking at each style, one might be able to see how the work pursues the theme from various angles. The preparation continued without forgetting such a desire.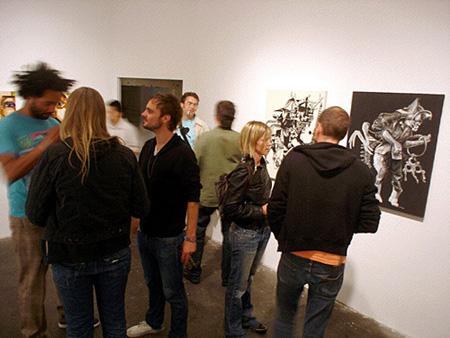 "I'm satisfied very much this time because 'IN YOU' exhibit in which the work of a wonderful Japanese artist gathered in the gallery of NY was held. It is recently very easy to see images all over the world through the Internet and magazines. I think that it is very real and pungent to experience an actual original picture in person. Hereafter, I want to support it so that a young Japanese artist may announce their work all over the world , and the chance to touch may increase." Ochiai tells.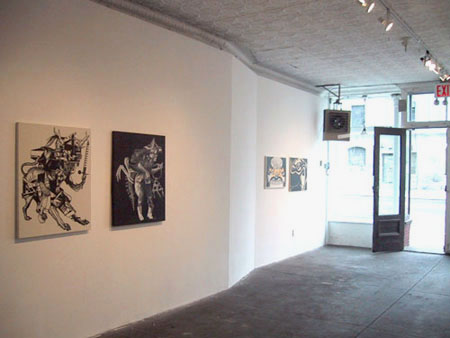 The installation ended safely. Ten works hang on a big, white wall respectively in a relaxed manner contrasting with the last show which exhibited more than 100 works. Let's wait expectantly to see what does begin to arise on this occasion, shall we?
IN YOU EXHIBITION
Date : 25th May – 11th June, 2006
Place: Riviera
Address: Williamsburg, Brooklyn, New York
tinygalaxy@gmail.com
Text & Photos: Futakawa Yoshitaka
[Help wanted]
Inviting volunteer staff / pro bono for contribution and translation. Please
e-mail
to us.