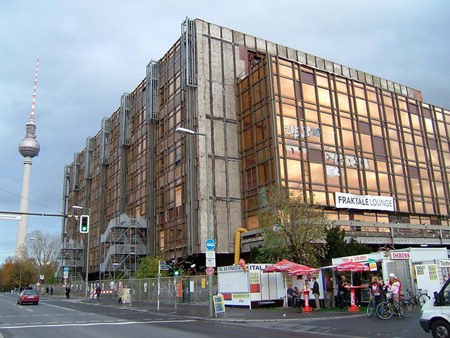 Palast der Republik – the building was decided to be destroyed by the former Federal Republic of Germany (Eastern Germany) Congress in 1990. Becasue asbestos had been used for the building, they publicly gave the reason that "it would be harmful for human's health". However, considering the fact that there are some other buildings in Berlin that contains lots of asbestos, political reasons that hates remains of former Eastern Germany era is more persuasive.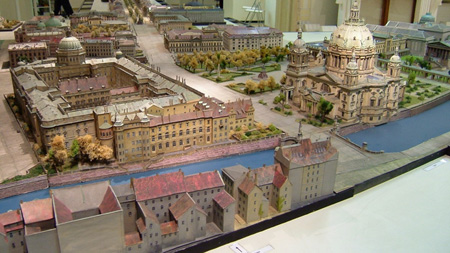 There was Berliner Schloss constructed by Friedlich II where Palast der Republik was built. After suffering big damage during World War II., Berliner Schloss had labeled as "a simbol of Germany that has a past of the feudal age and imperialistic" by Eastern Germany authorities concerned, and got destroyed. After that, in 1976, under a plan by Heinz Graffunder, Palast der Republik had constructed. In the palace, a national assembly was used to be held. Moreover, not only political uses such as a meeting place of SED (Sozialistische Einheitspartei Deutschlands) and FED (Freie Deutsche Jugend), the palace carried out concert, exhibitions, and plays, and fulfilled the functions of an entertainment facility for people by establishing restaurants, bars, and dance spaces as an annex.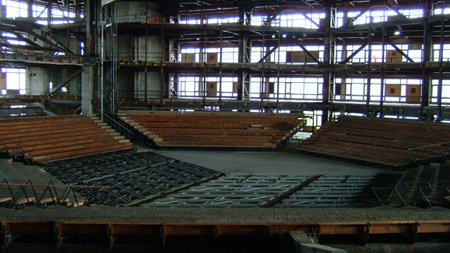 "FRAKTALE" which had been developed 3 spirited group shows using deserted houses, chosen the Palast der Republik this time. This fourth exhibition is titled "Tod (death)" behind the fact that the Palast der Republik is going to be destroyed the end of this year.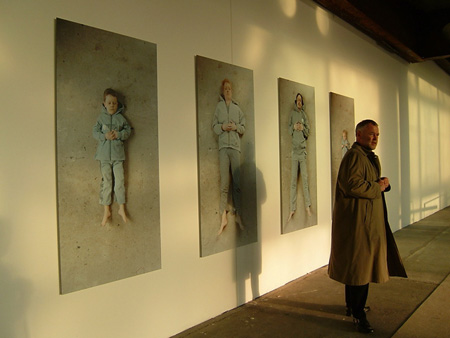 Inside the building, there is a work by (e.) Twin Gabriel above the stairs which used to shine all around. This work is a part of introduction of this exhibition.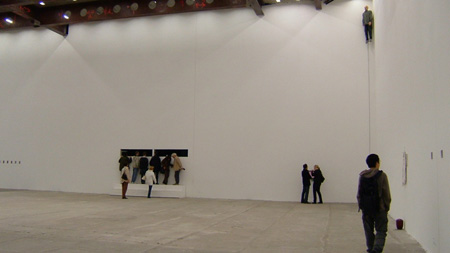 Following the route indicated and entering the back, there are many works in a room with an overwhilmingly high ceilling. Works by Stefan Berchtold, John Bock, Stephan Huber, John Isaacs, Ingolf Keiner, Joerg Lange, Roman Signer, Oliver van den Berg, and Wiebke Maria Wachmann. This space used to be a main entrance, and it can be imagined how people at that time impressed with the extent of the space.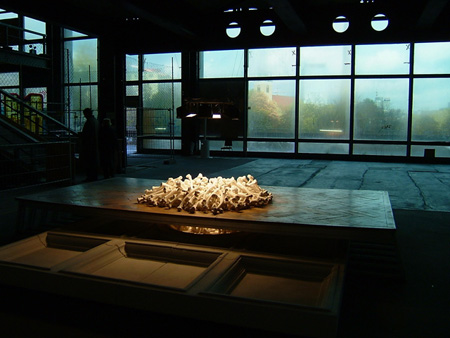 This room is followed by another landing with Jan Sobottka's work, and a huge space at the top of the stairs with many works by other artists.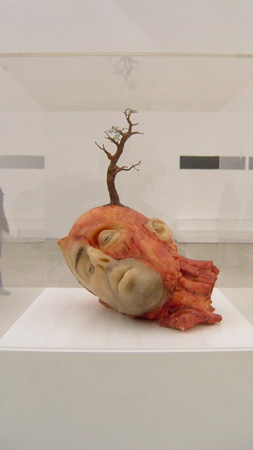 As the whole exhibition has a theme of "death", there were lots of works attemted with abyss, grotesque and cynical. It was also distinctive that lots of these works were huge, fitting for the dynamic space which is a feature of this building.
The session has been extended until November 19th by popular demand although it was expected until October 22th at the beginning. At the last week of the session, many events and parties were held to be unwilling to part from this building.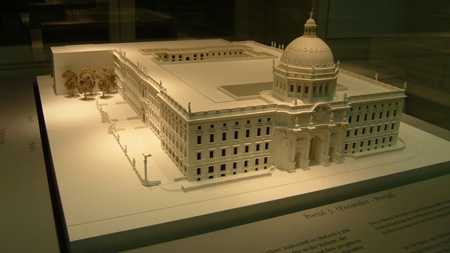 By the wasy, after destroying the Palast der Republik, it is expected to rebuild the past Berliner Schloss. However, it is talked about it is difficult to reach the actual completion because the source of revenue is from donations.
FRAKTALE IV
Date: 17th September – 19th November, 2005
Place: Palast der Republik
Address: Schlossplatz / Karl-Liebknecht Strasse, 10178 Berlin
http://www.fraktale-berlin.de
Text and Photos: Yoshito Maeoka
Translation: Kosai Kato
[Help wanted]
Inviting volunteer staff / pro bono for contribution and translation. Please
e-mail
to us.