LONDON DESIGN FESTIVAL 2005
For not only Londoners but also for design hungry people from all over the world, September must be one super busy month since 2003. Because according to the official guide of "London Design Festival", there are over 170 events going on, things like world class trade shows,
exhibitions, open studios and talks at many venues in London. On a bus or on a tube, you could see someone who's reading the yellow guide book produced by Icon and maybe exchange a knowing wink.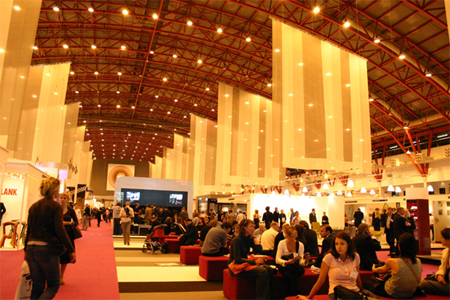 Now, I happened to see 2 completely different exhibitions in the way of atmosphere, scale and style. First, here comes the annual biggest UK design show "100% design". This show, held at huge venue at Earl's court, has over 450 exhibitors including heavyweight designers like SCP, Tom Dixon, or this year new designers. I will introduce some of them which makes me fall head over heals love with them.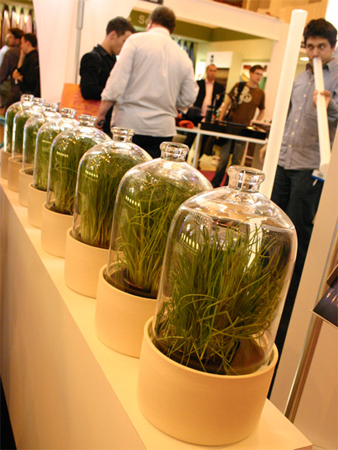 Floratube by dmbh
These lovely domes were created by a female designer from Amsterdam. This Floratube, designed for busy urban workers, can circulate water inside by itself so you don't need to water the plant for weeks. In addition, they increase sunlight so even in a not so sunny room, the plant can live happily. Therefore however busy you are, you can still invite your boyfriend (or girlfriend) and feed them with fresh herbs as much as you want. The design develops the relationship between humans and their environment, which was dmbh's strategy.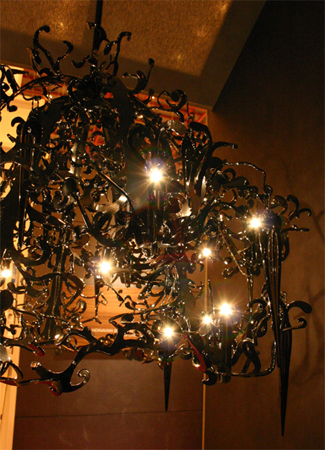 How can the metal Iron be so sexy? Powder coated steel plate cut in flower shapes surrounding light bulbs has made a mysterious black chandelier. To be honest, I don't want it in my room but still I just can't take my eyes off of it. Such a seductive power it has.
Well, apart from the neat and successful West London, let's go to weird and spooky East London where all the artists live. "Designersblock" is held in 3 buildings which look like a warehouse or some industrial kind of club. On the other hand "100% design" was completed as good design, this is pretty roughly-planned, Self-complacency, sometimes downright crazy, although you can really be impressed to see young cutting edge designers enjoying their creation and loving their own products a lot. This is art for art's sake, not an attempt to commercialise their work.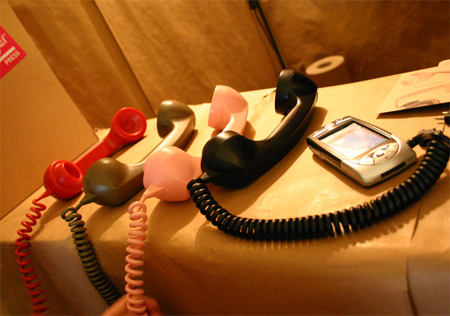 P*Phone by Hulger
These look like the classic type of receiver from the 80's. I asked a question: "What are you going to do with it?" The designer asked me to hand over my mobile then he attached this receiver to my phone. Hulger laughs at the mobile phone manufacturers who work constantly to shrink phone size and add many functions that people may not need. It is so nonsense, illogical and unnecessary, but you can't stop smiling, can you? In addition it is actually good design. Look at the nice colors they have. You can get this receiver at Beams in Japan.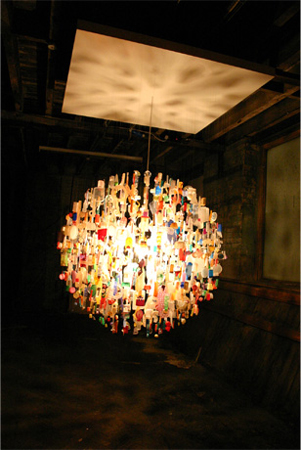 Stuart Haygarth
Apart from the last one, now we are in a room with romantic light. You might think that some things beautiful and colorful are surrounding a light bulb at the center to make such dreamy gleam and shadow. OK, let's get close. Now you can see each things are bottle cap, wings of darts, a syringe. Things that you never even imagine to be able to create this beautiful thing, actually makes up this perfect sphere. giving new meanings to something banal and overlooked is one of his strategy.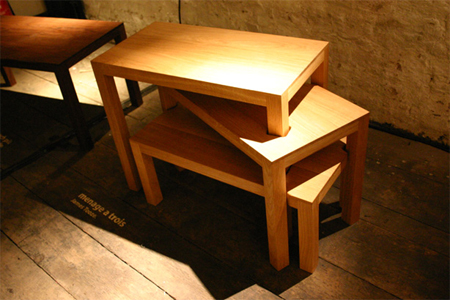 Batch by James Tooze
Last one to introduce is a bit goody-goody I thought as a exhibitor of Designersblock which is a design team from Brighton. Three different size desks are pretty tricky. Lower two have holes for e leg of other desks so they can be united in strange way. If you don't feel like getting them together, just put them apart and well maybe put some flowers for the holes, what you think?
Thorough this week, I had been really facing to what is called design, and what I thought lovely is that more than just looking good, design have potential to make us smile, give us a little bit of surprise, imagination and convenience, and also meeting many many disigners who talked about it to me with their eyes sparkling. I so recommend you to come to London Design Festival 2006 and walk around this design loving city with official guide book in you hand.
London Design Festival
Date : 15th – 30th September, 2005
http://www.londondesignfestival.com
100% design
Date : 22nd – 25th September, 2005
http://www.londondesignfestival.com
Designersblock
Date : 22nd – 25th September, 2005
http://www.designersblock.org.uk
Text and Photos: Sayaka Hirakawa
[Help wanted]
Inviting volunteer staff / pro bono for contribution and translation. Please
e-mail
to us.