SINGAPORE DESIGN EXHIBITION
"EXPO 2005 AICHI" gathered about 120 nations. On August 16th, towards the end of the expo, one of most popular pavilions Singapore pavilion started exhibiting "Design Stories". This exhibition was a project of the "Design Singapore Council" and "Singapore Tourism Board". Its aim was to exhibit the leaders of Singapore's design industry. It also acted as providing a sneak preview of the "Singapore Design Festival", which will take place in Singapore from November 9-23. During the opening many of the designers visited the pavilion.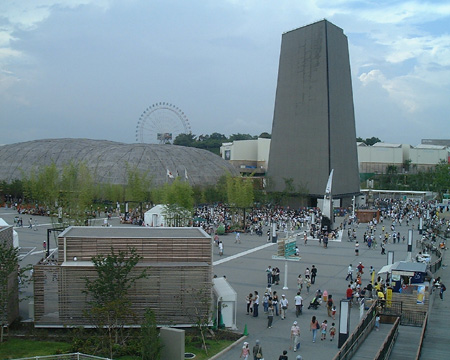 If you walk along "Global Loop", a main line over the expo Nagakute Area, you will often find a space called the "Global Common" in each pavilion and region. The "Global Common" consists of six venues throughout the expo. The Singapore pavilion is in "Global Common 6" and gathers countries of the South Pacific region. In this summer season, the expo site overflows with people from the young to the elderly, and it is normal to have to wait for a couple hours to enter the popular pavilions. Singapore pavilion was also not an exception as people were making long lines in front of the other entrances.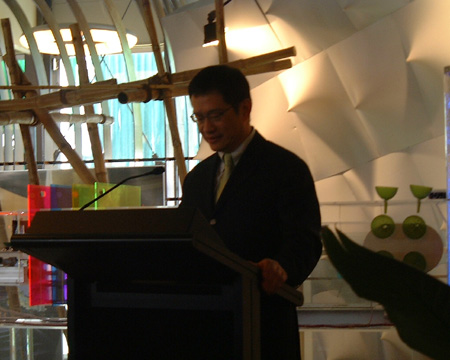 In such venue, Mr. Edmund Cheng, a chairman of the "Design Singapore Council" began his speech at the Singapore pavilion, opening it for public. He spoke about the on-going exchanges between designers from Singapore and Japan including Mr. Toshiyuki Kita and Mr. Toyo Ito. He also mentioned lively activities that Design Singapore Council is working on and showed his enthusiasm for "Singapore Design Festival".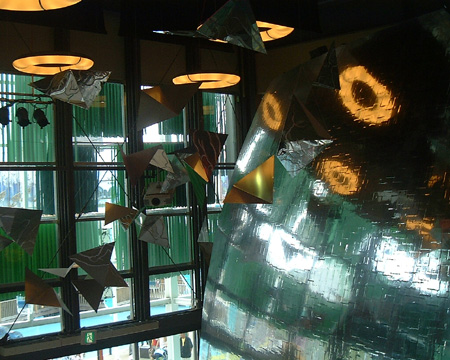 "No Lines Drawn" is the concept of this Singapore design. It showed a part of Singapore design in various fields; animation, fashion, furniture, jewelry, toys and so on, including a trademark Singapore characteristic, vivid colors. "The true interest of designing is that it has been existing…the possibilities of the design are within the materials and concepts. Design is not a complete invention, but you need to find the possibilities from something which seemed to be completed. The trick of new combinations is the true meaning of this theme." says the sign explaining the concept.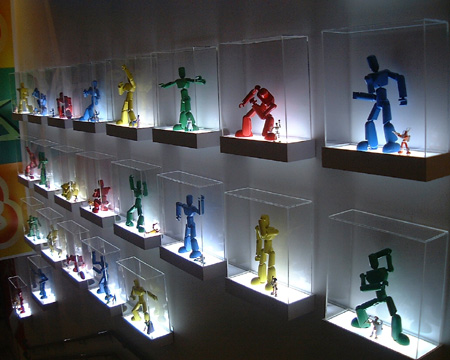 "Stikfas" figures are one of most conspicuous works in the exhibition place. There is one big one about 180cm and other colorful normal sized figures. "Stikfas" started from one easy concept drawn on a sketchbook by Ban Y.J, who is now establishing a new genre of toys as an action figure kit which is well known in Japan and USA.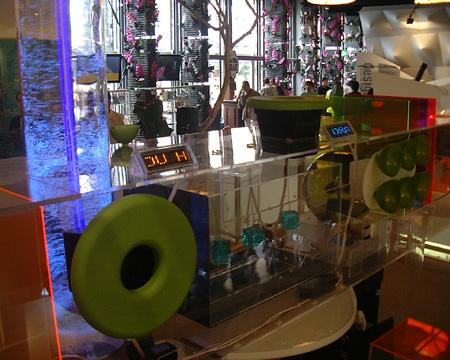 The exhibit of sound and light also makes visitors stop in their tracks as it cannot be figured out what it is at the first sight. This is from an idea by Randy Chan of "Design Act", one of the designers who designed the Singapore pavilion. Using the sensors made of acryl, glass and steel, you can control sounds and lights.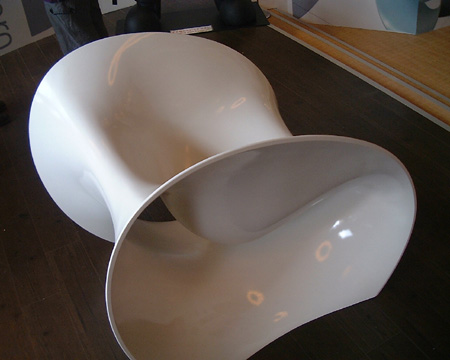 A work from "Jienshu" by a product designer Jason Ong is a chair elaborating on both function and form. Regarding the concept and process as important, "Jienshu" keeps trying to reclaim furniture's potential, adding to its functions and form.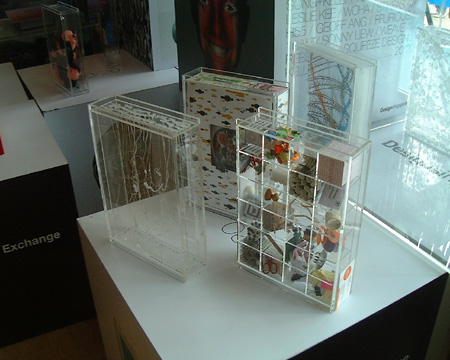 Singapore design being exhibited here is not only by professionals. Here you can see the brisk activity of "Design Singapore Council" which is working on several projects for young designers. For example, 4 schools from Singapore participated in the work called "Time Capsule", and young designers express the moment they design as they put their own future images in an acryl case. Moreover, enjoyable 3D animation by students from Nanyang Polytechnic is projected on a passageway called "The Street" in the venue.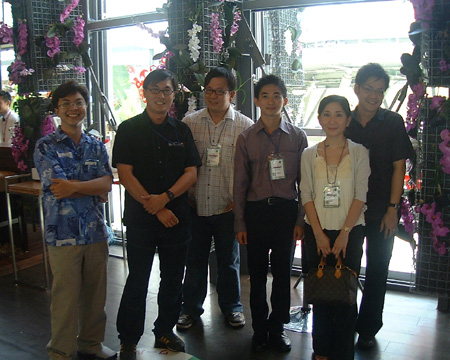 Even though they didn't talk that much, designers from Singapore who visited this opening showed great zeal. There were also many young designers who hadn't provided their works to this exhibition. "It is really inspirational to have such a chance in Japan. Please have a look at our works in the next festival." They said in a highly-motivated way. There seemed to be many chances that designers from all fields could gather and inspire each other, and it is really impressive that the enterprising spirit seems to exist throughout the entire country. (From left side on above picture; a chief product designer Michael Sng from "Stikfas", a managing director Nathan Yong and a design engineer Vincent Chia from "Air Division", a jewelry designer Elise Leu from "Aspial, an industrial designer Joe Tan from "Enzer", and a senior designer Odell Oi from "Unique Design".)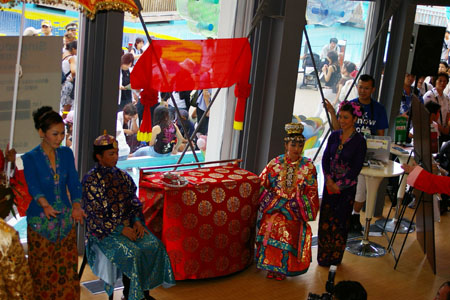 In the interior of switch pavilion a traditional show or introduction of a Singapore wedding ceremony was presented to the audience. The open hall was full of visitors including people who took a look from outside. The theme of Singapore pavilion "World With out Walls" exactly showed the meaning with the open style, traditional bright colors and new vivid colors.
As a whole, it was impressive that Singapore pavilion put an emphasis on inner meaning such as concept or process rather than the surface of design. The same thing can be also said to the theme. This might be one of the special features of Singapore design. Also, they give young or fresh talent an important position, and it showed a hope for the future. While there are many pavilions that have an appeal with their history or nature products, there might be only few like Singapore pavilion that looks forward in the future in such a way.
Thus, the Singapore design that raised the bar will be exhibited until September 25th when the expo ends. It will be exciting to keep watch on Singapore design in the future, including "Singapore Design Festival" which will be held in this November.
Singapore Design Exhibition
Date: 16th August – 25th September, 2005
Venue: Singapore Pavilion, Nagakute Area, EXPO 2005 AICHI JAPAN
http://www.expo2005.com.sg
Text and Photos: Yurie Hatano
[Help wanted]
Inviting volunteer staff / pro bono for contribution and translation. Please
e-mail
to us.