KUNSTAUSSTELLUNG TROUBLE//1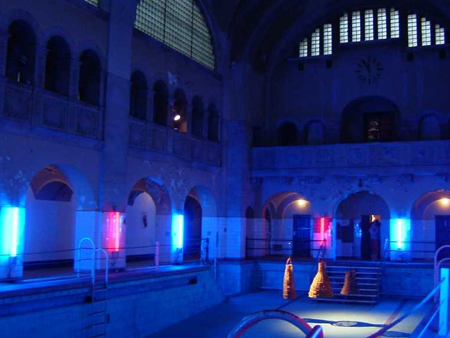 There is a building called "Stadtbad Oderberger Strasse" in Prezlauerberg, a district in northeast Berlin. It was originally a swimming pool, designed by Ludwig Hoffmann, an early 20th century architect, and used up until the last years of the former East Germany. It is not functioning as a pool anymore, but a steering association is undertaking its conservation while exhibitions focusing on neoclassicism designs take place.
On the 28th and 29th of May, there was a group exhibition called "Kunstausstellung Trouble//1" by female artists. Although the weather was unusually hot and stuffy with daytime temperatures reaching over 30 degrees, inside the venue it was cool, providing another world that was ideal for the installations.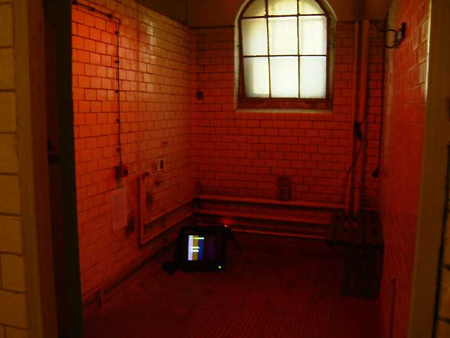 This exhibition took place on the second floor, which used to be a dressing room, a hall which was a bath, and several surrounding rooms. To begin, I went up the stairs to the second floor. The area was divided into some small rooms and displayed video and installation works by several artists including Celia Amitsis, Eva Kietzmann, and Betty -Sexyshock.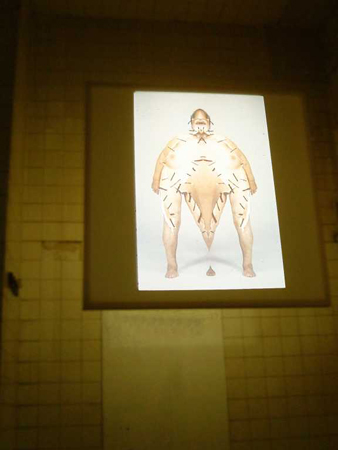 The hallway led to a 50m pool with installations by Ilka Berndt. The surrounding rooms had tableaus by Gonca Karapinar and pictures by Maike Klein. The most impressive work among these was a projection by Annegret Soltau which was a series of making new images of the human body, by using needles and threads as a motif of the human body. Overlapping the tiled wall with works, I had an illusion that it was a scary experimental institution, instead of the remains of a pool.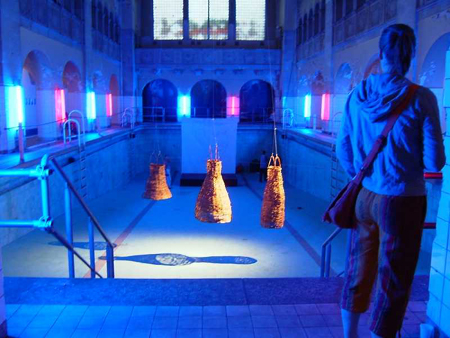 An announcement came up which informed attendees of a performance by Brazilian artist Janaia Andre in the hall. She is known for incorporating local Brazilian traditions into her work, and this time, she also showed her video work.
Listening to the music installation, upwards of ten people were comfortably laying down, sprawled on the carpet lined pool, waiting for the beginning of the performance. as tiles.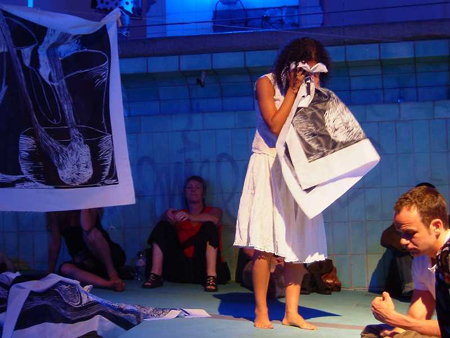 The music of the installation turned into the sound of rain. Then, a woman with a laundry basket suddenly showed up from behind. She was the performer. There were several disorderly clothes like washing in the laundry basket, and she slowly took these one by one even humming a tune, and hung these on a string. The clothes' printing like a woodcut was with a motif of daily products including a jar and tableware.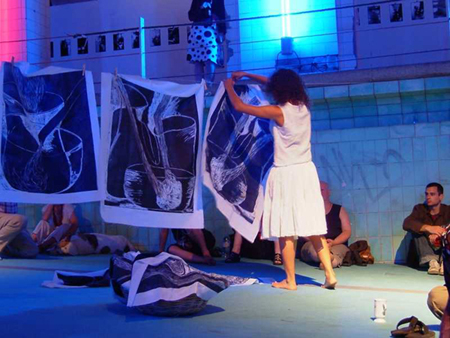 After she finished hanging five or six clothes, she put one of them on her back, and had another one around her head. Then she hung the last picture with a human hanging head down on a string, and burned incense in a small jar she took out. She started turning the jar around and got close to the audience so they could receive the smoke. Changing completely from some time ago, her expression was like a shaman.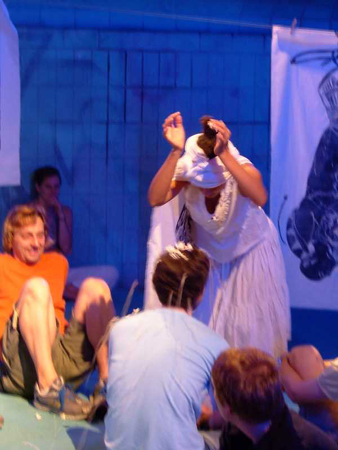 She turned around putting white grains (I figured out it was popcorn) on audience members heads, and started taking their hands. Gradually, connecting to each other, everyone inside the pool stood up and made one circle. The circle repeated a movement several times; spreading outwards and gathering inside. By her leading, the circle collapsed and got a line, and the line turned to spiral. The spiral changed to a nest, and the head of the spiral went out and made a circle again. The performance reached a climax, and ended when the circle gathered inside again.
This approach of leading the audience and involving them in the performance was fresh and new for me. It was also interesting that audiences being involved uplifted their feelings.
Kunstausstellung Trouble//1
Date: May 28-29th, 2005
Venue: Stadtbad Oderberger Strasse
Address: Oderberger Strasse 57/59, 10435 Berlin
http://www.stadtbad-oderberger.de
Text and Photos: Yoshito Maeoka
Translation: Yurie Hatano
[Help wanted]
Inviting volunteer staff / pro bono for contribution and translation. Please
e-mail
to us.