It's a remarkable case of two great minds thinking alike, when Desire Heiss and Ines Kaag, both from Germany, teamed up in 1996 to create their seminal fashion label BLESS, which has become internationally acclaimed through a strong core of followers, media, and institutions the world over.
Although often described as fashion concept which comes the closest possible to 'art' that fashion can, the BLESS approach can also just as easily be seen as pseudo-scientific, where clothing and accessories are created more as way of experiencing structure and form, which either assists or subverts the functionality of the object.
Which ever way you look at it, a BLESS object always speaks with a strong intent, and it is this quality of playfulness in design which makes their work a pleasure to experience.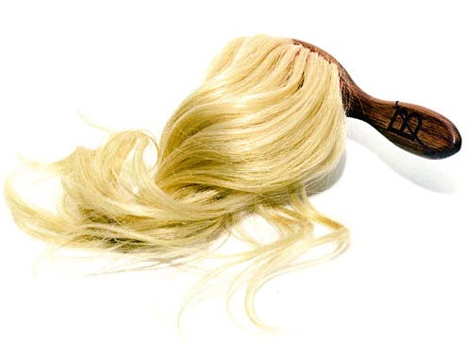 BLESS Beauty Product – 'Hairbrush', 1999
One of their first pieces, Hairbrush, 1999, set this playful tone, where the hairbrush is, literally speaking, a 'hair' brush. It's both unnerving and funny at once, leaving one with mixed feelings of curiosity and repulsion, and reflects an approach that is just as happy to explore concept while leaving out functionality altogether. A similar emotional response is evoked with the 'Bed Sheets', a collaboration with 'nice memories', where white bed sheets are printed with a highly realistic image of a sleeping couple.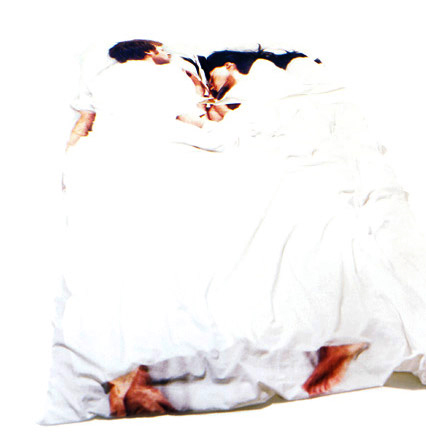 BLESS No. 12 – 'Bed Sheet – Couple' from the 'Team-Ups' Series, 2000
Where clothing and accessories are concerned, it is interesting that while BLESS create fashion objects that don't exist witin the 'norms' of the fashion world, they are quite willing to cooperate with them. BLESS No. 10 takes a remix-style approach which selects segments of clothes from well-known fashion labels such as H & M, Carrefour and Levis, and then reconstructs them into scarves.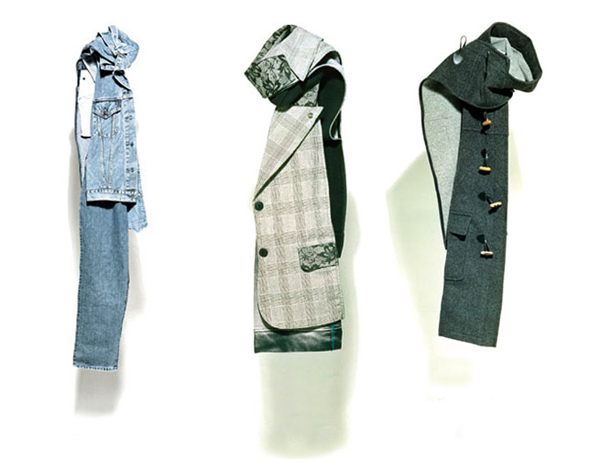 BLESS No. 10 – A selection of scarves, 2000. All clothing was donated by the various retail companies.
Not to miss out on leaving their indelible mark on fashion's most wanted, BLESS also take on footwear giant Adidas with their No. 12 series. Each pair is unique and part of a limited edition of only one hundred pairs, all of which, like most of the pieces from the BLESS collections, are completely sold out.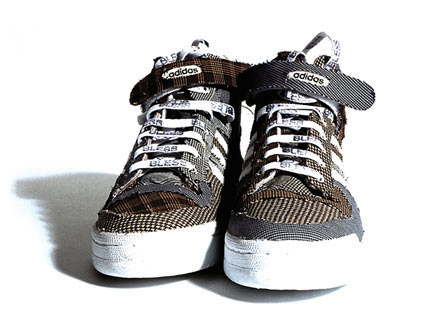 BLESS No. 12 – Customised Adidas Sneakers, 2000
From one must-have to another, the No. 16 series pushes our notions of a shoe beyond the expected with a diverse collection of woven boots that are at once elegant and unusual in their design and the combination of materials used. These boots rate as one of my favourites of their collections so far, a kind of future-gypsy meets medieval-glamour look, which would turn heads on any big city street.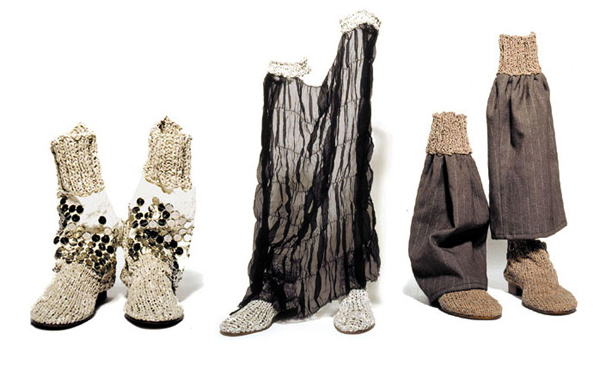 BLESS No. 16 – Shoe Escorts, 2002
As a further reminder of their 'will-do' attitude, the designers recently released a collection of furniture pieces, entitled 'Perpetual Home Motion Machine'. Wooden slabs and singular shelves are attached together at varying angles and positions to create multifunctional furniture which encourages interaction with the owner. Clothes can be draped and hung from different sections, magazines fed through thin slots to hang with their pages pointing downward, and anything else fit into neat sections amongst the structure. The structures hang by steel wires from the ceiling, and depending on the placement and weight of the user's various objects, the shelves move and twist, creating perpetual movement and balance/imbalance which gives the furniture a unique presence in the room.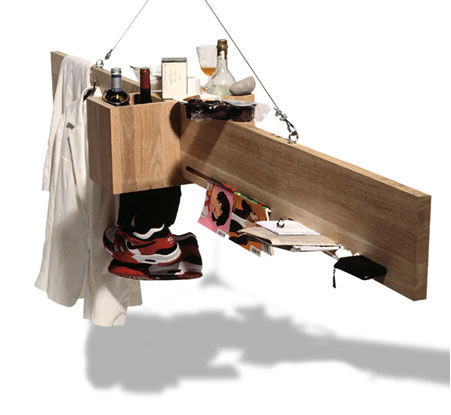 BLESS No. 22 – Mobil #4e, 2004
Even though each collection is so varied, a clear intent runs through all of the BLESS creations. Their pragmatic approach to the objects we use and interact with in our daily lives seems a completely necessary antidote to the increasingly mass-produced articles on offer.
So, it is always nice to get the chance to speak directly to the 'minds' behind the objects, not only to satisfy a certain superficial curiosity but perhaps more importantly to put their practice into a wider perspective.
Unfortunately I was not able to speak with the other half of BLESS, Desiree Heiss, who is now based in Paris. But talking with Ines gave me a nice insight into how BLESS came about and a few thoughts on working in fashion.
We met on a quiet Easter Friday afternoon, over coffee in Berlin Mitte. Ines looked refreshingly 'non-fashion', wearing loosely fitted jeans and a pair of roughed-up Nikes. I could sense she had been through 'the making of Bless' story many times before, but still found things to talk excitedly about.
How did you meet your business partner Desiree Heiss? And what made you decide to collaborate together?
I was studying in Hannover and Desiree was in Vienna. We were pen-pals initially for about a year, and then finally we met and found that we got on really well and had similar ideas, and neither of us wanted to follow the fashion internship route, where you just go and work for some big fashion name, or end up 'famous' but totally stressed out!
The fashion school in Hannover where I was studying was more focused on the practical side of things. At Desiree's school, Helmut Lang was teaching so her studies were more concept-orientated. So although we had similar ideas we were taught in completely different ways, which allowed us to each bring our own skills toward the collaboration.
And we're both from the South of Germany and we come from a similar middle-class background, so we have the same expectations when it comes to the business side of things.
How did you come up with the name 'Bless'?
It just sounded good! Simple, and easy to read.
Tell me about Bless' first project.
Our first project was an experiment, a photo-collage featuring our first ever piece 'Suntops', with our phone number on it and the BLESS name which we made many copies of and postered around inner-city Berlin. It was sort of a test, to see if people would respond to something posted on the street, for which we didn't have big expectations!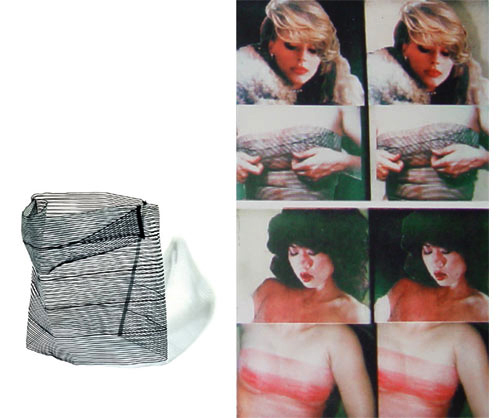 BLESS debut 'Suntop' and Photo-collage, 1996
Well of course we only got a few strange phone calls, so one year later we decided to buy one page advertisements in various fashion magazines, and then we got three responses – one from a Swiss woman who wanted the fur wig to go skiing with, one from the manager of Colette, Paris, who was very curious about it, and Martin Margelia, who wanted to use them in a catwalk show.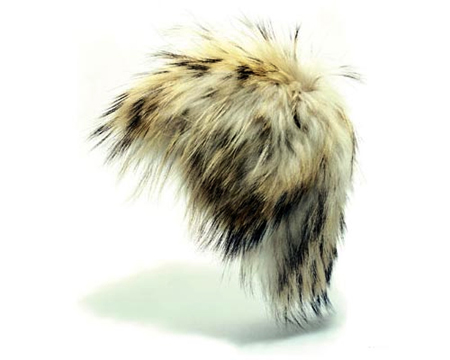 BLESS 00 – 'Fur Wigs', 1996
How was it working with Martin Margiela on your first commission?
He asked us to create several 'Fur Wigs' for his show, and he was lovely to work with. At that time we felt very inexperienced, we had to do so much in such a short time, and we had to sign a contract which was all very serious, but the whole thing went well.
What difficulties did you face setting up your own business?
We were both very naive about the business side of things when we first started up. We had absolutely no clue about business or organising money, but slowly we were able to build something up, by working initially in styling or other jobs, and putting away some money every month for the Bless project. It took about three years of very hard effort to actually see any results. Also our mothers helped out with the accounting!
How do you generate your ideas? Is there a particular working method?
The ideas just come. When we come up with an idea, we just do it – we're obsessed with realising the idea, whether we have to teach ourselves how to do it, or get someone else to help us. It's never a case of 'we can't do that' – we just get around it. We release high-quality, limited-edition items that we want people to experience and enjoy in ways they never thought of before.
BLESS SHOP BERLIN
Address: Mulack Strasse 38, 10119 Berlin, Germany
Tel: +49 30 27596566
office@blessshopberlin.de
www.bless-service.de
Text: Peta Jenkin
[Help wanted]
Inviting volunteer staff / pro bono for contribution and translation. Please
e-mail
to us.