At the very first Pictoplasma Conference on Character Design, held in Berlin's east in late October, character designers and enthusiasts alike converged for three days of lectures, workshops, screenings, and live performances. The grandiose Cafe Moskau provided the perfect venue for presentations, impromptu doodling, and creative exchange. Over 500 international designers and illustrators participated, presenting graffiti art, motion graphics, doll and puppet design, animated short films and everything in between.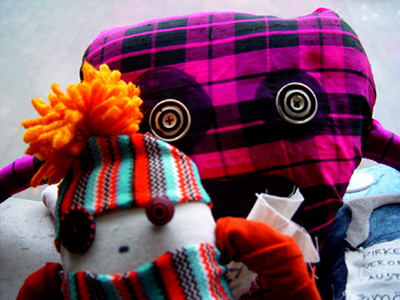 In the upstairs lecture hall, designers and artists discussed their work and philosophies to an attentive audience. 'Friends With You' (US) set the scene for the lecture program with an engaging and highly entertaining presentation that included dancing, throwing out freebies to the audience, and general mayhem and laughter.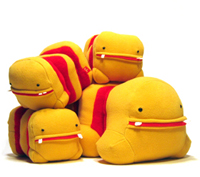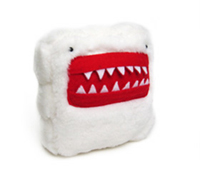 Friends With You toys
They projected a relaxed approach more concerned with having fun in every creative process, making no clear distinction between corporate and non-corporate clients. With a nastily cute collection of hand-sewn dolls and a swathe of other character-based projects in the form of installation and motion graphics, Friends With You presented a diverse and graphically sophisticated body of work that was highly appreciated by the audience.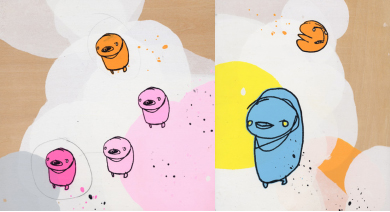 Illustration work by Madreal/Derrick Hodgson
Also on Friday's lecture program was Derrick Hodgson of the Canadian design group Madreal, who took viewers into his illustrated world of surreal characters that included 'Grannys', 'Zombi-Farmers', 'Ditchpigs' and 'Tweeters', inhabiting a smoked-out world of dub music and rural landscapes. Combining aspects of cartoon, graffiti art and contemporary design, his screen-printed graffiti pieces deal with ideas of technological advancement and its consequences, through the endless repetition of visual icons that whirl and reproduce like strange organisms from another world.
A definate highlight of the lecture program was the highly original presentation of Swiss designer Francois Chalet.


Francois Chalet's 2d digital alter-ego in action
Chalet controlled a two dimensional puppet representation of himself on screen whilst delivering the talk in another room. The character, in a series of pre-programmed gestures, was able to respond directly to the audience's reactions while displaying a selection of Chalet's minimal 2d character design work. It all reached a very interesting conclusion where one audience member raised their hand and asked defiantly – "where are you?" Chalet quickly responded by moving his geometric character with the appropriate gesture and saying "I'm here!", having his final laugh with the audience and using his humanoid character to humorous effect.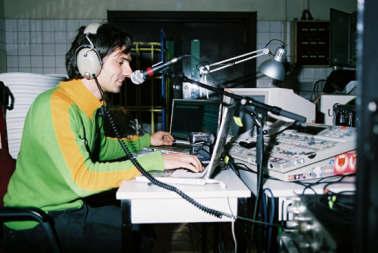 Mad character scientist Francois Chalet in his secret room
On a more serious note, Argentinian artist collective 'Doma', who established themselves as street artists in the late 80's, offered up a family of characters with strong political references and a small dose of irony thrown in. They comment on established systems of control, public surveillance, and consumerism, by modifying symbols of corporate culture and adding their own chaotic audio to the imagery to present a disordered audiovisual world. It was a succinct and effective display of work which left no doubt as to the powerful use of symbology in mass media in Western consumerist society.
Participants were able to escape from the effects of information overload at the artists' lectures with a number of other events held in and around the main Cafe Moskau venue.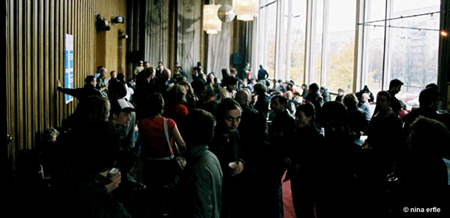 Kino International
The Kino International, a striking DDR building directly opposite the Cafe Moskau, housed the Pictoplasma Animation screening, which was a wonderfully curated program featuring some quite breathtaking animation, from animated short works to a selection of new motion design and character animation pieces, illustrating just how far animation software technologies have evolved to create new and imaginitive aesthetic styles.
[NEXT]
[Help wanted]
Inviting volunteer staff / pro bono for contribution and translation. Please
e-mail
to us.