Lightning Bolt, the two-piece band from Rhode Island (USA) played an electrifying show at Milan's COX (otherwise know as Conchetta) social center. One of those shows I'm glad to have not missed.
Though it may be hard to imagine in many other countries, in Italy, communists, anarchists, punks, hackers and ravers have occupied abandoned factories, schools and churches and transformed them into cinemas, concert halls and art galleries. Far from being the filth pits squats often are elsewhere, Italy's social centers have been among the country's most vital cultural institutions since the mid seventies; in Milan among the only, considering the council's and the town's appalling and risible cultural output.
The show was the second act of a Zufest night, a festival organized by Zu, without doubt one of the best bands currently playing in Italy. In the same show they played an excellent set with Matt Gustafsson's abrasive free sax lament but by the time Lightning Bolt stormed through their second track the night was already set and stolen.
Having never played on a stage but usually setting up on the floor and promptly starting when the previous band's gear is still cooling down with it's last shade of feedback, Lightning Bolt stir up a sonic steamroller that packs the punch of a locomotive in your face. The mosh pit immediately falls to the devastating aftermath of an aural nuclear blast, guaranteed by the 3800 watt bass amp kicked directly into your teeth. Such was the mayhem I could hardly take shots of the band without getting my head elbowed, literally slung around by the crowd gone berserk.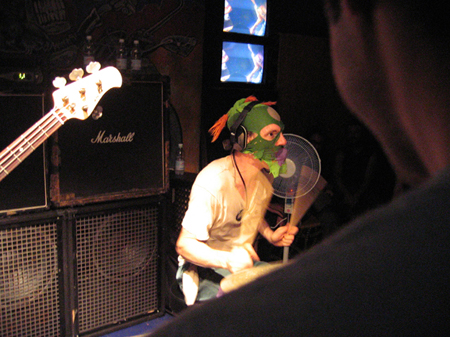 Rarely have I seen such fury and power unleashed on an audience and rarely have I been to a concert, attending with ear plugs and leaving with worrisome akufens that were still as spiky as a shattered bottle four days after. Relentless in their speed thrash ride they initially seemed to have the same repetitive primal pattern reminiscent of early acid house, but with a venomous kick back of obnoxious low-fi screaming and thunderous feedback pounding that gives you the feeling that you're actually standing in the middle of a reactor, where the band is gradually pushing the ignition to it's highest peak: as a matter of fact the power is like nothing I'd ever heard – or I could add the word felt – before.
Read more ...

1
2
[Help wanted]
Inviting volunteer staff / pro bono for contribution and translation. Please
e-mail
to us.