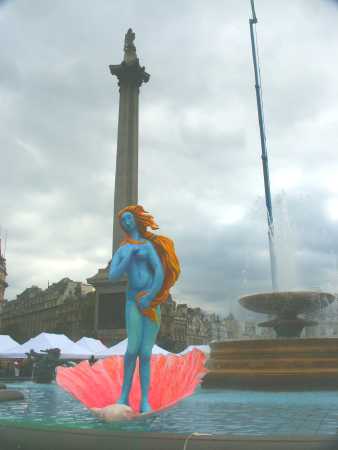 Anyone who has visited Trafalgar Square will know the place, famous for the Nelson's Column, lion statues and pigeons. Trafalgar Square was pedestrianized after extensive work and reopened in July 2003. Since then music, street performances and a variety of cultural events have been held here, and has now become the new London hotspot.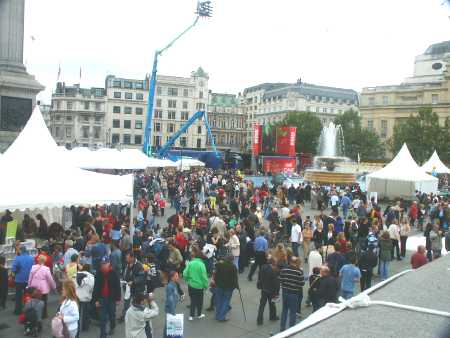 For three months from July this year, over twenty free events were organized here, as part of the 'Trafalgar Square Summer 2004' season. The last event of the season took place on 26th September, the launch of 'The Big Draw.' In its fifth year, it's mottos is that 'every can draw.' It aims to rid of the notion that you have to draw nicely or well, and to realise that by drawing one can learn how to observe, communicate and use the imagination, and most important of all, to enjoy it.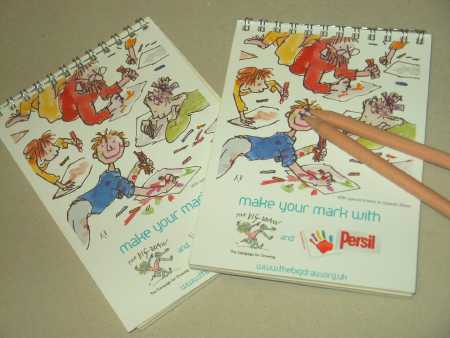 When I arrived at the square about noon, it was already full of families. Many small marquees had been erected at the foot of the lion statutes and inside there were activities such as drawing each other's faces, making masks and drawing things in the square. Works of art created with these themes were being displayed.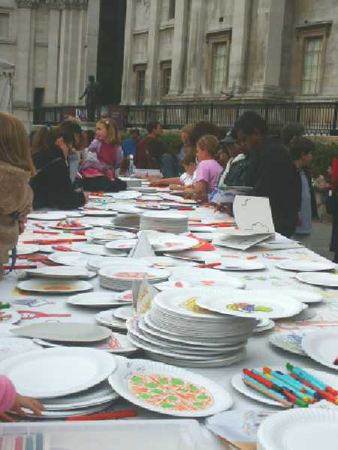 One of the popular activities was 'What's For Dinner?" Blank paper plates and paper tablecloth were available for children to draw their favorite meal on them using felt pens and markers. The idea was to create the world's longest dinner table. Alongside the dinner table, professional illustrators were taking part in pairs in a drawing relay, by completing images of their favorite meals on to a huge, long scroll that were wound to the right when the pictures were complete to real fresh blank paper for the next pair to flex their imagination. Some would draw a faint outline with a pencil; others would plunge onto the paper with their felt pens.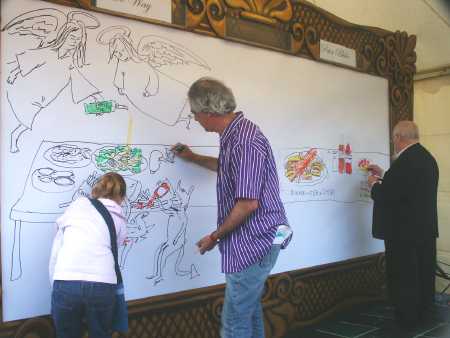 Peter Blake (far right), who designed the album cover of 'Sergeant Pepper's Lonely Club Hearts Band' back in the late sixties, drew a plate of fish and chips with a bowl of strawberries and custard for dessert. It was not long before children took over the stage and started drawing on whatever space was available, and parents seized the occasion to bribe get their children into getting autographs from the legendary painter artist.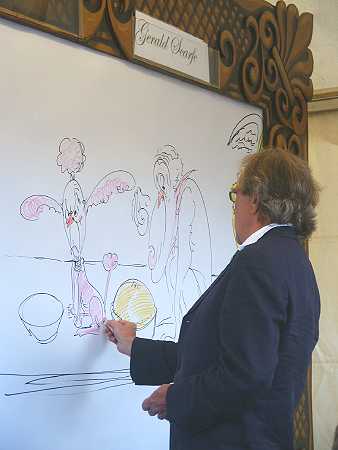 Satirical cartoonist Gerald Scarfe drew President Bush and Prime Minister Tony Blair, likening them to a monkey and a poodle respectively, and proved popular with the adults in the crowd. He started by drawing eyes of the monkey, and later went on to fill in the details. It was certainly very intriguing to see it all happening!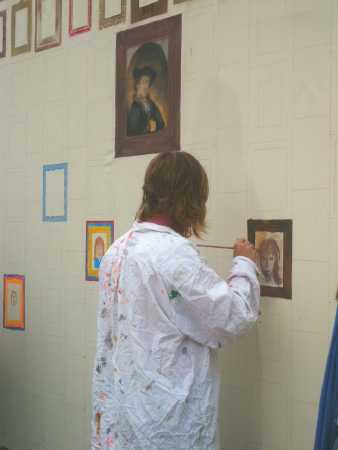 Television cameras had been set up in the square to broadcast a live BBC programme, and some of the activities had been designed to go on air live. Taking Rembrandt's of self-portrait as a reference point, a wall had been put up with space for the participants to display their own self-portraits, painted on the spot. This was popular with children and adults like and there was always a long queue of people waiting to take part.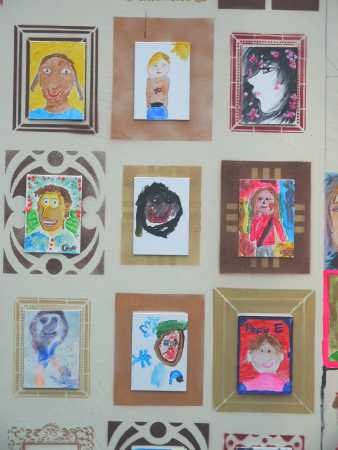 The current English education system puts less emphasis on creative subjects than more 'practical' subjects. Maybe the children are hungry to express their creativity; so many of the children taking part in this day's event seemed to be immersed absorbed in the various activities.
'The Big Draw' events will continue in October, with more than 1,000 events being organized in schools, hospitals, museums, libraries and town halls all over the country. For details of you nearest event, check out the website.
The Big Draw Launch
Date: 26 September 2004 10:30-20:00
Place: Trafalgar Square, London
http://www.thebigdraw.org.uk
Text and Photos: Sari Uchida
[Help wanted]
Inviting volunteer staff / pro bono for contribution and translation. Please
e-mail
to us.