Cafe Moskau, an impressive building constructed in the 1960s and partially renovated in the year 2000, provided a grand canvas on which to stage the third Contact Europe event. The venue, once a late-night spot for foreign dignitaries and Berlin's governing elite, is now a space open to all for the purposes of partying, in true Berlin style.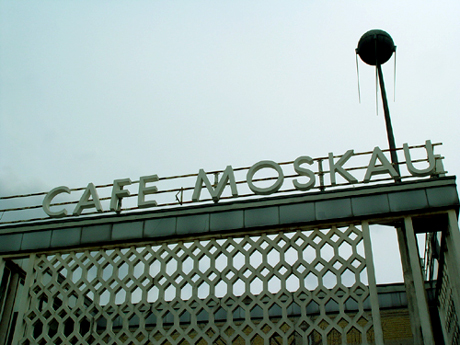 Contact Europe celebrated the emergence of the 'visual jockey' phenomenon with three days of VJ workshops, panels, and performances, and over 170 artists involved. Walking through the labyrinth space was like tripping the light fantastic, with every inch of wall flickering with moving pictures, and four rooms of visuals to immerse the senses.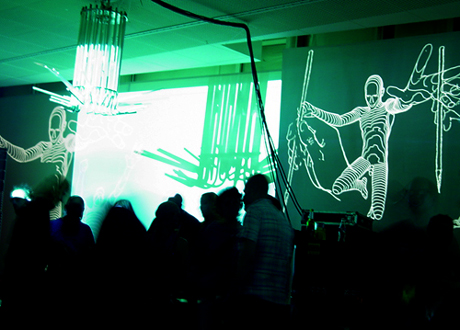 The 'Live' room
DJs and live acts provided entertainment for the ears, with a line-up of local and foreign acts, including Funkstorung, Berlin-based live band Rich and Cool and DJ Matt Black from Coldcut.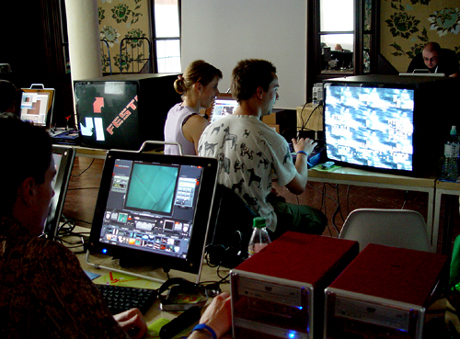 Workshop Raum
Workshops were held on each day with rooms full of workstations and effects hardware units, where aspiring VJs could familiarise themselves with current VJ software , and for more advanced users and software developers to check out new software and hardware developments.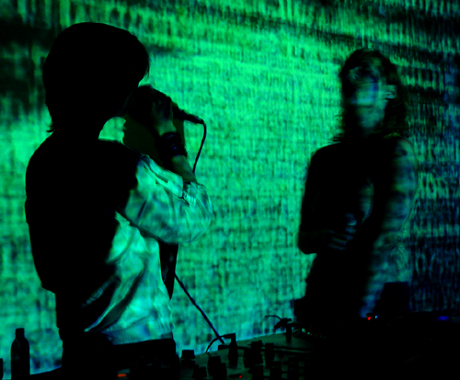 Girlz Klub
On Thursday night's lineup, stand-out acts were Berlin-based Flora and Fauna visions, Czechoslovakian VJ team Clad, and live MC group Girlz Klub, who delivered a punchy set of live vocals over funky tech-house DJ set.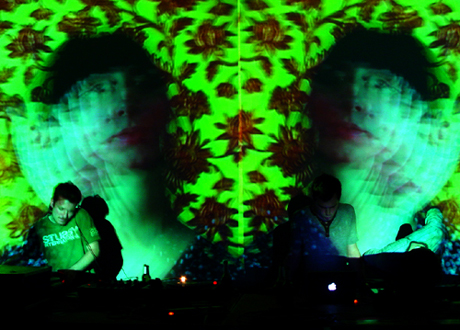 Mixing it up in the Foyer Bar
Friday saw bigger crowds, with some interesting presentations by Superpositioners, well-known local designers Pfadfinderei, and VJs Triple Canopy along with the dynamic tech-funk duo Funkstorung who delivered to a packed room and got the crowd grooving.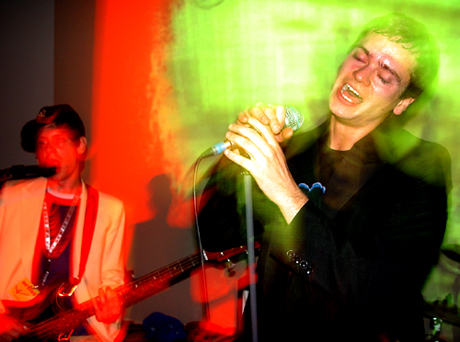 Rich and Cool
Half of Berlin took on Cafe Moskau for Saturday, the final evening of the Festival. The atmosphere was definitely in total party mode and there was no slowing down until doors shut just after 6am. Memorable VJ acts included VJ Futurfoto from Munich, who melded photographs in quick succession, VJ Anyone, and live music act Rich and Cool, playing a distinctly 'disco-pop' set with live vocals and keyboard guitar.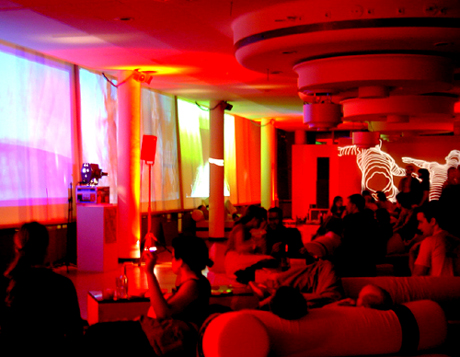 Chilling out in 'Salon Moskau'
The minimal upstairs space of the Salon Moskau was dedicated to kicking back and relaxing, and a number of video projectors were set up for 'jamming', where anyone with a laptop and some graphics could contribute their own visuals. During the day, a number of forums allowed established VJs to present their concepts and discuss the nature of live visuals and the future possibilities of the medium.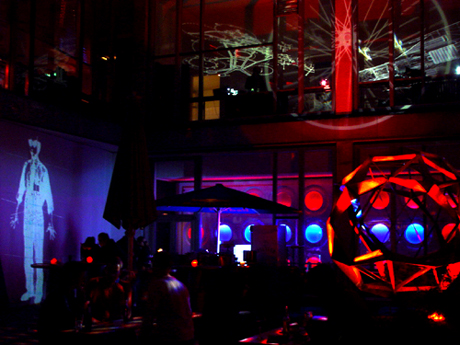 The centre courtyard
VJ culture has come along way since its beginnings in early 90s club culture. The image of crude 3d doughnuts spinning in outer space, or tripped-out day-glo patterns, is firmly imprinted on everyone's retinas from that era, and now would be a good time for visual artists to push the medium further, making use of advances in computer technology and accessible software interfaces. There seemed to be a distinct lack of more conceptually oriented work which extended beyond the 'moving wallpaper' effect and addressed political and theoretical concerns. And, in the instances where it was evident that the VJs and DJs had collaborated together, the results were definately more engaging as a live audiovisual experience.
The fact that VJing is now being seen as a medium in its own right, and not just a supplement to a DJ or live music act, is a result of events like Contact Europe, which help raise the profile of artists and encourage new creative exchanges. The future is certainly bright…
Contact Europe 2004
Date : Junly 1st – 3rd 2004
Place : Cafe Moskau
http://www.projekttor.org
Text and Photos: Peta Jenkin
[Help wanted]
Inviting volunteer staff / pro bono for contribution and translation. Please
e-mail
to us.