"Pars pro Toto", an interactive sound installation, inspires pedestrians in the Vienna Stadtbahnbogen 28. How? – By making them listen to urban sounds originally produced in public spaces in Paris.
The idea of architect and artist Katharina Tielsch was to demonstrate that we can perceive architectural space by listening to the sounds produced in such a space. "Architecture may be based on light, air, emptiness, language, gestures or even sounds", says the architect. "Space can thus be perceived through emotions." "Pars pro Toto" is based on the idea that we perceive space and time through music and architecture. The sounds recorded in Paris have been altered by the musician Franz Kremslehner in such a way as to build a bridge from the real-time acoustic experience to a very subjective and emotional perception of urban space.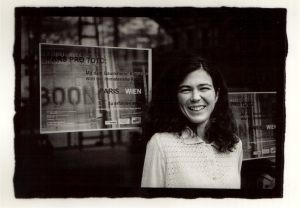 Katharina
Katharina, how do you relate Vienna and Paris?
Vienna is the world capital of traditional music. Wherever we go, we are always confronted with classical music in our beautiful city. However, I noticed that there is far too little space for experimental music and "new music" such as Arnold Schoenberg's tonality. Schoenberg's music is the continuation of classical music in the 20th century. And in fact, in Vienna there are far too few places that offer architecture that is adequate to this kind of music.
Paris, on the contrary, is the centre of new music. For example, there is the IRCAM, an institution for music research and composition. So I decided to go to Paris to do some research into music. While accumulating theoretical knowledge of space, time and perception, experience of space through music, perception of space and time, etc. I had the idea of realising the "Pars pro Toto" interactive sound installation in Vienna.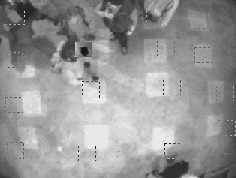 Camera
What exactly is "Pars pro Toto"?
This interactive sound installation is the artistic, practical implementation of my theoretical knowledge of architecture and music. To me the aesthetic experience of modern music is very exciting and I think there is a big deal of analogy to modern architecture. I felt a strong desire to put my theoretical knowledge into practice. And of course I wanted to demonstrate that we can perceive space by listening to music.
The basic idea of "Pars pro Toto" is simple – the urban area of Paris, the centre of new music, should be heard and perceived by people in Vienna, the centre of traditional music. It was particularly important to me to drift away from the visual aspect of architecture. Architects in particular think in a very visual way and tend to forget that the ear is the best sense organ to analyse a space. With your ears, you can "look around the corner", so to say. Our ears should perceive specific sounds and thus help us visualise and concretise a specific space.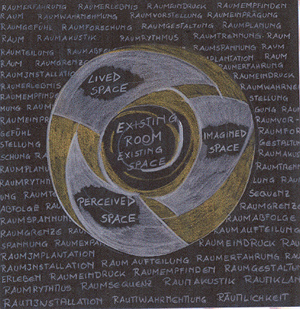 Space Scheme
How did you go about it?
I recorded typical urban sounds in Paris – in the metro, in public spaces, in restaurants and street cafes. The sound material was then "edited" by the Viennese musician Franz Kremslehner, who used stylistic elements of new music. This is how emotions closely linked to an urban space in Paris can be expressed by sounds and perceived by people in Vienna. A very subjective, emotional space is the result. The installation is interactive, like a game. The rule of the game, i.e., the chronological sequence of sounds can be freely chosen and creates a very subjective space.

Which ways to go
Which challenges did you have to meet?
A major challenge was the technical implementation of the installation. Franzi and Stefan Rotzporka met this challenge really well by using a lot of cables and other technical devices.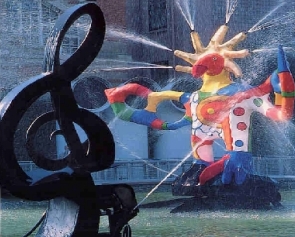 Fountain
Your personal dreams for the future?
In future, I would like to exhibit "Pars pro Toto" not only in Vienna but in other (European) cities. Bratislava might be the next place to install it. And I would love to install the sound installation along the whole Vienna Guertel avenue, which has been revitalised over the past ten years and transformed from a major traffic lane to a very attractive area with many cool bars and restaurants. Then people could choose whether they wanted to have their coffee in Paris, London or even Tokyo and perceive the architecture of these cities by their sounds.
Text: Christina Merl
Photos: Courtesy of Katharina Tielsch

[Help wanted]
Inviting volunteer staff / pro bono for contribution and translation. Please
e-mail
to us.