Berlin, Germany's media art festival, Transmediale, was held in two locations in Berlin for the 17th year. The theme this year is "Fly Utopia!" and the contents of the festival were split into two categories: media art at the Haus der Kulturen der Welt featuring conferences, screenings, works shows, artist performances and other exhibitions; Club Transmediale at Maria am Ostbahhof featuring electronic music and visual arts by VJs and other artists picked up according to a daily theme or concept. Both events are being held from January 30th to February 7th, relatively long for an art event at 9 days. It is playing alongside the Berlinale, a major European film festival, and would seem to be establishing itself as one of two big events to inject colour into Berlin's long and cold winter.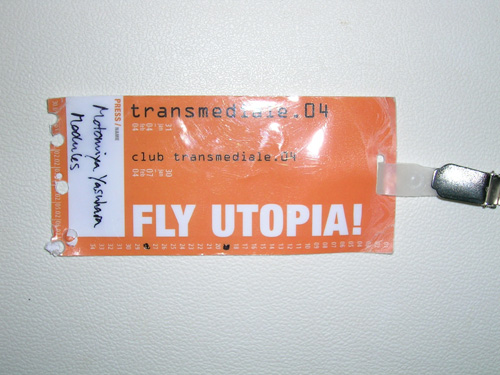 Because the scale of the event is so big, scheduling involves planning and narrowing down your focus. I decided this time around to concentrate mainly around Club Transmediale.
Arriving from Japan on the night of January 30th, I dropped my bags off and headed straight to the venue, Maria. The line up tonight includes Farben, Richard Devine, Modeselektor. Maria, which used to be on the other side of the same station, is a relatively large club even by Berlin standards, and looks like a converted factory or warehouse. The music featured is diverse, but the venue is often used by Berlin based labels such as Basic Channel or Chain Reaction or Monolake for various events. With an air of an illegal party, it could be said to be a pretty hardcore club.
This being the opening night, the club is filled with excitement. As I walk in, Farben is on stage. Known also as Jan Jelinek, he is an artist that has had a big influence on the minimal techno and electronic dub scene in the past few years.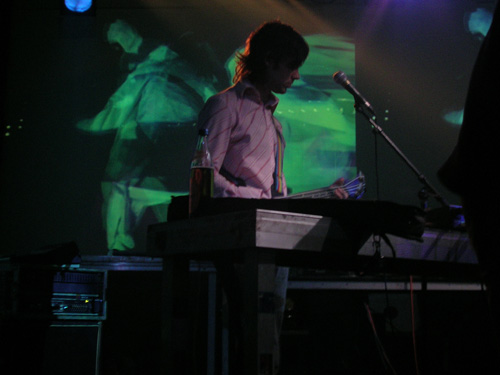 Safety Scissors
Laptop out in front, he has an air of dignified confidence as his coolly produced minimal electronic music shifts the audience away to a world of sound and time. Afterwards, Safety Scissors come on to give a soft and warm but pop performance, featuring electronics, guitars and his own vocals, before making way for the most extreme and destructive industrial sound-painting of the evening, Richard Devine.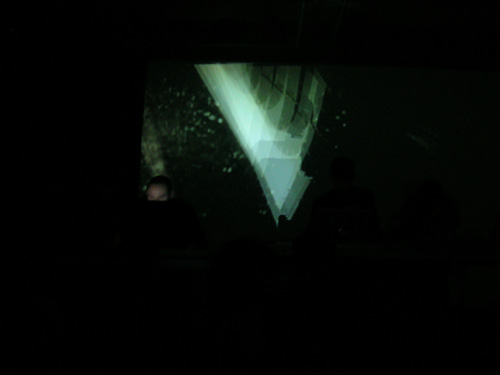 Richard Devine
Laptop-performances have become more common lately, and as the novelty wears off, it could be said that things have become somewhat lacking as far as live performances are concerned. Richard Devine, however, blew away this thought like a rainstorm, engulfing the audience with sounds and expressions and movements, proving that a single laptop can indeed be entertainment. The sounds itself is high-speed industrial drum'n'bass, something either to love or to hate.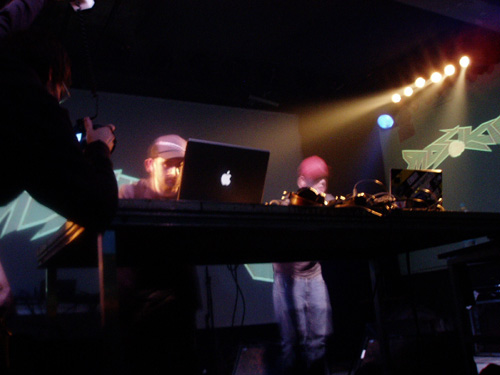 Modeselektor
To finish the night off is Modeselektor, a duo released on Berlin-based label B-Pitch Control. Their music, categorised as electronica hip-hop, distinctively plays with rhythms based on electronic sounds and delays, with the sporadic injection of lovely melodies. To elaborate on this sound, it is like connecting a grand landscape from Africa with grooves and electronics. The beats are slow enough to keep you dancing happily for four hours, their distinctive indistinctiveness the point of their appeal. As if to gently soothe the beach ravaged by Richard Devine, they chill down the venue already past 4am. I leave safe in the thought that I will have a good nights sleep.
Berlin's public transport consists of buses, trams, S-bahn (main rail), and U-bahn (underground), which reach the smallest parts of the city. At night, the night buses and trams take over, enforced by S-bahn and U-bahn trains on the weekends. All of which allows the young ones to go out and have fun more easily, a system I would like to see introduced in other big capitals of the world. This way, you can avoid killing time in manga cafes or on the streets whilst you wait for the first train to start.
Read more ...
[Help wanted]
Inviting volunteer staff / pro bono for contribution and translation. Please
e-mail
to us.