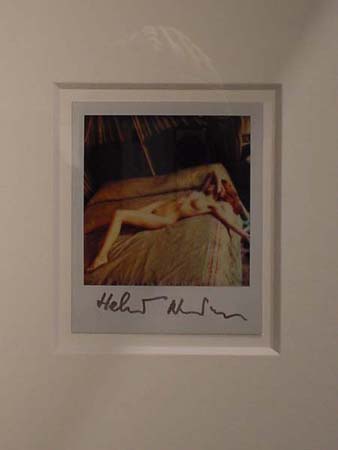 On January 23, 2004, Helmut Newton pulled out of a car park at the Chateau Marmont hotel just off Sunset Boulevard, Los Angeles. A moment later his Cadillac accelerated and crashed into a wall, taking the life of the 83-year-old photographer. Now, back in his birthplace of Berlin, the renowned photography gallery Camerawork has put together a small exhibition in memory of Newton, as a way of saying goodbye.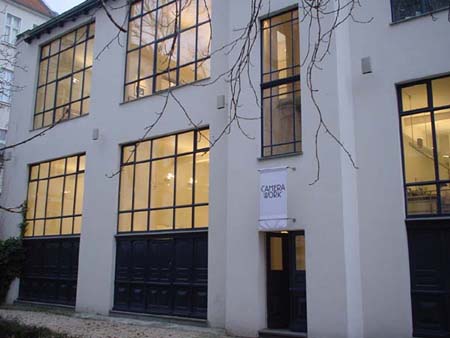 Helmut Newton was celebrated and controversial in equal measures, never failing to extract reaction through his stark and daring photography. His images were heavily charged with eroticism verging on fetishism, with stilettos, whips or strangely enough saddles often the only items adorning the "cold women" he created, and though their sadomasochistic associations drew criticism from feminists (and conservatives, for that matter), he remained defiant saying: "I love vulgarity." This, perhaps, is not so surprising considering that he was born in Berlin in the pre-Nazi period of the Weimar Republic, when erotic tableaux had entered the art world through the permissive atmosphere of a decadent post-war society without bearings. In fact, Newton's German roots remained an integral basis of his works: "The point of my photography has always been to challenge myself, to go a little further than my Germanic discipline would traditionally permit me to. The nudes and bondage shots were my way of going beyond my own bounds."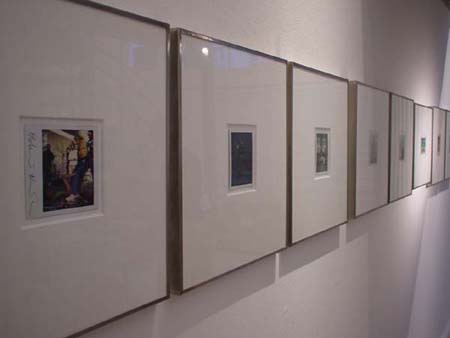 And in 21st Century Berlin, a gallery hidden in a peaceful courtyard off the busy Kantstrasse has dedicated itself to the art of photography. Since its founding five years ago, Camerawork has paid homage to the origins of photography in the tradition of Alfred Stieglitz, legendary publisher of the magazine "Camerawork" in the 1920s. Classical photographers such as Irving Penn and Andre Kertesz have been exhibited alongside stars of the recent past, including Richard Avedon, Herb Ritts, Rankin, and of course, Newton, who's portfolios "Arielle" and "Classics" were published in conjunction with the gallery. Whilst the main halls will continue to exhibit the incomparable works of Elliot Erwitt until February 21st, space in the smaller exhibition room cum office has been dedicated posthumously to Newton, returning to his works from the mentioned publications as well as a selection of rare Polaroid photographs. Intertwined with the metallic staircase and mezzanine, Newton paradoxically commands respect whilst being completely is at home here, in the same way his coldly erotic works alone can speak for his bond with Berlin.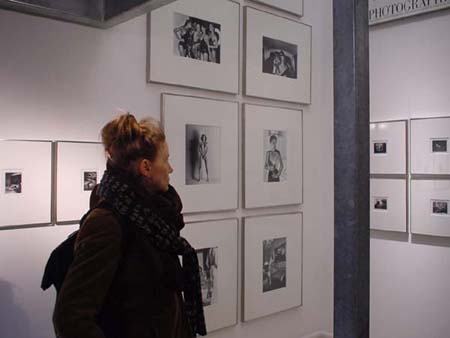 Newton fled Nazi Germany in 1938 as the situation became increasingly dangerous for Jews, however the first 18 years of his life that had been spent in Berlin had a profound influence on his career. His first camera, aged 12, had been purchased here; his first photographic apprenticeship under the guidance of theatrical photographer Yva, or Else Simon, was here. Marlene Dietrich, who he claimed to have loved since a school boy, surly is the model on which all his strikingly androgynous models were based, and Newton often returned to the subject of Nazi Germany but, ever the satirist, typically with a twist, such as dressing up his wife Alice Springs as Adolf Hitler and Jerry Hall as Eva Braun, or an infatuation with Hitler's official filmmaker Leni Riefenstahl's legs. Newton honoured his love for Berlin in October 2003 by donating more than 1000 photographs to the city.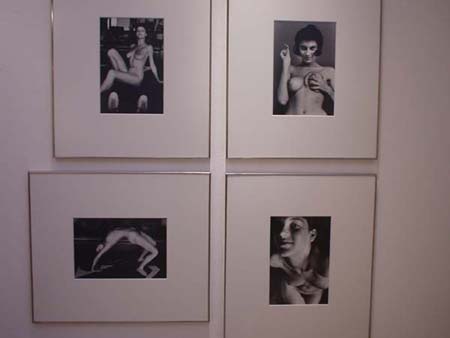 This collection is to be housed in the former art library, Kunstbibiliothek, opposite Berlin's main Zoologischer Garten rail station. The building is currently going under extensive renovation – directed and partly financed by the Newtons – and should eventually be a place to showcase the city's 19th and 20th century photography archives and also young, up-and-coming photographers. The building is significant to Newton, who explained that it had been the last building he'd seen when he boarded a train to flee the country on the eve of World War II. One of the most important fashion and portrait photographers who brought eroticism and beyond to the realms of photography and perhaps even to mainstream society, said he was proud to see his works return to his birthplace, and "not just the nudes", either.
In Memory of Helmut Newton
Date: 4th -21th February 2004
Place: Galerie Camerawork
Address: Kantstrasse 149, 10623 Berlin
www.camerawork.de
Text and Photos: Kristy Kagari Sakai
[Help wanted]
Inviting volunteer staff / pro bono for contribution and translation. Please
e-mail
to us.