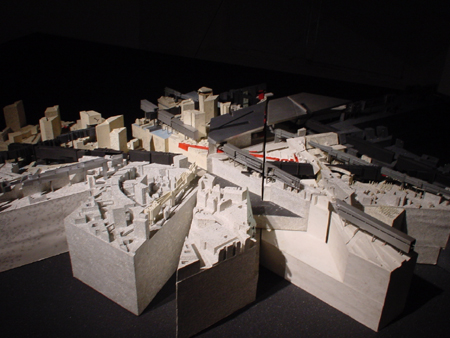 Though the name Daniel Libeskind has become synonymous with large-scale public commissions, it wasn't always so. Before the Jewish Museum was built in Berlin, Libeskind was known only as an academic architect without a built design to his name. So it seems fitting that his birthplace as a world-renowned architect would be hosting Kontrapunkt, a comprehensive collection of his works. The exhibition presented models, sketches, photographs and films of 14 projects, including his competition winning proposal for Ground Zero and the World Trade Centre, however it was the "fringe" works that caught my eye.
It is interesting to contemplate what Potsdamer Platz, Berlin's impressive focal point or unfortunate eyesore, depending on your point of view, would have become under Libeskind's direction. His design, called "Out of Line", incorporated significant open spaces between 10 "puzzle" pieces derived from the fragments of memories buried in Potsdamer Platz, referred to as "the thunderbolts of absolute absence".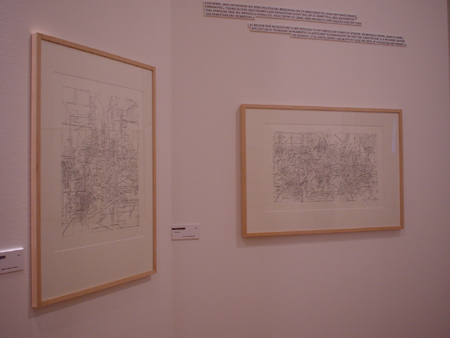 Early in his career Libeskind produced two suites of drawings which reflected his thinking about the nature of architectural space: Micromegas and Chamberworks. Developed from his interest in geometry, Micromegas could be considered an alternative blueprint, whilst Chamberworks seems to explore the interaction between architecture and music, deeply rooted in his background and arguably one of his greatest influences. Both are clearly the basis on which Libeskind's theatrical, geometrically complex architecture was developed and it is remarkable how his vision, borne in these drawings, have been realised in his projects.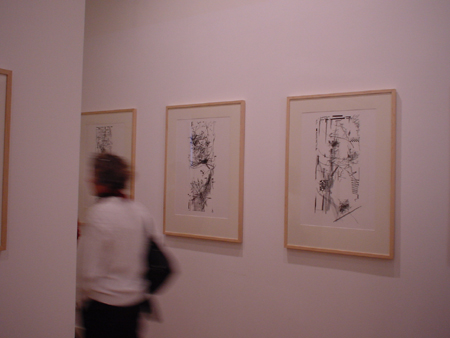 After gliding through 600m2 of space containing celebrated projects such as the Osnabruck's Felix-Nussbaum-Haus and the Imperial War Museum North, Manchester, the exhibition takes a step away from architecture to a room showing a film installation by Dirk Szuszies and Ferdinand Teubner featuring dancers in an empty Jewish Museum, choreographed by Sasha Waltz specifically to form a dialogue with Libeskind's architecture. It then leads to a modest space where costumes and a filming of Messiaen's "Saint Francois D'Assise" at the Deutsche Oper are presented. Libeskind was commissioned to design the costumes and stage on this occasion and his geometric approach is apparent: "imagined shapes, rhythms, colors, chords, keys, surfaces and movements have opened a labyrinthine path toward a turbulent and strange peace."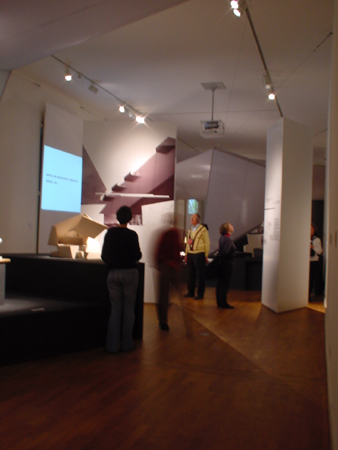 There is a feeling of pride lingering in the air and one suspects that Berlin cannot help but be proud of hosting the exhibition, of claiming the Jewish Museum as theirs, of once having had Libeskind as their citizen. His ideas and visions, and their subsequent developments are displayed clearly here alongside close-up films of himself, revealing his persona and life at the same time. And everything points to the fact that he has only started, and it is far too soon to consider this as a retrospective.
Kontrapunkt: The Architecture of Daniel Libeskind
Date: 9th September -4th January 2004
Place: Jewish Museum Berlin
Address: Old Building Exhibitions Room 1st Floor, Lindenstr.9-14, 10969 Berlin, Germany
www.jmberlin.de
Text and Photos: Kristy Kagari Sakai
[Help wanted]
Inviting volunteer staff / pro bono for contribution and translation. Please
e-mail
to us.