RAFAEL LOZANO-HEMMER "AMODAL SUSPENSION"
November 25th, 6 a.m. As dawn breaks on a cold morning, twenty beams of bright white lights that had been intersecting above suddenly rise together towards the sky, before disappearing just as abruptly. The finale for the light installation "Amodal Suspension" which had been running for 24 days was all too brief, but its afterimage lingered in the minds of those looking on.
"Amodal Suspension" converted the night skies into a huge communications switchboard, sending out messages sent from mobile phones, computers in the form of light beams. This project by Mexican-Canadian Rafael Lozano-Hemmer was featured as the opening event for the Yamaguchi Center for Arts and Media (YCAM) and took place between November 1st and 24th.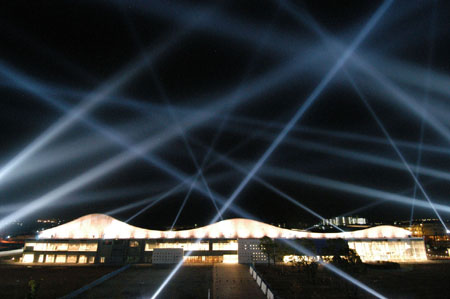 People visiting from Tokyo or other big cities are first likely to be surprised by the rural scenery of Yamaguchi. Despite being the prefectural capital, it's a small town with a 2-car local line running a few times an hour, no fast trains or airport buses or even a highway interchange. Nodding westwards to Kyoto, the town is arranged in a grid pattern with many alleyways; it is a place where time flows at its own leisure. And it is here that the ultramodern media center YCAM was born, and a huge light installation created by 140,000w of searchlights took place. It's no surprise voices wondering if an invasion of aliens had hit the quiet skies have been heard. But such worries should disappear once it becomes clear the messages come from all over the world. By visualizing invisible electronic communication, this project was a friendly alien that brought far-away participants closer together.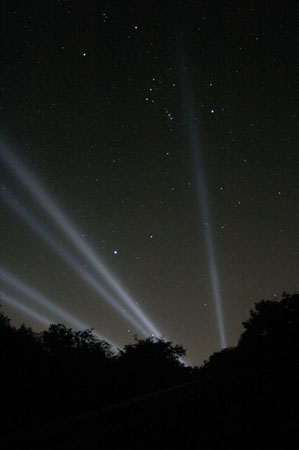 Though photographs give a spectacular impression of the Amodal lights, in reality their flickers were quiet and meditative. In a city with few high buildings or neon signs, the lights could be seen from all over the center of town – from the hotels in the hot spring resorts, between the alleyways, on the surface of the river. On a clear night, the lights reached far and away; on a cloudy night, they reflected off the clouds as constellations. Rainbows formed when there was rain. Wherever you go, there was light above, and it felt in some way reassuring. I remembered the artist once saying, "My work is like a fountain in a public space. It's always there, and nobody thinks twice about it."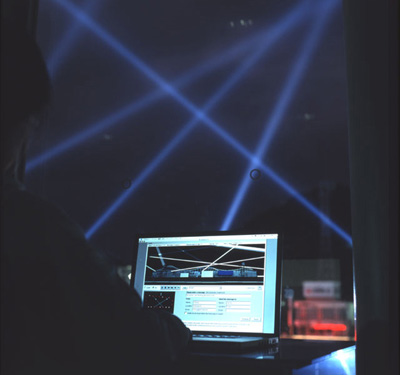 Though the Java applet lagged sometimes, amodal.net recorded access numbers of 12,500 from 85 different countries in 10 days. The traffic was 60% in Japanese, 40% in English; access from mobile phones were 98% from Japan. In the end, 9366 messages were archived. It was a great success. Contributing to the success were 27 "Access Pods" set up in art/media centers or science museums in 15 countries, including the MIT Media Lab, Germany's ZKM, the National Museum of Emerging Science and Innovation in Tokyo, Holland's V2. These terminals, which allowed people to participate in the experience remotely in real time, were set up amazingly quickly by the centers, who put their confidence in Lozano-Hemmer. In a way, they opened the door for the possibility of worldwide media centers to connect together through a network community.
Read more ...

1
2
[Help wanted]
Inviting volunteer staff / pro bono for contribution and translation. Please
e-mail
to us.