LIVE PERFORMANCE BIENNIAL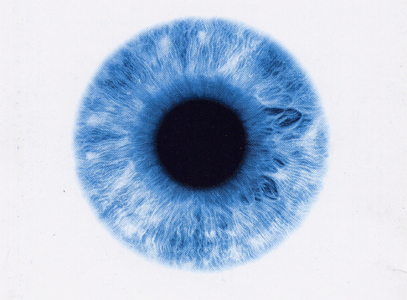 "Performance art is anything but bookish which could explain the lack of written history which has contributed to many misconceptions. The Academy's misrepresentation and misunderstanding have left performance art as a footnote in the history of art," states LIVE artistic director David Yonge.
The Vancouver Biennial of Performance Art took place from October 18 to November 29. Over the six weeks of the Festival, about 46 national and international performance artists appeared at 22 different venues, including British artist Dick Averns, UK's performance art creator Andre Stitt, German artist Boris Nieslony, and Canadian artists Hester Reeve, Rodney Graham, Kristine Stiles, and Julianna Barabas. The Festival held shows, lectures, and panel discussions addressing the current condition of performance art in Vancouver.
Generally considered, it is difficult to define live performance art. This unshaped, expansive art form allows artists to express their ideas, but these features would be problematic to achieve the audience's understanding and on-going conversations. LIVE seemed to seek the answers or strategies for the problems through lectures and panel discussions. The public and performance artists discussed different themes of live performance art. LIVE artistic director David Yonge hopes "the panels would move beyond the history and meaning of performance to discuss how it affects other disciplines, hinting at its own future."
Panel discussions every Sunday during the festival would hopefully increase public awareness and develop social and cultural values of performance art.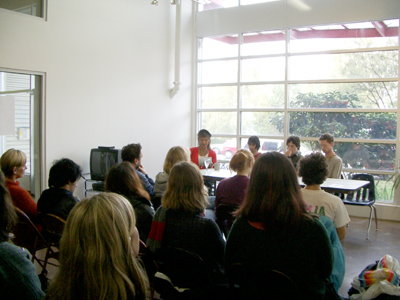 The themes of the panel discussions at the grunt gallery were "Theories and Hybridities," "The Future of Performance Art," "Collaboration," "Process," "Memory and Performance," and "Trauma and Endurance." Performance art was finally made a topic of discussion for about 2-3 hours every Sunday. Yonge also joined the discussions as one of the panel members.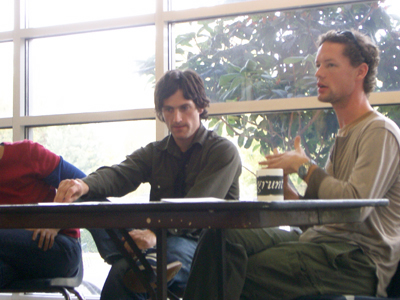 David Yonge and Jamie McMurry at grunt gallery
Performance artists see all the things in a space as mediums and works with them. For example, the audience plays a role and work with the artist. The performance "PICNIC" by Mima Preston was interactive with her and the audience.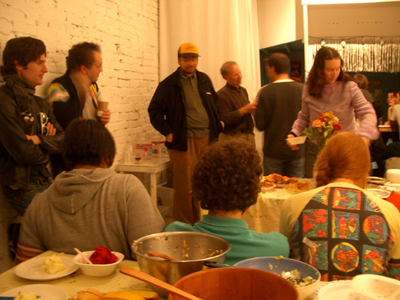 As soon as the visitor came in the gallery space, s/he saw people having a huge meal on a picnic table. Unlike appetizer at an opening reception, it was full of baked cakes and hot soups, made by Preston. Once the audiences realized that eating was a part of Preston's performance, they reached for the meal without hesitating. People who were late looked at the leftovers and tried to understand what was going on. "You missed a wonderful pie!" "The soup is cold now," the conversations between the audiences represented the importance of spontaneity in live performance art.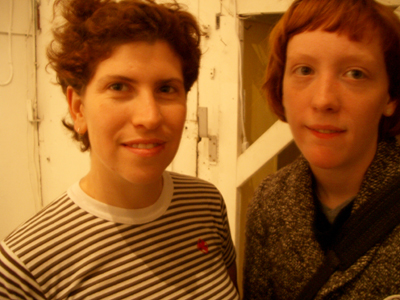 Mima Preston and Julia Feyer at Crying room
It is not the main goal for this festival to find a way to solve the problems-small recognition and marginalization- but to increase public awareness and understanding by reaching more of the audience. I hope the public will talk about performance art and keeps its eye on the medium because the more people talk about it, the more the art form becomes active and recognized.
Live Biennial of Performance Art
Date: 18th October – 29th November 2003
Place: Access, Artspeak, The Butchershop Floor, Centre A, Contemporary Art Gallery, Crying Room, Folly, Full Circle, Gallery 83, Gallery Gachet, Grunt Gallery, H.A.G., Helen Pitt Gallery, Imag, Imperial Slacks Neutral Ground, Or Gallery, On Edge Productions, Radix Theathre Vancouver Art Gallery, Video-in Studios, Western Frount
http://www.livevancouver.bc.ca
Text and Photos: Aya Takada from SML-(6j6)
[Help wanted]
Inviting volunteer staff / pro bono for contribution and translation. Please
e-mail
to us.